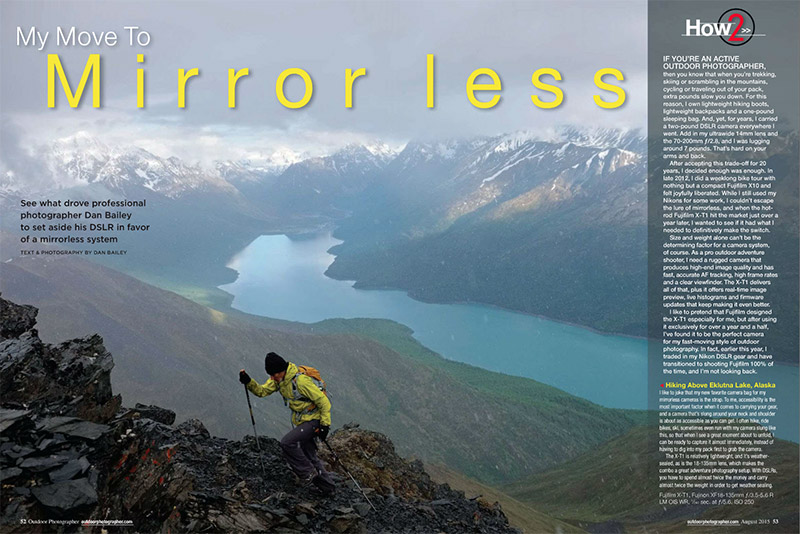 I'm excited to report that my work is featured in the August 2015 issue of Outdoor Photographer Magazine. The article is called "My Move To Mirrorless, and it outlines my transition from Nikon DLSR gear to the smaller, lighter Fuji X-T1 and X-T10 for all of my photography.
The piece features a number of my recent favorite images, all shot with the X-T1, and it details exactly how I made each photo. For each example, the extended caption explains how mirrorless camera technology has influenced my work, and in most cases, how my fast moving style of outdoor action and adventure has actually benefitted from using mirrorless cameras.
Aside from being lighter and smaller, there are distinct advantages that mirrorless cameras such as the X-T1 offers over DSLRs. And I'm not the only person who has discovered these benefits- A a wide number of photographers, both pro and amateur are discovering that they don't need clunky DSLRs in order to shoot professional quality work.
Having used SLR and DSLR cameras for well over 20 years, I did not take my switch to mirrorless lightly. The bottom line is that I can't afford to use gear that doesn't let me push my creative and technical limits as I continue to evolve as a photographer.
This isn't about trends, it's about tools. Since much of my photography revolves around very technical shooting situations that incorporate tricky light and fast breaking subject matter, I need a camera system that can perform to high standards and deliver fast, accurate autofocus, good ergonomics and high quality images with excellent color rendition. For me, the X cameras deliver all of those things, plus they're really fun to use.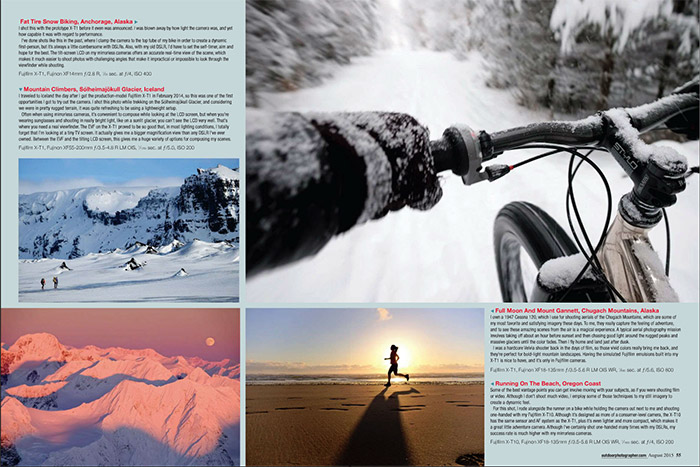 There's still a misperception with some people that DSLRs are far superior to mirrorless cameras when it comes to quality and performance. However, some of the arguments I hear are either not entirely accurate, or they do not reflect the kinds of real-world situations that most photographers deal with on a regular basis.
The goal with this article, which the OP editors asked me to write, is to dispel these notions. While I don't have the same extensive experience with other mirrorless camera brands, some of my points in the OP article do apply to other mirrorless setups as well. With regards to the Fuji system, here are some addition points not described in the magazine piece.
The Fuji X-Trans sensors are capable of producing results that exceed the needs of many shooters. With its irregular pattern, non-bayer color filter matrix and no optical low pass filter in front of the sensor, the Fuji X cameras produce incredibly sharp imagery that rivals full frame. I've seen side-by-side comparisons of the Fuji X-E2 and the Nikon D750, where the image from the X-E2 was sharper. Plus, the pixel density/size on the X-T1 is almost identical to the Nikon D810, which means it has the same, excellent low light performance.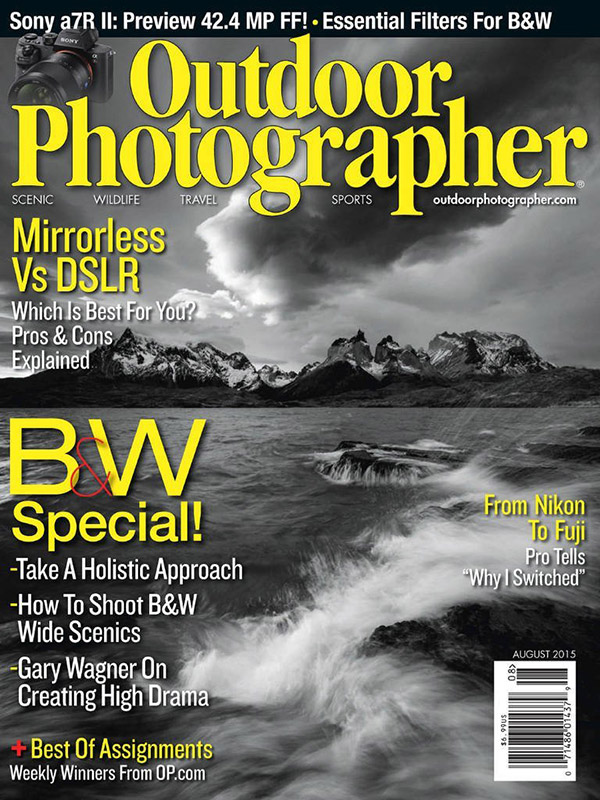 Also, Fuji's long history of color rendition, which stems from decades of film production, has been infused as specific color profiles into their digital cameras. I've always loved the Fuji colors. There's nothing like capturing a brilliant, dynamic outdoor scene on Velvia. It was gorgeous then, and it's gorgeous now.
Then there's the glass. Fuji has made lenses for Hasselblad, NASA, TV and film and other uses/manufacturers for years. Their glass is as sharp as any lens you'll ever look through, and combined with the X-Trans sensor, the X cameras produce unbelievably sharp photographs that will reproduce well, even at VERY large sizes. I've had photos from my X cameras blown up to 4 by 6 foot wall panels for professional clients that look absolutely stunning.
In just a few years, Fuji has built an incredible selection of 20 lenses, that encompass a wide range of fast primes and zooms, 5 of which are weather sealed, and they even have a 100-400mm lens and a teleconverter slated to come out in the next year or so. This will be an excellent combo for wildlife photographers. Also, Lensbaby has finally released an X mount version for the Fuji cameras.
Finally, with the recent v.4 firmware update, Fuji totally revamped the predictive autofocus system on the X-T1 and the new X-T10. It's even faster and more accurate now, and as good or better than many lower priced DSLRs. Combined with the X-T1's high buffer and 8 fps frame rate, you can max out at 47 RAW shots in full continuous mode. Is it as good as the $6,000 Nikon D4? No, but for what most people shoot, it will get the job done. I shoot lots of fast moving subjects and it gets the job done for me.
DSLRs are great, but the reality is that mirrorless cameras represent the future. As the performance gap keeps closing with each new model, I think you'll find them to be more than adequate, if not ideal for just about everything you shoot.
The August 2015 issue of Outdoor Photographer is now on the newsstands, and you can also read the digital edition on your mobile device, or read my article online. Also, to read the full story of my move from Nikon to Fuji, check out this blog post.
Have you switched? Leave a comment and tell me your story.