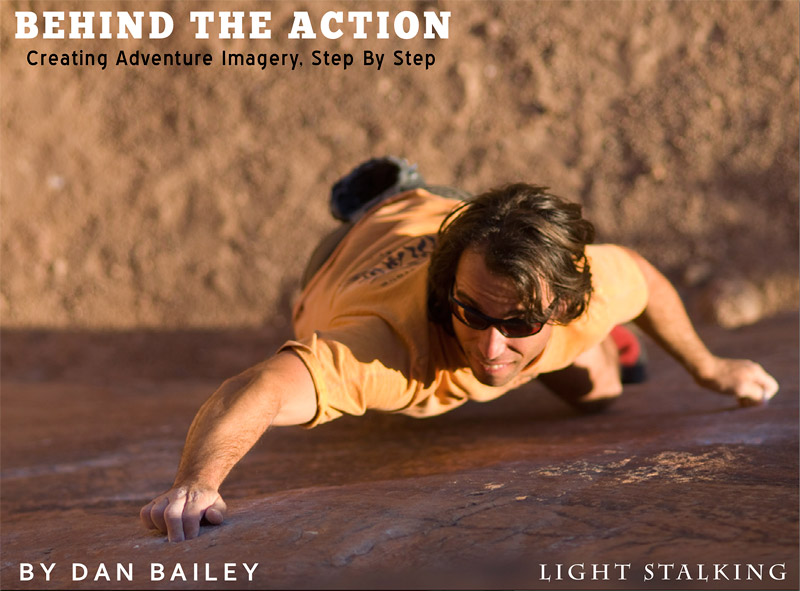 Last year, I released my eBook Behind The Action – Creating Adventure Imagery, Step By Step. It's a hands-on how-to manual that lays out the exacts step and gear I used to create 12 specific adventure and outdoor type images.
Essentially, I take you, the reader, along with me on a number of shoots and let you look over my shoulder as I scout the location, gauge the light, choose my equipment, come up with an approach and execute the final image. I even show you a number of outtakes so that you can see how the final shot eventually came about.
Behind the Action is the closest thing you'll ever get to actually being there on a shoot with me and watching how I get my imagery. It's a great way to learn, and right now, you can get this book for a very special price.
For each of the 12 photographs in the book, in include the following details:
Concept: My creative ideas behind the shoot. What I was hoping to achieve in the photo.
Gear: A list of all equipment that I took to the shoot and the specific gear that was used.
Light: My assessment of the light and the challenges that each situation presented.
Approach: My own ideas for how to tackle the overall shoot.
Execution: What ACTUALLY happened.
Final Thoughts: Reflections on what worked, what didn't and how I adpated.
Post Processing: How I adjusted the RAW file in Lightroom.
Quick Tips: Advice on how you can get these kinds of results in your own photography.
The really cool thing about this book is that I'm sharing with you the exact techniques that I use when shooting stock or assignments for pro clients. These are the exact same methods that have gotten me where I am today.
I consider Behind The Action to be a step-by-step how-to manual for adventure and outdoor photography. It's not designed to make you shoot exactly like me, but it shows you a number of great techniques and methods that you can use to create your own dynamic imagery, no matter what subject matter appeals to you.
Normal full price on this title is $24.95, but I really want you to have this ebook, because I know it can help you make better images, so I'll offer it to you for a special price of only $16.95, which is over 30% off! This is a limited time deal, so don't wait.