The Adobe Photoshop Lightroom 4 Book by Martin Evening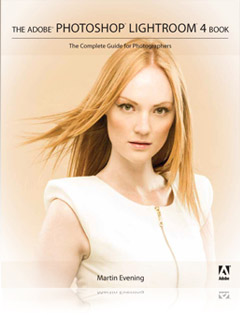 Just released: The Adobe Photoshop Lightroom 4 Book, The Complete Guide for Photographers, written by Martin Evening.
If you're a Lightroom user and haven't upgraded to LR4 yet, then you're missing some big advancements, as the new version offers a number of great new features and a much more powerful image processing engine.
This new manual by digital imaging expert and bestselling author Martin Evening details all the features of Lightroom 4 from a photographer's perspective. He walks you through each one of Lightroom's modules, shows you how to build an efficient workflow and guides you through the process of importing, editing and outputting the best quality imagery, whether for the web, a professional portfolio, a Blurb photo book or for final delivery to a client.
As an established commercial photographer who has worked closely with Adobe during the entire Lightroom development phase, Martin knows the software inside and out. As a world renowned instructor, he's able to guide you through each process in a straightforward and professional manner.
I've used and written reviews for Martin's books for years, and can definitely recommend his detailed, comprehensive teaching style. His books aren't just quick how-to guides, they're complete resources that explain every aspect of the software and how to use each tool with thorough efficiency. If you don't just want to know which slider to adjust or what preset to use, but instead want to learn everything you can about an Adobe imaging program so that you can have every creative tool at your disposal, Martin's books are definitely the best way to go.
At 704 pages, this complete in-depth reference is coupled with a companion website that contains video tutorials, sample images, articles and updates. Just as his other books have for each of the preceding versions, The Adobe Photoshop Lightroom 4 Book is sure to become the defacto Lightroom 4 bible. It's available in either print or eBook format.
 Buy at PeachPit Press           
 Buy at Amazon
Follow @Danbaileyphoto