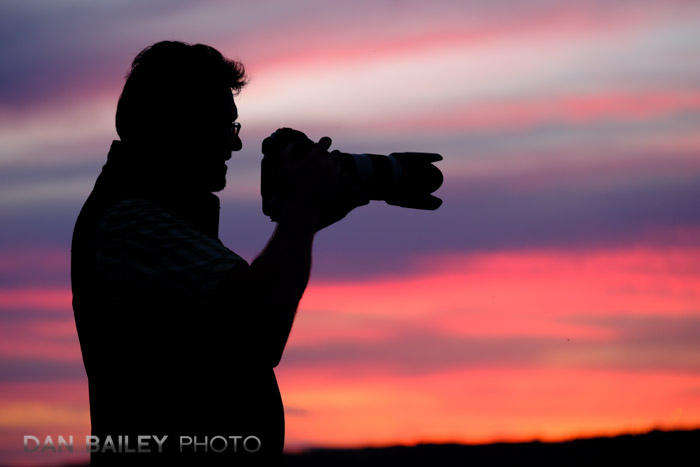 This past fall, October 4, to be exact, I passed my 22-year mark for being a professional photographer. When I look back on my long, adventurous journey as a full time working shooter, I see an enormous mix of learning, mistakes, trial and error and perseverance that got me where I am today. I also see a business model that looks radically different from when I started.
However, while it's true that the photography business has evolved and transformed in huge ways, the fundamental methods for doing business as a photographer have remained the same. You still need a good system for keeping track of clients, pricing your imagery, creating estimates and invoices and staying on top of profits and expenses.
I've used a number of photography business software solutions over the years, but in my mind, the best software option out there for stock and assignment photographers is made by Cradoc. Their two flagship programs, fotoBiz X and fotoQuote Pro 7 offer a complete set of tools that will help you stay on track and keep your business organized.
Both programs work for Mac and Windows, and the Mac version has even been updated to work with OSX 10.14 Mojave. This is notable because Blinkbid, which was another great program (I actually used Blinkbid for awhile and really liked it) has stopped development past Mac 10.12 Sierra.
As one of my readers, you can use Discount Code DB0115, to receive a special 10% discount on the full version of these programs.
fotoBiz X
fotoBiz X is powerful standalone business software solution that starts with contact management. From there, it allows you to create estimates, stock photography licensing quotes, and generate over 100 kinds of documents, forms and reports. You can also keep track of your marketing efforts to prospective clients.
The user layout is very straightforward and easy to navigate. There are six main menu headings on the left sidebar: Contacts, List and Tracking, fotoQuote, Prospects, Magazines, Gear, Forms and Releases and Setup. I'll walk you through the main sections.
This is your client database and it shows you full contact info, related contacts, any keywords or notes you've entered and any estimates, invoices, stock quotes, or submissions you've sent that particular client in the past. This is also where you can create a new bid, bill or submission form, or send them an email.
fotoBiz X includes a number of email templates that range from Delivery Memos, Cover Letters for assignments, invoices, portfolio submission, Thank You Letters andeven Collection/Reminder Letters. 
This is where you keep track of all of your Assignment Estimates, Stock Quotes, Submissions and Marketing Prospects. In other words, see who's paid you and who still owes you.
You can also see your License and Image Tracking. For any image entered in the system, you can where it's been licensed and see how much money it's brought in.
Stock Production allows you to keep track of your photo shoots and see how profitable they are. You can enter the cost and notes for each shoot and then assign specific image sales to a shoot, and it will show you sales history and +/- balance for that particular shoot. This can help you identify which projects are giving you the best return on your investment.
fotoQuote Pro 7 is the industry standard for stock photo pricing and it comes included with fotiBiz X. I've been using fotoQuote for over 25 years, even before I turned pro, and even back then, it was the best photo pricing guide out there.
fotoQuote Pro 7 includes a full section for Assignment Pricing and a coaching system that will help you figure out how much to charge, whether it's for a national or local client. Read more about fotoQuote below.
fotoBiz X includes a huge magazine database that shows you how much a specific publication charges for ad space. This provides an enormous amount of help when it comes to researching and negotiating with editorial and trade clients.
This section allows you to keep track of your photo equipment. For each camera, lens, light or accessory, you can keep track of everything from purchase, sell or loss date, serial number, repair history, insurance, weight (for air travel and bush flights), and where it's usually stored.
Here is where you can create, modify and print things like model and property release, still assignment and video assignment forms
Overall, fotoBiz X includes everything you need to run a successful photography business. It handles international currencies, it exports reports to QuickBooks, it includes a customizable License Builder, and it's been updated so that each section reflects the current standards and specifics of the photography industry.
There is simply no better or compressive alternative for the full or part time working photographer. You can check out fotoBiz X here.
fotoQuote Pro 7
As I mentioned above, fotoQuote Pro has long been the definitive stock photography pricing guide, and coaching system with the latest version, it's been updated to match today's photography markets. Version 7 even includes 86 new categories, including video and online uses. And it offers a mobile app for use on iOS devices.
Put simply, there's no other program like it. Every photograph who sells or wants to sell images as stock should own this program.
fotoQuote Pro 7 is included inside fotoBiz X, but the also have the standalone version for photographers who only want the pricing guide, or who already have a workable photography business management system.
Even if you only license a few images each year, with the negotiating tips and pricing calculator inside fotoQuote, the program will pay for itself with just one or two sales. Plus, when you deal with your client, you'll know the right questions to ask, now much to ask, and how NOT to sound like a total amateur.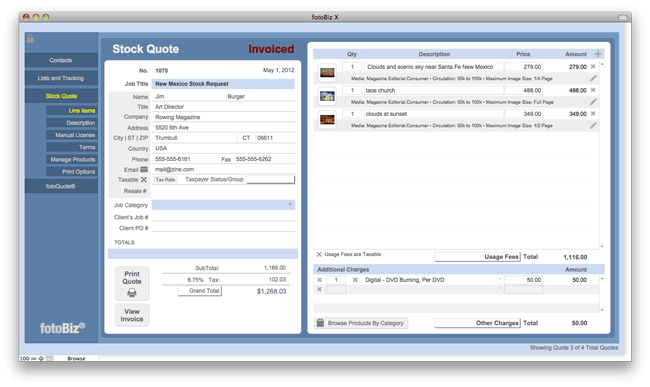 The best part about fotoQuote has always been the built-in assignment photography pricing coach. This incredibly valuable tool helps you establish the right price, whether you're shooting a small editorial job or a large, big budget national project. With 38 coaching topics, fotoQuote gives a series of useful negotiating tips so you can approach any job armed with the right information.
Check out fotoQuote Pro 7 here.
Years of research and work went into creating and refining these programs. The owner and creator of these programs, Cradoc Bagshaw has been an acclaimed photojournalist for over 30 years, and he's dedicated himself to producing the best solutions for working photographers.
He listens to user feedback and address every single aspect that a photographer might face when dealing with clients or managing the day-to-day operations of running your business in an ever changing industry. Not only will these tools and templates let you streamline your business, you'll just look more professional every time you reach out to a client.
I've long been a fan of Cradoc applications. Back when I shot slides, I used Cradoc Captionwriter, and I first used fotoQuote almost 25 years ago while working at a small stock photo agency in Boston. I'm still using it today as part of the comprehensive program fotoBiz X.
No matter what level of shooter you are, if you want to earn money with photography, I highly recommend checking out these two programs. I think you'll like what you see, they're relatively inexpensive, and they're invaluable with regards to how much time, money and efficiency they'll save you.
If you decide to purchase either one, be sure to use Discount Code DB0115 to get your 10% discount.