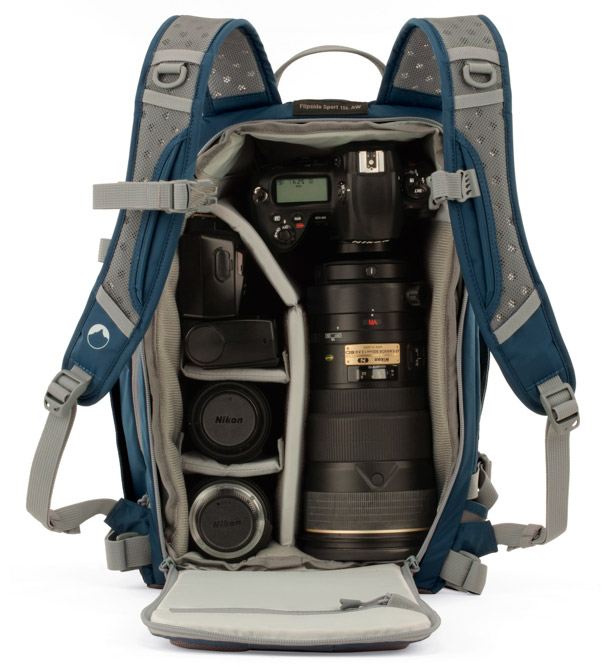 Adventure and outdoor photographers take note, there's a new pack on the block: the Lowepro Flipside Sport AW. Built especially for highly active shooters, this streamlined and technical daypack lets you hit the trail running with your gear. Literally.
Designed with a breathable, fully adjustable suspension system and front panel flap access, the Flipside Sport AW holds your gear securely on your back while you're on the go, and gives you quick access when you're ready to shoot. To get your camera, you simply undo your shoulders straps, swing the pack around to the front and unzip the panel. There's your gear. All of it. Right there, easy to see, just like the view in that picture above. No taking the pack off, no digging around. Fast and simple.
Done shooting? Ready to go? Zip it closed, swing it back around and stick your arms through the shoulder straps again. A few seconds later, you're off and running.
It's obvious that Lowepro is really taking note of the thing that we adventure and mountain photographers want most in a pack, which is quick access and the ability to move quickly through varying terrain without the thing bouncing all around on our backs. If you've ever run with your camera gear, then you know exactly what I'm talking about. Whether you're photographing sports like running, skiing or mountain biking, chasing kayakers down the river or simply hurrying up the trail to catch last light, you want a pack that will hold your gear securely and that lets you get in and out with little hassle.
The Flipside Sport AW is designed to do both, and although I haven't gotten my hands on this pack yet, from what I've seen, it appears to do both really well. when I do, I'll of course, write up a full review. Edit, June 11: My full review of the Flipside Sport AW is now up- Read it here.
The pack comes in two sizes, the Flipside Sport 15L and the Flipside Sport 10L. The pack shown above is the 15L model and you can see how much gear it holds. That's in addition to the hydration ready pocket and whatever other small amount of clothing and personal gear that stash in there. The advantage of the 15L size is that it will hold a pro sized DSLR with attached battery grip, which is something that the Photo Sport 200 won't do.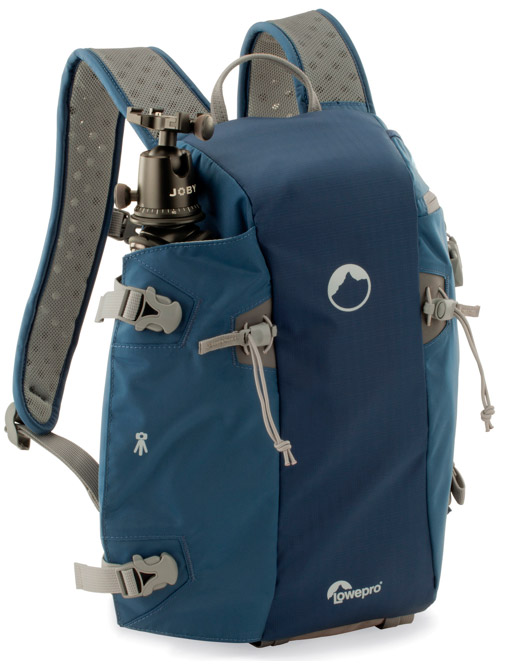 The Flipside Sport 10L version is a little smaller, although it will still fit a DSLR body with attached lens (up to 70-200mm f/2.8), a couple of extra lenses or flashes, personal gear and hydration bladder.
Both versions also have a unique tripod stash pocket on the side of the pack and a removable camera compartment, which allows you to use the Flipside Sport AW as a regular daypack when you're done shooting.
Check out the video below of the Flipside Sport AW in action with pro photographer Trevor Clark. Pretty much tells the whole story.
[iframe]<iframe src="http:///e/cm?lt1=_blank&bc1=000000&IS2=1&bg1=FFFFFF&fc1=000000&lc1=0000FF&t=danhbaisadvph-20&o=1&p=8&l=as4&m=amazon&f=ifr&ref=ss_til&asins=B00809MO9S" style="width:120px;height:240px;" scrolling="no" marginwidth="0″ marginheight="0″ frameborder="0″></iframe><iframe src="http:///e/cm?lt1=_blank&bc1=000000&IS2=1&bg1=FFFFFF&fc1=000000&lc1=0000FF&t=danhbaisadvph-20&o=1&p=8&l=as4&m=amazon&f=ifr&ref=ss_til&asins=B00809MMWW" style="width:120px;height:240px;" scrolling="no" marginwidth="0″ marginheight="0″ frameborder="0″></iframe><iframe src="http:///e/cm?lt1=_blank&bc1=000000&IS2=1&bg1=FFFFFF&fc1=000000&lc1=0000FF&t=danhbaisadvph-20&o=1&p=8&l=as4&m=amazon&f=ifr&ref=ss_til&asins=B00809MOWA" style="width:120px;height:240px;" scrolling="no" marginwidth="0″ marginheight="0″ frameborder="0″></iframe><iframe src="http:///e/cm?lt1=_blank&bc1=000000&IS2=1&bg1=FFFFFF&fc1=000000&lc1=0000FF&t=danhbaisadvph-20&o=1&p=8&l=as4&m=amazon&f=ifr&ref=ss_til&asins=B00809MNEY" style="width:120px;height:240px;" scrolling="no" marginwidth="0″ marginheight="0″ frameborder="0″></iframe>[/iframe]