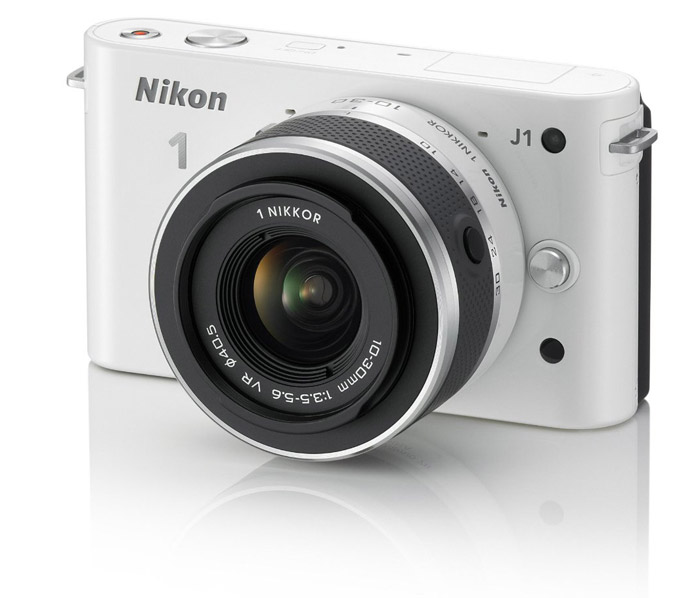 The Nikon 1 is Nikon's first offering in this current trend of small, mirrorless, high quality compact cameras. Essentially a bridge between a point and shoot and a DSLR, the Nikon 1 J1 offers the flexibility and quality of an interchangeable lens system in an incredibly small, convenient package that you can stick in your pocket and take anywhere. (The more expensive Nikon 1 V1 camera offers an electronic viewfinder, a higher-resolution screen and a hot shoe flash option, whereas the smaller J1 features built-in flash and a lower price tag.)
The "1" cameras use Nikon's new 10 MegaPixel CX format digital sensor, which is smaller than the Four Thirds size, and slightly larger than the Fuji X10's 2/3″ sensor size. It offers a max image size of 3,872 x 2,592, and does Full HD (1,980 x 1,020) stereo movies.
Blah blah blah… tech specs. What you really want to know is, what's so great about the Nikon 1 camera and why would you want to buy one?
Simple. It rocks for shooting sports and action.
The Nikon 1 has a highly advanced, incredibly fast 73-point Focal Plane Phase-Detect autofocus system that rivals that of a high end DSLR. And it shoots at up to 10 fps with full AF, or 60 fps without AF.
It also boasts two other features that will ensure that you never miss the shot. The new Smart Photo Selector feature, the Nikon 1 can capture motion at 30 fps and then select the best 5 shots from the series. Add to that the fact that the "1" can simultaneous capture HD moves and high resolution still images at the same time without interruption. We haven't seen anything like this before.
It will also slow things down- WAY down. In Slow Motion Movie mode, the Nikon 1 will shoot at either 400 or 1,200 fps. To contrast, I thought that shooting 200 fps with my Fuji X10 was cool!
So what's the trade off?
Image quality is the only real tradeoff, but it's not by very much at all. While photos from the Nikon 1 look great, and are certainly high enough resolution for just about anything other than full-on pro work, you'll find that they're not quite as what you'd see from Four Thirds or APS-C sensor cameras.
However, the Nikon 1 blows away all other compact camera in it's class away when it comes to shooting action, fast breaking scenes and moving subjects. If shooting sports and fast, capturing daily life is what you like to do, even just for fun, then I'd definitely recommend the "1." It's an outstanding camera system that offers lots of flexibility for most outdoor photography applications, including full manual modes, RAW, flash, and more.
The Nikon 1 (starting at $599) is available in different camera lens packages, your options being the J1 or the higher end V1 with one of the following lens kits:
Read the PDF Brochure for the Nikon 1 that shows all the features or check out Photo_John's hands on review of the Nikon 1 J1 at Photographyreview.com.
[iframe]<iframe width="120″ scrolling="no" height="240″ frameborder="0″ style="border:none;" border="0″ src="http://mer54715.datafeedfile.com/widget/aff_widget_prdt_generate-2.0.php?aff_num=6746&aff_net=1&widget_num=829″ marginheight="0″ marginwidth="0″></iframe>[/iframe]