4 Rugged Adventure Point and Shoot Cameras
When you're wrecking on your mountain bike, falling down in waist deep powder, bombing through the rapids, or scraping up alpine granite walls, it's just not always practical to bring along the heavy DSLR. Believe me.
Sometimes you just want to head out on the trail for a few hours, smell the flowers and shoot a few landscapes or fun action photos without burdening yourself with the "big camera" and all those lenses.
Does this mean that you can't go light and fast AND document your more extreme adventures with high quality, and perhaps even publishable photos? No way. Compact camera technology has gotten a whole lot better in recent years, just as cameras themselves have gotten tougher.
Here's a review of 4 rugged adventure point and shoot cameras that produce high resolution imagery and that are designed to be knocked around, dropped, submerged, frozen and otherwise abused by risk taking, hard playing, fun loving outdoor photographers. Also, check out my writeup on the Fuji X10 and my look at the new Nikon 1 J1, which are both excellent compact cameras, they're just not water and shock proof.
Nikon turned quite a few heads when it introduced the Coolpix AW100 at this year's PhotoPlus Expo. Designed with a 16MP CMOS sensor, a 3″ LCD screen, Full HD (1920 x 1080p) video, a built in GPS and electronic compass, the AW100 is built on a chassis that can withstand underwater depths of 33-feet, temperatures as low as 14 degrees F and being dropped onto the rocks from at least five feet.
The 5x optical zoom NIKKOR ED glass lens on the AW100 is equivalent to a 28-140mm f/3.9-4.8, and it's constructed of 12 elements in 10 groups. The camera features VR image stabilization, Nikon's EXPEED digital image processor, a motion detector for AF tracking of moving subjects, and a frame rate that allows 3 full resolution shots in about a second.
Knowing that it's really hard to control all the little camera buttons when you're wearing gloves, Nikon has included an Action Control feature, which lets you perform certain camera functions by hitting the Action button on the side, and then giving the camera a simple shake up/down or forward/backward. I have not tried this function, but it sounds like it could make things a lot easier in the wintertime.
I like what I see in the Nikon AW100 so much that I've been very tempted to just rush out and just buy one for fun. I may end up doing that very soon, as it's a camera that you could certainly clip to your backpack, always keep with you and not have to worry about beating up. In checking out the Nikon AW100 mini-site, both image and movie quality look very good, even in low light.
Right now, the AW100s have an instant $50 rebate that's good until the end of March, which means that you can pick one up for less than $300.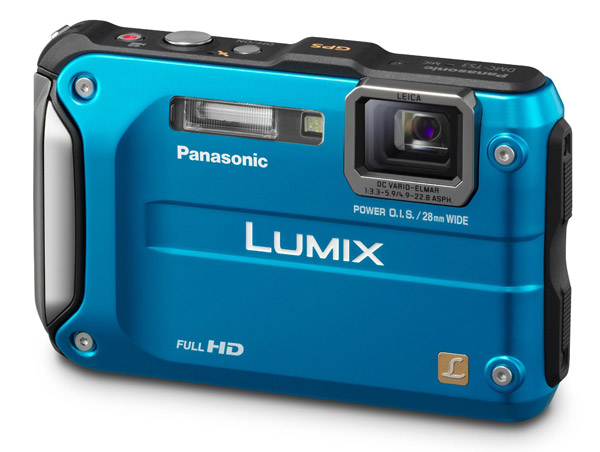 Much like the Nikon AW100, the Panasonic Lumix DMC-TS3 is built for toughness. It's waterproof to 40′, shockproof to a supposed 6.6′, and it also has Full HD video capabilities with Dolby sound and a built in GPS and compass, as well as an altimeter and barometer.
With a Leica ED glass 28-128mm equivalent 4.6 optical zoom lens (10 elements in 8 groups) a 2.7″ LCD panel and a 12.1 MP Hi-speed CCD sensor, the DMC-TS3 produces great, low noise images and high quality video. It will fire a burst of 7 full resolution images at a frame rate of about 3.7 fps, and in Hi-speed Burst Mode, it will fire up to 10 fps for a max of 100 shots.
The Panasonic Lumix DMC-TS3 is rated to fire approx. 310 full resolution shots on a single battery charge, which is slightly better than the Nikon AW100, which is rated to around 250 shots. Of course, these numbers are wildly affected by a number of factors, and under normal circumstances, you're likely to get even more frames on a full charge.
It doesn't have a special Action Mode feature like the AW100, so no telling how easy it is to use when wearing gloves. Those buttons are pretty small…
I got to see one of these up close last week- my friend has one and he took his on the 350 mile Iditarod Invitational winter ultra endurance race and had it in conditions well below zero for days on end. I'll talk to him later this week and see how it performed under those temperatures.
That said, I've seen shots from his other winter trips and I'm pretty impressed by the Panasonic Lumix DMC-TS3. The Lumix cameras are awesome and they really hold up, as gauged by my other adventure friends who have them. I wouldn't mind having one. At around $229, the Lumix DMC-TS3 also costs quite a bit less than the Nikon AW100; the main tradeoffs being the slightly lower MP sensor and no "Action Button" feature.
Note: The brand new Lumix DMC-TS4 is now out. Click here for info.
Much like the AW100 and the Lumix, the Olympus TG-810 Tough is waterproof to 33′, shockproof to 6.6′, winterized and freezeproof to 14 degrees. They all call it crushproof, as it's metal body is built to withstand up to 220 lbs of pressure. And, like the others, the TG-810 Tough also has a built in compass, altimeter and GPS so that you can tag and see where your photos were shot.
Olympus has a long history with durable point and shoot cameras. Remember the old Stylus Epic? That was a huge favorite of outdoor photographers and adventurers everywhere.
Built with a 14 MP sensor and a 5x 28-140mm equivalent lens and a scratch resistant 3″ LCD screen, the TG-810 Tough has a slightly smaller max video size (1280 x 720). However, the camera does features some other fun features, such as AF tracking, a host of creative Magic Filters (Pop Art, Pin Hole, Fisheye, Drawing, Soft Focus, Punk, Sparkle, Watercolor), and a 3D mode that produces photos that can be viewed on 3D televisions. It also has an in-camera Panorama mode that will stitch together 3 photos into an ultra wide pano.
The TG-810 Tough is also compatible with the Eye-Fi SD card, which allows for wireless WI-FI upload of your images.
Overall, the Olympus TG-810 Tough looks like a very rugged camera that's comparable to the two previous models mentioned above.
Last but not least is the Sony Cyber-Shot DSC-TX10, which features a 16.2 MP CMOS sensor and a Carl Zeiss 4x optical zoom 25-100mm equivalent lens, a 3″ touch screen LCD screen and Full HD 1080p video.
Also, waterproof, shockproof, and freezeproof just like the others, the Cyber-Shot DSC-TX10 will fire at 10 fps at full resolution, and it features a number automatic scene modes and creative filters, as well as 3D mode and 3D Sweep Panorama mode.
The main issue for some people with the Cyber-Shot DSC-TX10 could be the touch screen LCD. While this is not usually a problem in the summertime, it's pretty much useless in the winter unless you take your gloves off. That gets old. Northern latitude photographers may stay away from this camera.
If touch screen doesn't bother you, it's does have a Carl Zeiss lens and a great sensor, so image quality should be quite good.
Note: The Cyber-Shot DSC-TX10 has been discontinued. You can still find them around, but the newer Cyber-Shot DSC-TX20 is due to hit shelves in May- Just in time for summer vacation!! However, looking at the specs, there doesn't seem to be much difference between the TX10 and the TX20 except a 20-dollar jump in price. If you don't want to wait, you should probably just pick up the TX10.