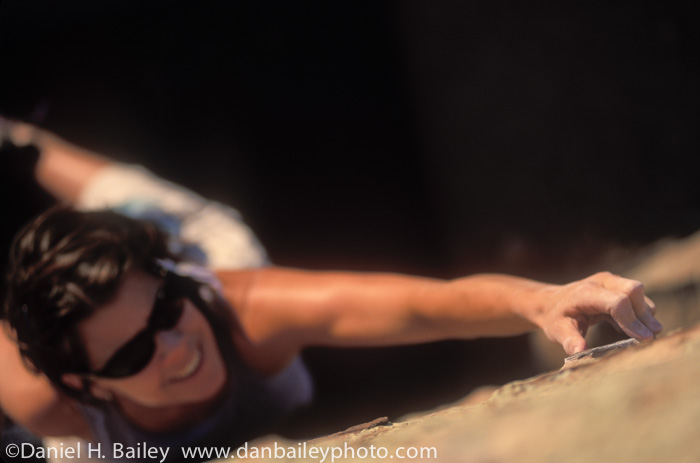 Aside from my regular selection of cameras, lenses and camera packs, which often varies with the specific activity or trip that I'm on, there are a few essential items and accessories that I have with me about 90% of the time, no matter where I am or what I'm doing. You can find my current equipment setup on my Gear That I Use pages.
These are things that I rely on just as much as the pro hardware, and in fact, without them, I'd often end up walking (or skiing) away without the shot for some reason or another. Either that, or any given photo shoot or adventure just wouldn't go as well.
Take a look at these items and see if they might work for you as well. Depending on your style, you may find that an alternative item may be a better choice for you. If so, let me know what essential tools live in your camera bag!
1. Sandisk Memory Cards
I use Sandisk memory cards in all of cameras. In fact, I've never saved an image to any other brand of cards. Not every card manufacturer actually makes their own cards. Some outsource from other factories and just slap their label on. Sandisk has their own factory, and their cards have always been reliable. In all the years I've been shooting digitally, I've only had about two card errors, both of which were fixed with their own Sandisk Recovery Software.
These days I'm using 16BG Extreme CF cards in my DSLRs and 16GB Extreme SD cards in my X20 and X-T1.
2. Extra Batteries for my Fuji X Cameras
It's no big secret that most mirrorless cameras have less-than-great battery life. While I have no problem leaving the house with just one DSLR battery and the confidence that it will last all day, the same cannot be said about my mirrorless cameras, like the X20 and the X-T1. The manual says to expect about 300 shots, but fool around with settings, autofocus, video and some of the custom features and looks and I might go through a couple of batteries by the end of a long day. Maybe more if it's cold.
So far, I think I've collected about 6 or 7 batteries for my X20, which I keep in a spare memory card wallet. I've got some authentic Fuji ones, two of which I bought used from someone online who had returned their camera, and even a couple of generics that work just fine. Camera stores will charge you $50-60 each, but Amazon has spare NP-50 batteries for about $20. If you're an X20 user, I'd make sure to have at least two or three on hand.
For the X-T1 and X-E1, I've got 3 of these NP-W126 batteries, which usually gets me through a day of shooting. You can also get a generic version of this battery for a little less money. I have a couple of generic batteries for my X20 and can't tell any difference in performance.
3. Gorillapod
The regular Joby GP3 Gorillapod SLR-Zoom flexible tripod is a pretty cool invention. I got mine as a gift from my sister a number of years ago and I take it with me just about everywhere. It's small, super lightweight, extremely packable and it provides a makeshift camera and flash support when you need it. I've fixed gear to trees, sign posts, bike frames, handlebars, you name it. And if I don't end up using it on any given day, I hardly noticed that I was even carrying it.
4. Think Tank Memory Card Case
I used to have hard memory card cases until someone gave me a Think Tank Pixel Rocket, and since then, that's all I use. I don't even have the fancy one with the key chain strap and business card window, and mine only holds 6 cards, not 10. Still, it's small, fits easily in my camera bag or pocket, has a velcro closure and holds plenty of cards for any photo shoot or trip.
5. Stuffable Lens Cleaning Cloth
Mine doesn't say Nikon on it, but it's the exact same thing. A Stuffable lens cleaning cloth that costs about 5 bucks, folds up and fits in the smallest corner of my camera bag. Better yet, it clips right to the inside key chain ring so I can always find it.
This way it's there when I need it and it tucks away when I don't. Also usable to clean my glasses. Have you seen how dirty my glasses get?
The Sanyo Eneloops and the OEM brand that they make are the best rechargeable batteries on the market. I use the in my flashes, bike lights, aviation headset, pretty much every single device that takes a AA battery.
The Ni-MH Eneloops charge in about 7-8 hours, can be used and recharged over 1,500 times and will hold up to 75% of their charge for up to 3 years. Beats throwing away alkalines any day.
Also, see the 6 essential items that always live in my camera bag, and the photography gear my readers can't live without.