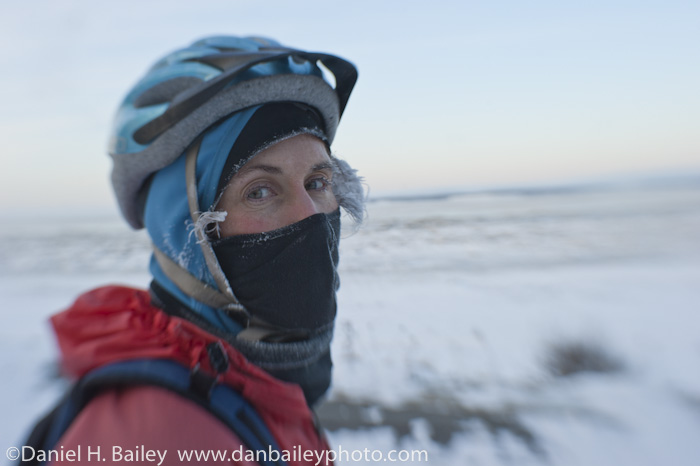 It's always great to challenge yourself and push your own creative boundaries. Sometimes you do this with different techniques, sometimes you do by photographing new subject matter, and sometimes you do it by using different gear.
I recently got my hands on a Lensbaby Composer Pro with the Sweet 35 optic and have been trying it out with mixed results. That's not a comment on the lens, it's a comment on my own style.
As you probably know by now, I rarely make things easy for myself, and so instead of giving it a nice gentle test drive on some easy to photography subjects, I jumped right in and took it for the first time in sub-zero degree weather on the snow bike in the dimming, late afternoon Anchorage, Alaska light.
Keep in mind, I'm using to using auto exposure and autofocus. By the nature of their design, Lensbabies offer neither. That means shooting any kind of action, motion or quick portraits required me to approach my photography a little differently.
Add to that the fact that I'm all bundled up with an insulated facemask, glasses that keep fogging up and gloves that make it hard to manipulate the camera controls, especially when I'm trying to shoot one handed while riding the snow bike. Plus there's the whole issue of keeping the camera batteries warm and people that just don't want to stand around playing 'model' in the cold.
Nonetheless, I welcomed the challenge and tried my best to create some compelling shots in very difficult conditions. Gear, technique and weather aside, I think I managed to eek out a couple of cool frames on our short ride, what do you think?
As far as the Lensbaby goes, it seems like a pretty cool tool so far. I'm excited to try it out even more and see what I come up with in my own particular style of outdoor and adventure photography. And wait until I throw some Speedlights into the mix!