Two Flash Portrait with PocketWizard Flex TT5 Radio Triggers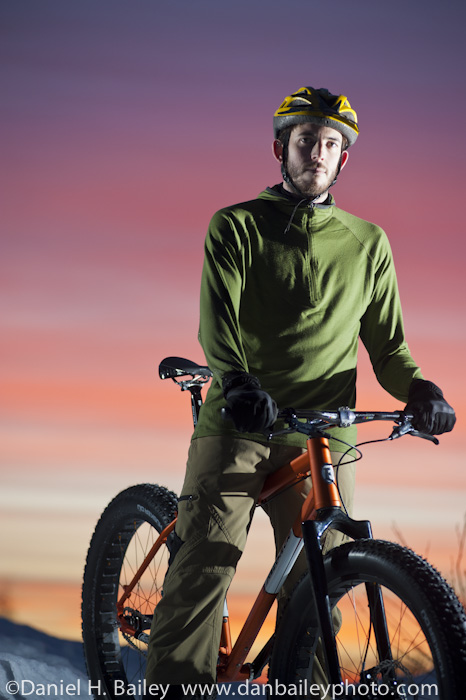 A couple of weeks ago, I headed out with cyclist Tim Reinbold to grab a late afternoon and try out the PocketWizard Flex TT5 radio triggers.
Using the dramatic sunset sky as a background, I set up a pair of Nikon SB-800 Speedlights and placed them about ten feet to either side, and slightly behind the subject and shot with a telephoto lens from about 50 feet away. No softboxes or other light modifiers were used, except for the regular plastic dome diffusers on the flashes.
This setup gives the dramatic, 3-dimensional lighting effect that you see in the shot above. With the dome diffusers on, the light scatters and ends up wrapping partially around the subject. Placed closer, it would wrap more. Further away, it would get even more directional and cast stronger shadows. Ten feet away seemed to give a pretty good mix of shadows and wrap.
I triggered the flashes with a set of PocketWizard Flex TT5 radio triggers, one on each flash and one on the camera.
Unlike the regular PocketWizard Plus triggers, which only let you do manual flash, the Flex TT5 radios allow you to make use of TTL flash metering from your dedicated Nikon or Canon flashes.
They're very easy to use; you simply slide the flash onto the Flex TT5's hot shoe, slide another TT5 onto your camera's hot shoe to act as a master, and then fire away.
The Flex TT5's send the TTL, i-TTL, or E-TTL information between your camera and your flash, and automatically control the output of your flash for normal, TTL exposure. You get TTL flash at radio trigger distances. Pretty cool.
The Flex TT5 radios made a HUGE difference here. In fact, they made this image possible, because if I had to do test shots and run back and forth to change the manual light settings on the flash, I would have missed the light.
In this case, they saved me time, and ultimately, in't that what we want from technology?