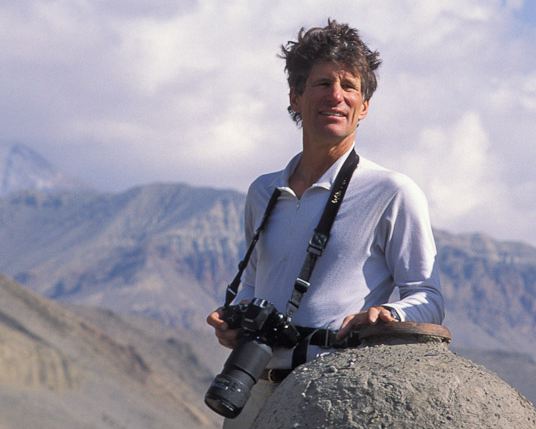 Galen Rowell was undoubtedly the father of modern day adventure and outdoor photography. He pioneered the style of going light and fast with small cameras in the mountains and paved the way for guys like me.
Having started his career with manual Nikon F bodies, he later moved up to the higher end pro Nikon SLRs like the 8008, N90, F4 (sans grip) and the F100. However, he wasn't a huge fan of the F5; he considered it too heavy for fast and light use since it didn't have a removable battery grip. (Here's a complete list of his preferred camera gear.)
Unfortunately, his untimely death in 2002 meant that he wasn't around to see the photography world move to digital. Ironically, he was once quoted as saying:
"Small, portable digital cameras that exceed the performance of an off-the-shelf Nikon using 35mm slide film are further away from current reality than the proposed NASA manned Mars mission, although I expect both to happen sometime during my lifetime."
Well, we haven't gone to Mars yet, but small, portable digital cameras that exceed the performance of film-shooting Nikons are the norm today. The reality is that just about every digital camera on the market these days out resolves film.
As someone who has been heavily influenced by Galen over the years, I've often wondered how he would have navigated the digital camera world. For years, I always assumed that if he were still alive he'd be shooting with Nikon DSLRs. After all, he was a longtime Nikon guy.
However, Galen was also a huge Fuji guy. Anyone who's familiar with his work knows that Velvia was his favorite slide film; he loved the bold color palette and rich blacks it produced.
You can see where this is going, can't you…?
Given his style, what do you think that Galen Rowell, the father of light-and-fast photography would think of a camera like the Fujifilm X-T1? (Or the brand new, updated X-T2). It's small, rugged, weather-sealed, highly capable, simple to operate, with its top-deck dials and SLR-inspired body, it takes gorgeous, incredibly sharp photos and has a Velvia film simulation mode built right in.
I'm betting he'd be pretty intrigued.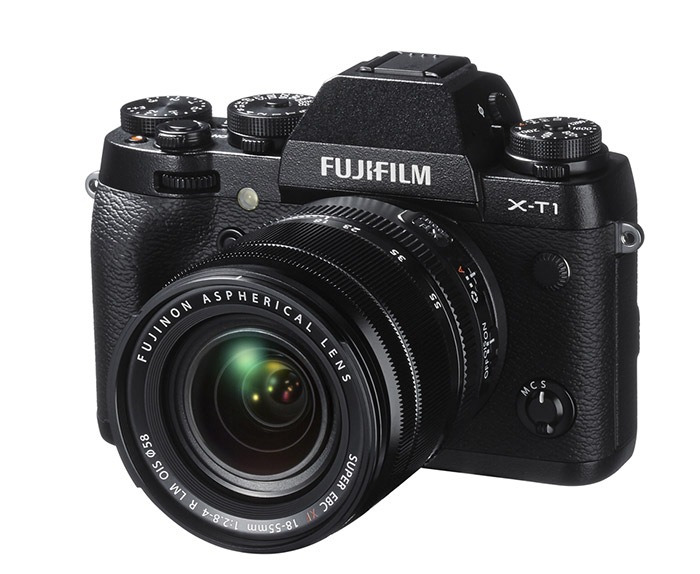 As a former mechanic, constant tinkerer and creative visionary, Galen wasn't the kind of man to remain beholden to any one brand, he used Nikon SLRs because that was the best gear available during his time.
That doesn't necessarily mean he would have always stayed with using Nikon gear in perpetuity. After all, he once switched from Kodak to Fuji, so it's entirely plausible that he might have switched camera systems at some point if he found something that better matched his style.
So here's my question, and I'd love to get reader input on this. If Galen Rowell were still alive today, what do you think he'd be shooting with? More importantly, if the digital photography industry had evolved with him still in it, what kind of influence do you think he would have had with regards to innovation and modern camera design?
Here are the options I've come up with. Feel free to comment and add your own.
Scenario #1: He'd Still Be Shooting with Nikon Cameras
Given their current lineup, my guess is that in this scenario, Galen's camera of choice would be the Nikon D750. It's their best non-battery grip full frame DSLR, it's lightweight and has a number of pro features. For some subjects, like wildlife and extreme telephoto sports, he might even use the new DX sensor D500, although the D7200 is WAY lighter, and it still has lot of pro-quality features.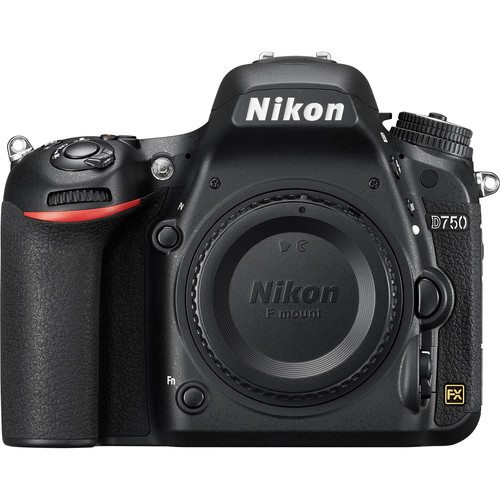 Scenario #2: He Would Have Switched to Fuji Cameras
Given the size, weight and performance of the Fuji X Series cameras and lenses, and the fact that the cameras have Velvia built right in, it's easy to see why Galen might be really attracted to a camera like the X-T1. Or even the new X-Pro2, which has an even higher megapixel sensor.
And don't discount the X-T10, which has the same sensor and image processor, and most of the same features as the X-T1, but in a smaller, lighterweight body. Or even the X70, which has the same APS-C X-Trans sensor as all the higher end models, but in a body that fits in the palm of your hand and has a fixed wide angle lens.
It's well known that Galen often ran with his camera inside his Photoflex chest pouch. Some of his favorite images were shot during his quiet morning runs when he carried just one body and lens. He also loved using wide angles, so how could he not like a camera like the X70, or even the X100?
There are a lot of reasons why Galen might have been drawn to the Fujifilm X Series cameras, and to mirrorless cameras in general. This brings me to my next point.
Scenario #3: He Would Definitely be Shooting Mirrorless
Even if he still used DSLRs, my guess is that Galen Rowell would be very intrigued by mirrorless cameras. Not only are they smaller and lighter, they offer a number of very useful features, including a full-time Live View LCD screen. As someone who often shot in tricky light, he would probably appreciate the benefits a live view screen offers. It's quite possible that he would have used both DLSRs and mirrorless cameras, each for different activities.
And if it weren't Fujifilm, maybe he would have been drawn to another system. In my mind, Sony would be the next logical choice, although Sony cameras don't have Velvia mode. Still there's no question that Sony cameras and sensors produce high quality imagery.
That said, even if you mirrorless with a full frame Sony A7, your lenses don't really get any smaller, so you're not going as fast and light as you could. At any rate, I just don't see Galen switching from Nikon to Sony. And Olympus cameras have even smaller sensors than APS-C, so unless you can think of another option, we're back to Fuji.
…Which brings us to my last point.
Scenario #4: Galen Would Have Influenced Nikon to Build a Better Mirrorless Camera
Galen had a huge influence when he was alive, and I think that if he were still around, he would have pushed Nikon to come out with a mirrorless camera that would fit his style. At least something way better than what they currently offer, none of which seems to appeal to very many serious outdoor and adventure photographers.
Perhaps Nikon would have gone back to their "F" roots and pushed them to innovate in an entirely different direction. What about a digital back for their film cameras? Swap out the film door for a digital back and you suddenly have a 16MP digital FM2, F3 or even FG. This could actually create a huge market for all the people out there who still have their film cameras tucked away on shelves, unused for decades. I've always thought this would be a smart move.
He might have pushed them to invent something more like the X-T1, which actually looks and feels more like an FM2 than all the little Nikon 1 models they keep coming out with. At the very least, perhaps the Df might have been a better camera.
Or, perhaps he would have worked closely with Fuji and influenced the design of the X-T1. At any rate, his presence in the industry would have undoubtedly made a difference, at least with Nikon.
Then again, maybe not.
What do you think?