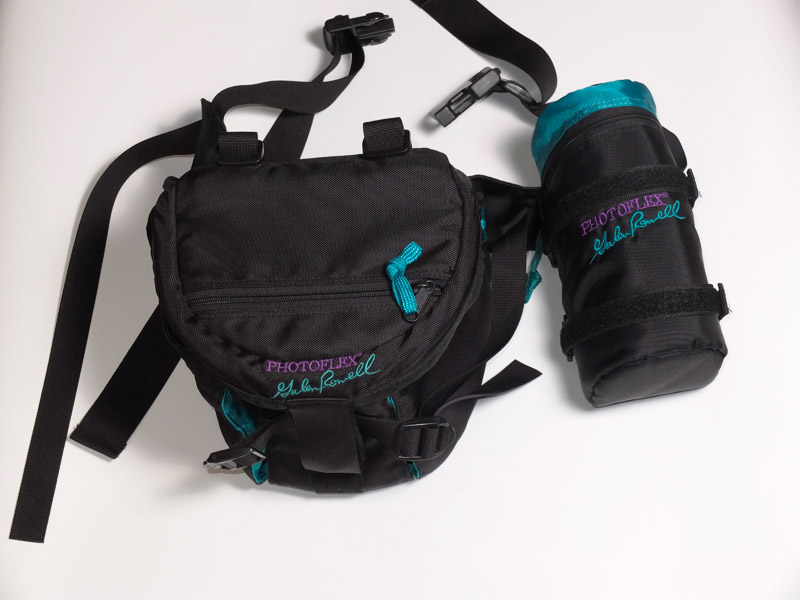 When does style become an obsession?
A year and a half ago, I wrote a post called Trying to Find The Right Camera Bag, in which I begged and pleaded with everyone online to help me find another Photoflex Galen Rowell Chest Pouch and lens case. You see, this little pouch, which was designed by the father of modern day adventure photography, and manufactured for a short time by Photoflex, had become my favorite bag. It had been my companion on many an adventure, and offered me such simple quick access to my camera that it had helped define my fast and light style of photography to the point where I couldn't even imagine NOT having one.
Problem, though is that they've been discontinued for years. I've gone through two of them since 1996, and my second one is falling apart, despite numerous battles with dental floss and the bar tack machine at my friend Eric's sewing shop. At some point, the thing just needs a complete overhaul.
During the past few years, I've searched eBay, Craigslist and the world wide web, desperately trying to find one. A couple months ago, the trail grew hot as I called a photographer in Montana, but alas, he'd already sold the bag and couldn't be talked into parting with his second one. Can't say that I blame him. I even went directly to the source, pleading with my contacts at Photoflex to search the far dark corners of the warehouse in the hopes that there might be one hiding on some long forgotten shelf. They came up empty.
However, thanks to my friend Steve Zimic, my cries for help have been answered. I met Steve while on a 1993 trip to the Mustang district in Nepal as part of a Wilderness Travel/Mountain Light Galen Rowell photo workshop trek. We've kept in touch over the years. (He shot this photo of me and Galen during our trip.)
A couple weeks ago on Easter morning, Steve sent me an email alerting me to a GRCP II that had just popped up on eBay. Truth is that Steve wouldn't have minded having a backup for his own GRCP, but he knew of my desperation and passed first dibs to me. I placed a bid, raised my own limit, crossed my fingers and nervously waited for ten days until it was confirmed that I had been not only the winning, but the only bidder.
The bag arrived in the mail on Monday, brand new, looking like it had just been brought back from 1996 in a time machine. I like to think that it's just been secretly hiding somewhere in the world, waiting and trying to get back to me, kind of like the ring of power, eventually finding its way to that nice gentleman in Oregon who saw it at a local  thrift store, bought and put it up for auction on eBay, knowing that I'd be the one to bid on it.
It was fate. Like a dream come true. Like an Easter miracle. Like meeting the brother of the long lost friend that I used to know. Ok, getting a little sappy, I'll just stop right there.
So, thank you Steve, thank you Ray from Oregon, and hello new camera bag. Oh, imagine the fun that you and I are going to have together. I'm suddenly feeling very nostalgic. Maybe I need to go read my copy of Mountain Light again.