"Photographing Flowers" by Harold Davis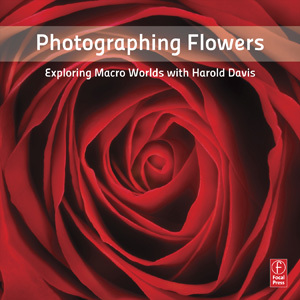 I'm an adventure photographer who loves to get lost exploring remote rocky mountain terrain, but I'll admit something. I also have a domestic side. One of the things I love about is summer is gardening. I love flowers.
When I'm home, I spend hours in my yard planting, watering, weeding and cultivating poppies, bachelor buttons, nasturtiums, roses, lavender and many other blooming perennials. As a photographer and visually oriented person, flowers offer very pleasing appeal.
If you're also a photographer gardener, you might want to check out Photographing Flowers: Exploring Macro Worlds with Harold Davis, which is a beautiful new book published this year by Focal Press.
This 207 page manual explores the intricacies and art of macro flower photography and shows you endless possibilities for capturing your own stunning flower imagery and shooting appeal floral arrangements. Covering both in-studio and outdoor location settings, Davis teaches the basics of macro photography equipment and explores a wide variety of techniques for creating different species and flower types.
He talks, gear, composition, focus, depth of field, creative approach, exposure, histograms, focus stacking, Photoshop post production and how to make use of different backgrounds; everything you need to know in order to create great flower imagery.
The illustrations in the book are simply beautiful. They draw you in with vibrant color and tight compositions and creative arrangements that will make you want to rush out into your own yard or into a nearby field to try out his techniques for yourself. Some of my favorites are the closeups of roses and the translucent photos that he lights from behind. Gorgeous.
As an added plus to the photography aspect of this book, Harold also approaches the material by teaching you about the life and science of flowers. He covers evolution, shape, ecosystems, cultural symbolism and historical significance with a friendly authoritative tone. He's obviously loves his craft and both is knowledge and artistry come through with dedicated passion and enthusiasm.
Photographing Flowers: Exploring Macro Worlds with Harold Davis is a book that you can simply get lost reading, whether you're reading it on the couch during a rain afternoon, or preparing to go shoot your own floral imagery. If you love flowers and photography, I promise, you will absolutely love this book. Pick up a copy and start exploring your own macro flower photography. And if you're even in Anchorage, stop by my house and I'll give you a tour of my own garden, although I have to give my wife credit for a great deal of the work. She has the greenest thumb on the planet.
Follow @Danbaileyphoto