5 Awesome WordPress Themes for Photographers
More and more photographers these days are converting to WordPress based websites, and for good reason. They're relatively easy to build, they're economical, especially when compared to commissioning a full website from scratch, and they integrate perfectly with blogging and social media.
With an increasing number of great looking photography website templates and useful plugins that are available, it's easy to create and customize a strong looking website that shows off your work in a effective and individual way.
Here are a few of the top WordPress themes for photographers. If you feel that your website needs an overhaul, this may be a great way to go.
1. Photocrati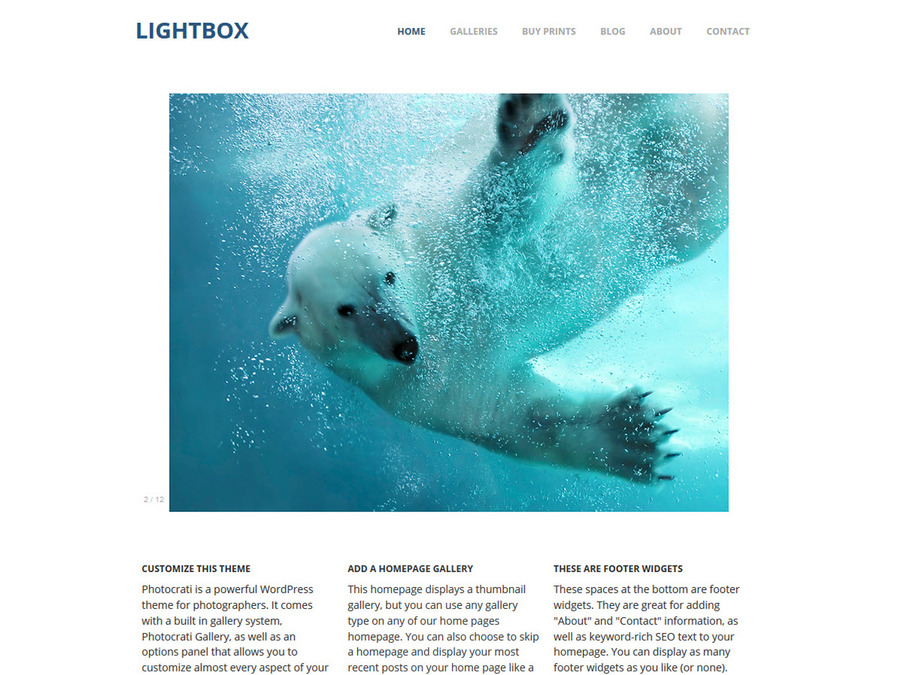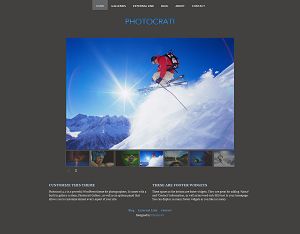 This is what I use on my main website. The Photocrati Theme is actually one "Super Theme" that offers 15 different preset theme styles and four gallery styles. This effectively gives you 60 different possible themes to choose from. In addition, each theme and style is fully customizable, so you can change colors, typefaces, gallery settings, add sidebars, widgets and modify just about every single aspect of the theme.
Photocrati also offers strong full compatibility with iOS devices, strong SEO options and built-in ecommerce options for your galleries so that you can start selling work right from your own site. They also feature extensive online support, which I can attest, is very good.
A socially conscious company that's dedicated to supporting photographers, Photocrati offers annual grants for humanitarian and environmental photographers who are working on specific projects. Some of the biggest names in the outdoor and nature photography industry work with Photocrati, including Steve McCurry, Art Wolfe and Jim Brandenburg.
2. Graph Paper Press
Graph Paper Press makes themes that are specifically geared toward photographers, artists and other creatives. They offer 33 different themes, all of which are totally customizable, as well as 14 plugins, including a testimonial widget, so that you can make a website that's both functional and visually appealing. Also, if your WordPress skills are a little rusty, they offer 40 video tutorials that help guide you through the process of building your site.
The Graph Paper Press themes vary widely in look and style, and some of them even integrate with PhotoShelter. Rather than sell single themes, you get a subscription that gives you access to all of the Graph Paper Press themes and full online support. They also offer a limited number of free themes.
3. Elegant Themes
Elegant Themes has a number of bold photography and portfolio themes, including Gleam, ePhoto, Modest, Evolution and Envisioned. It's also one of the more affordable options; for an all-includive price of $36, you get access to all 77 themes and updates. With options like full screen galleries, custom background images in posts, multiple page templates, and a custom ePanel that integrates with the WordPress Dashboard and allows you to control and customize your theme's layout, colors and settings, you can create a great looking photography website without spending a lot of money.
4. Expose Theme by Studio Press
Expose by Studio Press offers a simple way to show off your portfolio and your best images. This theme gives you a custom background and header image options, 6 different layouts, featured images in posts, threaded comments. Studio Press themes are all very clean and well designed and allow for building powerful and effective websites.
5. King Size by ThemeForest
King Size is one of many photography specific themes by ThemeForest. It offers a dramatic fullscreen background slider image option, five gallery types and a number of portfolio page options, including video support, custom admin panel and right-click disable. As far as themes go, King Size is an impressive and original style theme that dramatically shows off your work. Again, though, it's only one of many. Also check out Atlas.
Follow @Danbaileyphoto