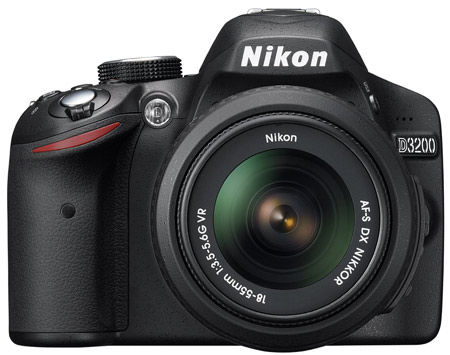 Yesterday, Nikon announced the brand new D3200 DLSR Camera, the replacement for the entry level D3100. With a 24MP DX format CMOS sensor, Full 1,920 x 1,080 HD video and excellent high ISO, low light performance, the D3200 could be called the baby brother of the D4 and D800.
It also has the same Expeed 3 image processing engine as the flagship Nikon D4, which means that for a camera that's aimed at beginning photographers, the D3200 will create high quality image files of impressive clarity and resolution.
While the D3200 is a great first camera choice for new photographers, it obviously lacks many of the main features that would make desirable as the main camera of most serious outdoor photographers. It's only got an 11-point AF system, no full frame sensor, it only works with AF-S lenses, it won't control other flashes and it's certainly not as rugged as the higher end models.
That said, there are a few reasons why you might want to consider buying a D3200.
1. A Second or Backup High Quality HD-DSLR Body
With Full HD 1,920 x 1,080/30p video, the D3200 could be used as a second on-loction video body that your assistant/art director/friend could use to document your photo shoot. Behind the scenes videos are becoming more popular by many photographers and if you're already shooting stills with your main DLSR body, you need a second or backup body running if you want to capture some video of your assignment. The D3200, which comes with an 18-55mm lens, is a relatively inexpensive option for this kind of task. Plus, it allows you to use your higher end Nikon glass if you choose to do so.
It's also an inexpensive backup camera body option for your main DSLR. Nikons rarely let you down, and if a camera is going to spend much of it's life relegated to a backup, why not make it something small, light and affordable? (See #2 below.)
2. It's Small And Lightweight
The D3200 is even smaller and lighter than the D7000, not to mention that it has even more megapixels. It's as light a DSLR as Nikon has ever made. There are situations when you don't actually need the superior features of a high end DSLR, and having a really light body might come in handy sometimes. With a 24.2 MP sensor and Expeed 3 image processing, the D3200 will produce extremely high quality images, and it won't weigh you down.
3. WiFi Upload with the WU-1 Wireless Mobile Adapter
For $59 the new Nikon WU-1 Wireless Mobile Adapter allows you to shoot and instantly send photos wirelessly to your smartphone or tablet. Think social media. Think on- location documentation of your photo shoots and adventures that you can upload and share on the spot.
The WU-1 also allows you to take control of the D3200, remotely activate Live View Mode and trigger the shutter right from your smartphone or tablet.
Oh, and reason #4- it comes in Red.
Check out the complete specs at the Nikon Website. Right now, the D3200 is available for pre-order at B&H Photo. Price: $699 with lens.