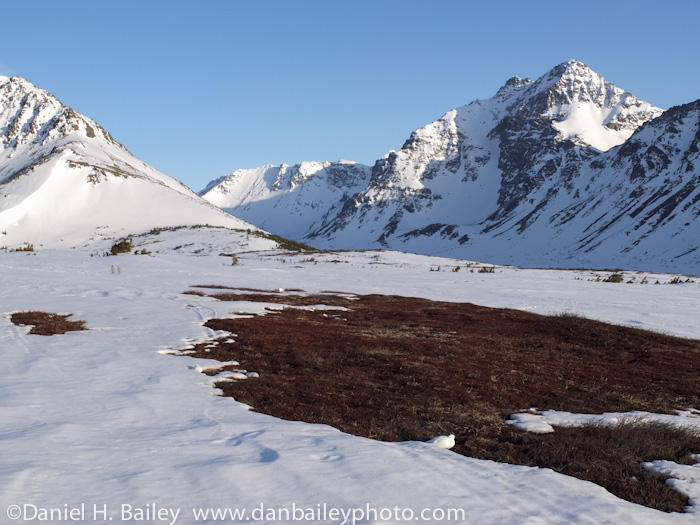 One of my favorite things about entering a new season here in Alaska is watching the ptarmigans change color. We spotted quite a few of these funny little snow chickens during last evening's spring ski outing in the Chugach Mountains near Anchorage. Although they're still predominantly white, like the snow covered tundra, their naturally camouflaged plumage is starting to turn.
The ptarmigan, a rock and tundra bird, is a member of the grouse family that lives exclusively in northern latitudes. Since they have very few natural predators, they're surprisingly approachable. They'll typically let you get within about twenty feet or so before they waddle off or take to the air and flutter about fifty feet away to safer ground.
In perfect sync with their habitat, small patches of brown are beginning to appear on their plumage. A careful eye is required in order to pick them out from the landscape. (Can you spot all three ptarmigan hens in the photo above?) It's amazing to see how well they blend in with the terrain. Depending on where they stand, even a slightly brown neck will do an excellent job of hiding them against a patch of melted out grass.
I always love watching ptarmigans and hearing their funny, quiet croaking coos, and I'll stop to stare with whimsical fancy nearly every time I'll see them in the mountains. Eventually, Mr. Ptarmigan showed up, no doubt to shoot his harem away from the guy with the big long sticks on his feet.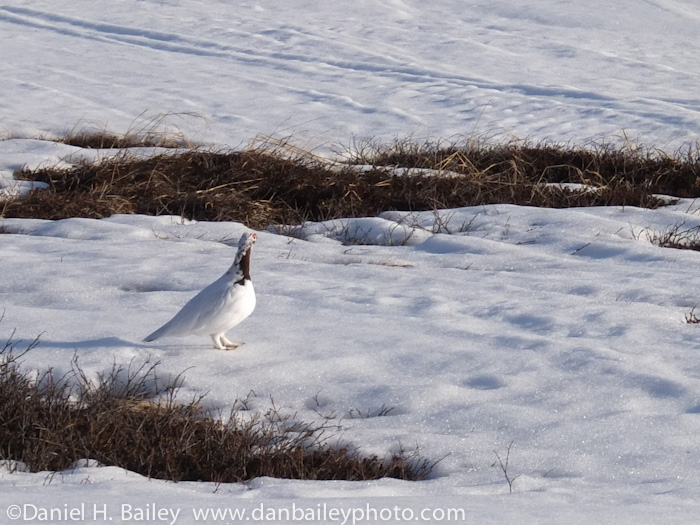 Since we were just out for a fun tour, I went ultralight and took my Fujifilm X10. As you know, my excitement for the X10 keeps growing, and I found it to be a perfectly adequate camera to capture the evening's adventures. I didn't feel limited at all, with it, and even though it might have been nice to have a 200mm to zoom in and isolate the birds, that would have required almost ten times the weight of the X10 in gear. Sometimes it's nice to go light.
The X10's meter handled the snow perfectly, and putting it on 6 fps burst mode allowed me to grab multiple shots of the ptarmigans in flight. For most of the evening, I just left the camera on program and let it do it's thing while I did my thing, which had us back at the car for a 9:30 sunset and home by 10 for a frozen pizza and glasses of Yellow Tail cab.
Ah, springtime in Alaska.