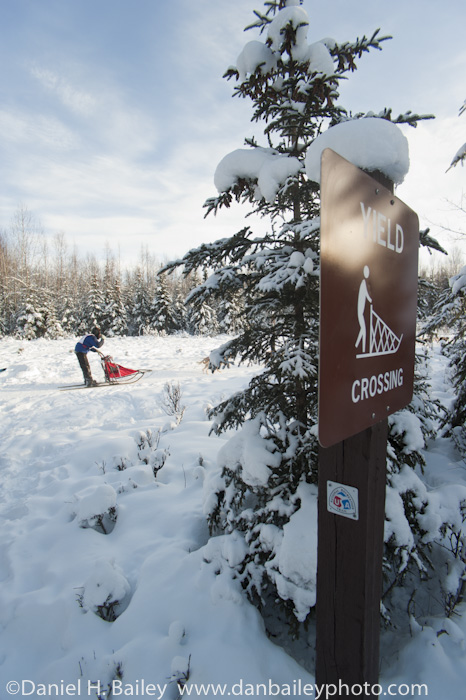 Now that the rest of the country is in post Super Bowl letdown, up here in Alaska we're well into our own national sport, Sled Dog Racing. (I say this like I grew up with it, but actually, I used to love watching the Super Bowl as a kid in the lower 48.)
Anyway, with regular weekend races and Fur Rondy and The Iditarod just around the corner, there are lots of great opportunities for photographing the unique and exciting sport of sled dog racing.
I like shooting it because it's, well, exciting and different. And because it's an interesting mix of outdoor, adventure and action photography all rolled into one.
During my shoot last Saturday, I thought about some of the challenges that I was dealing with, besides the usual cold weather concerns of how to stay warm and dry. It occurred to me that despite the fact that sled dog racing is completely unlike any other sport, in order to successfully capture compelling images of this subject, I was calling on the regular, tried and true methods that any action and sports photographer needs to use in order to create compelling imagery. Here are 3 tips that came to mind.
1. Get a Good Tripod.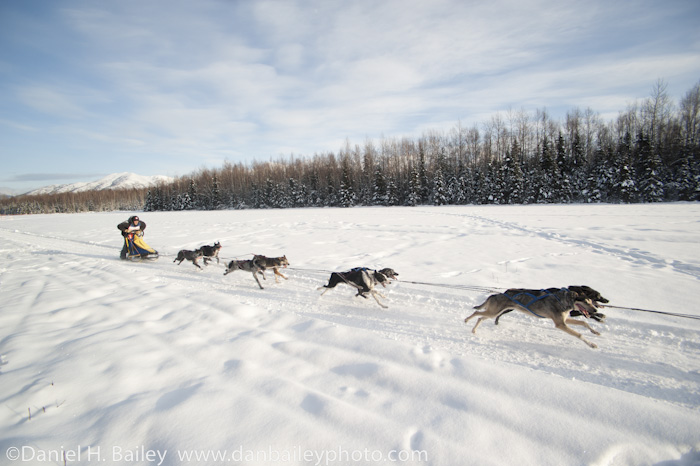 We know that a sturdy tripod allows you to shoot sharper, more well composed photos, especially at slower shutter speeds. However, with sports photography and fast breaking subjects, using a tripod gives you one huge advantage: It allows you to shoot more easily with two camera bodies.
You can leave one camera fixed to the tripod and trained on a point where you know your subjects will appear. The other camera goes around your neck. Then, when the subject comes into the frame, you fire away, for example, with the telephoto while they're still far away.
As they get closer, you can switch to the wide angle camera and fire off even more shots as they go by. Or vice versa. That way, straps, bodes and lenses don't get tangled or weigh down on your neck. A couple of good sturdy tripod choices include the Manfrotto 055XPROB, (formerly the Bogen 3001) and the Manfrotto 190CXPRO3. For even more rock solid support if you're using big glass, you might want to check out the Gitzo GT2530 Mountaineer. In these situations, you're generally more concerned with sturdiness than lightweight, but these options offer a good blend of both.
2. It's All About Vantage Point.
The nice thing with shooting outdoor sports is that you often have much more flexibility with your locations.
You can pretty much roam wherever you want to with your camera in search of the right spot to capture the action as you see it.
For this shot, I knew that I wanted to capture the dynamic excitement of a sled racing around a curve, so I scoped out a few possible locations that would give the right combination of sunlight angle and a relatively clean background.
After tromping through the snow for awhile, I settled on this particular vantage point, which allowed me to get the focused and highly trained chaos of the sled team racing around the curve.
3. Create the Shot in Your Mind Before You Start Shooting.
This is an image that I had in my mind before I even raised my camera. In fact, I prepared and set up just to get this particular shot.
I'd come up with the idea while watching the path that the dog teams took as they raced through the open terrain.
Fortunately, the sun was just right for a backlit photo telephoto shot, and so while I waited for the next team to arrive, I set up my composition, my exposure and the point at which I'd start my focus tracking, thus saving the camera the time and work of finding the subject as it entered the frame.
This is actually the same team as the one in the first shot above. By thinking ahead and planning both the wide angle approach shot and this telephoto departing shot, I was able to take advantage of a great subject in great light and produce two completely different series of images as they went by.
Sometimes photography is all about reacting to the unfolding situation, but there are times when a little planning can make a huge difference. Try it.