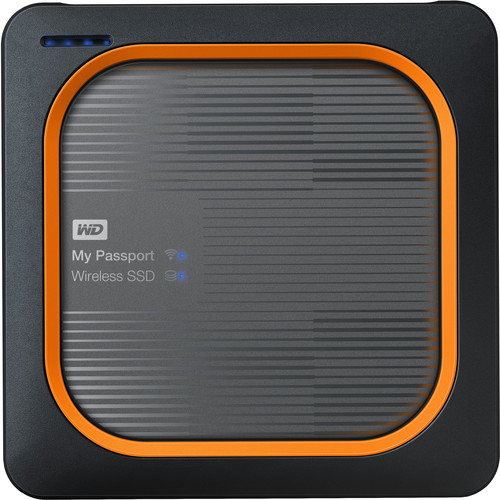 Outdoor and travel photographers, take notice: This week, Western Digital unveiled their brand new My Passport Wireless SSD and it's something you'll want to check out.
So much more than just a hard drive, the WD My Passport Wireless SSD is a powerful, multi-function tool that solves a number of very important issues for photographers who like to travel with minimal gear. In other words, leaving the laptop at home.
It's a durable, shock resistant SSD hard drive that has an SD card slot, a USB port, Wi-Fi connectivity and and 6700 mHa charging battery built right in.
Here's what you can do with it:
Download images from your memory card for backup right to the drive.
View/transfer your images (even RAW files) to your mobile device via the WD My Cloud App.
Stream 4K video from the drive to your phone or tablet.
Charge your mobile device via the powered 2.4A USB port.
So yea, this thing is pretty awesome!
For a long time, the main crux for photographers who like to travel with only a phone or tablet has been how to backup your images. Apple has the camera connection adapter, which lets you copy photos from an SD card, but it takes a long time to transfer and it eats up a lot of battery power.
And aside from that, do you really want to store all your shot images on your phone or iPad? Probably not. Most mobile devices aren't really made for that. Download a couple of decent sized cards and you'll fill up your iPad in a real hurry.
If you have a Fujifilm camera or any other wi-fi/Bluetooth enabled camera, you can transfer your images that way, but that's only a realistic option if you're transferring a few select images, not your entire card.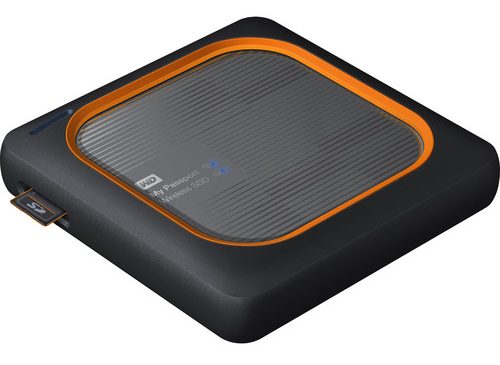 Built-in SD Card Slot & Wi-Fi Connection
With the WD My Passport Wireless SSD, you just stick your memory card into the SD card slot, press a button and your images will automatically be copied to the drive. With a 65MB/s transfer rate, it moves about 4GB per minute.
Then, you initiate a wi-fi connection from the drive and boot up the WD My Cloud App on your device. This allows you to view and manage your files, and transfer images to your mobile device, even RAW files. From there, you have all of your regular options- share, email, send to printer, open in third part apps, etc…
You can also connect the drive to your computer via USB and transfer image to and from the drive. When you're back home, this offers an easy solution to get all of your images to your computer, instead of having to copy them card by card.
Back up To or From Your Computer
Another way to use this device is to put a batch of images onto the drive before you go on your trip, then you'll have access to them when you're on location.
I have the first generation My Passport Wireless and I used it this way during a trip to Labrador and on my 5-week Romania trip back in 2015. I put a folder of my best images on the drive, so if I client contacted me and needed some images, or if I wanted to access my photos for social media/blogging use during the trip, I'd have ready access to them.
It worked like a charm, although being the first version, it was a little clunky and quite slow. Being an SSD drive, this latest version is WAY faster, with speeds of up to 390 MB/s, and I imagine the software performance has been improved as well.
4K Streaming – Up to 8 Devices
In addition to letting you transfer your images back and forth, the WD My Passport Wireless SSD also lets you stream movies and 4K right from the drive to your mobile drive. You can connect up to 8 devices. You could either use this to preview video clips or show your work to clients, or use it as your travel entertainment hub and store movies on it that you can watch in your hotel, on the plane, or yes, even in your tent.
10 Hour Battery Charge
The 6700 mHa battery inside the WD My Passport Wireless SSD has a 10-hour life. This give you pretty decent amount of working time between charges when copying, transferring and viewing images. You can also use some or all of that charge to power up your mobile devices using the 2.4A USB port.
I carry a Goal Zero Venture 30 everywhere I go when I travel. It's a 7,800 mHa battery pack, and I use it all the time to charge my phone and and camera batteries. The My Passport could potentially replace that on some trips, or else double my charging capacity. If you don't already have a battery power pack like the Venture 30, this would give you a great charging source.
Durable and Shock Resistant
Not does the SSD design eliminate moving parts, which makes the drive more durable and reliable, it has a removable rubber bumper that makes it even more crash-proof. With the bumper on, it's built to early survive a 1-meter drop on to the rocks. You can also take the bumper off if you want the unit to be a bit more compact and streamlined. So, again great for outdoor shooters and people who are rough on their gear.
It's already a pretty compact device for all that it does. It's just over 5″ square, and 1.2″ thick. The smallest configuration only 14 oz., while the largest 2TB version weighs about 22 oz.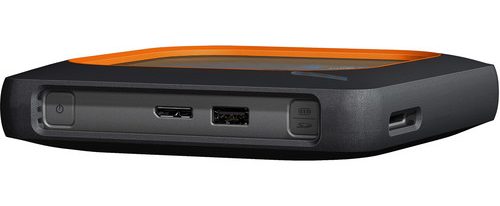 Great All-Around Travel Photography Device
With wi-fi enabled cameras, better apps, and the occasional adapter cable, true mobile photography workflows have inched closer to hitting that sweet spot, and this new WD My Passport Wireless SSD finally gets us there with a unique, but extremely useful and well thought out offering.
I definitely plan on getting one of these and I see it becoming an essential cog in my own travel and outdoor photography setup. If you're travel or outdoor shooter who is looking to put together a more mobile, laptop free setup, then I highly recommend giving this thing a look. It comes in three sizes: 500GB, 1TB and 2TB, although it seems like the 500GB would get you by in most situations.
WD still has their regular non-SSD, non-shock resistant version of the My Passport Wireless, which comes in for sizes, 1, 2, 3 and 4TB. They've been upgraded considerably from the original version, which is the one I have. If you're looking to save a little money and are ok with slightly slower transfer speeds and don't need 4K video streaming, you might consider this model.
Even if you do take your laptop with you on your trips, this unit could still come in quite handy.