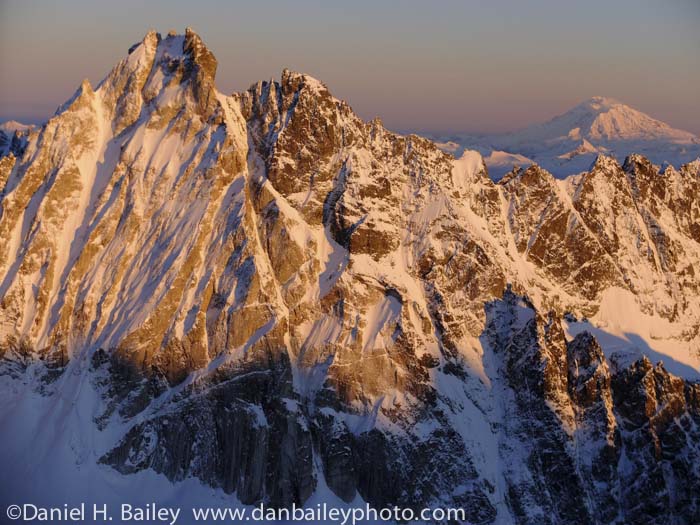 Last light at 8,000 feet over the Neacola Mountains, the formidable chain of non-volacnic peaks that make up the northern most subrange of the desolate Aleutian Range. This jagged wall of ice and rock is Peak 8065, the big snowy peak in the background is Mount Redoubt. It's officially part of the Chigmit Mountains, which make up the northeastern end of the Aleutians. All the ranges in this area are stacked right on top of each other. Wildly active plate tectonics in the Ring of Fire.
Back in mid October, I flew an aerial photography mission out there in my little Cessna with my friend, fellow Alaska shooter Carl Battreal. Two guys, five cameras in a tiny little plane and four hours of fuel. The day before, I was riding my bike in short sleeves down in Anchorage, but up here, my hands were freezing next to the open window from an outside air temperature of about ten degrees F.
Most of the peaks in the Neacolas are unnamed, they're just designated by elevation, largely because they're so remote. There are no roads out here, and the terrain is so rugged that there are few places to land, especially in the summertime. People do go out there, but not very many. It takes some planning, extensive bushwhacking and some pretty hairy river crossings, as well as and an expensive bush flight just to get out there.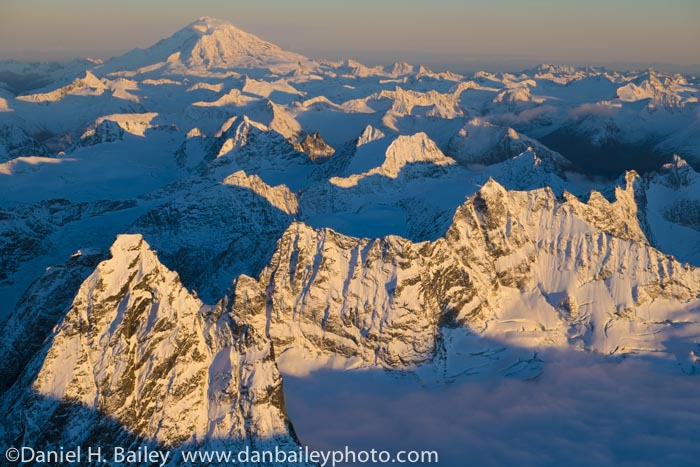 Of course, for us, photographing last light on a landscape that sits over 100 miles west of the nearest established airstrip and fuel stop required careful planning with time and keeping track of our fuel while we shot. It also meant flying most of the way home in the dark, which was an adventure in itself. Carl wrote a pretty good account of the mission on his blog, along with some of his own photos. His photos are great, and not just because he didn't have to steer.
I shot the first photo with my Fujifilm X20 on program mode – (ISO 100, 1/800 @ f/2.8.) The middle image  was made with the Fujifilm XE-1, the last one with the X20. Despite its smaller sensor, the X20 it still my favorite aerial photography and all around carry-with-me-everywhere camera. When you're in a cramped cockpit and navigating this kind of terrain, small and simple is definitely preferable.
Also, I like not having to change lenses in those situations. I really do like the XE-1, (which has just been updated to the XE-2), and I love shooting the two cameras side by side, as I did during a recent cyclocross race. Lots of options with these little cameras, and great looking JPEGS right out of the box. Having subject matter like the Neacola mountains doesn't hurt either.
By the way, the X20 is on sale right now. It's $100 off at both B&H Photo and Amazon, so if you've been thinking about picking one up and treating yourself or your photographer loved one, now would be a very good time.