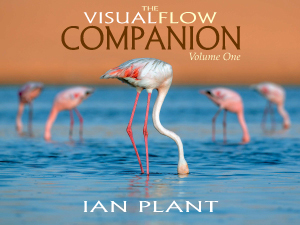 One year ago, Ian Plant released a massive, 287-page photography eBook called Visual Flow: Mastering the Art of Composition. If you haven't seen the book, it's a wonderful, in-depth manual on photographic composition from one of today's true landscape masters.
As an eBook author myself, I can appreciate just how ambitious a project it was to compile and write something with such instructional depth, and I applaud Ian for his effort. Not only is he an extraordinary photographer, he's an extremely effective teacher. If you haven't read Visual Flow, I highly recommend it. You can check out my review of Visual Flow here.
Now, one year later, Ian has released a 51-page supplement called The Visual Flow Companion, Volume One. It explores the topics that he covered in Visual Flow by analyzing nineteen of his favorite landscape images from the past year.
In addition, the new book contains compositional analysis of photographs from three of his fellow shooters, Richard Burnabe, George Stocking and Kurt Budlinger (all great image makers), as well as in-depth discussion of the compositional techniques used by the masters like Rembrandt and Singer-Sargent.
Formatted in a similar style, The Visual Flow Companion, Volume One contains the same intelligent writing and helpful graphic elements that made the original Visual Flow such a successful and user-friendly book. The companion is a great way to pick up some solid tips and creative insight from a guy who knows how to create absolutly stunning imagery.
Of all the photographers out there today, Ian shines because he's got true talent and the brains to apply fundamental techniques to the subject matter that excites him the most. I haven't had the chance to meet him yet, but I've talked to him on the phone, and he's a super nice guy who works as hard as anybody to  follow his own dream, and help others achieve their own photographic success. In my book, he's worth our support, which is why I love recommending his books to my readers.
The Visual Flow Companion, Volume One costs $7.95. If you don't have the original Visual Flow, you can add that one to your cart and get both for only $29.95 and get over 300 pages of images and techniques that is guaranteed to keep you busy and inspired for a very long time. Considering that composition is a lifelong learning process, it seems like a pretty good investment in your creativity.