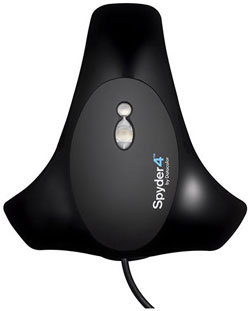 Back in the days of film, the task of monitor calibration wasn't even a concern for most photographers. You simply sent your slides or negs off to the client and let them deal with color accuracy. If it didn't look right, it wasn't your fault.
These days, with digital photography, color accuracy begins with you, and the best way to ensure that you get consistent results across all of your devices is to calibrate on a regular basis.
Note that I didn't say "monitors," I said "devices." That's because with the advent of mobile technology and programs like Photosmith, Adobe Photoshop Touch, numerous portfolio apps and Dropbox, photographers aren't just using office computers and laptops to process their photos, they're using iPads to edit, present and deliver images to clients. This makes it even more critical to have consistency between all of these different screens.
The Datacolor Sypder4Pro offers display and color calibration solutions for photographers and other creative professionals across all devices, desktop monitors, laptops, iPads and even iPhones. I've been using the SypderPro calibration systems for a few years now, currently on my 24″ Dell UltraSharp U2410 display, and as a working pro who has images published in a variety of outlets, I can attest that it's an affordable solution that's easy to use and that gives you consistent results month in and month out.
With a single full-spectrum sensor tool, quick start guide and a simple step-by-step wizard, the Spyder4Pro works with both Mac and Windows, and lets you calibrate multiple displays, even those connected to the same computer. You can adjust white points, gamma, brightness and even adjust for the ambient lighting level of your office, studio or other working environments. This allows you to calibrate on location if you're tethering or previewing while shooting assignments away from home.
And since the Spyder4Pro has support for iPads and iPhone displays, you can ensure that you're getting accurate color in your mobile workflow, or when using those devices to present images to clients and customers. As good as the iPad screen is, it's not the same screen as the one on your camera, your desktop computer or your laptop. Colors can and will vary across all screens. Even two devices of the same type can have different color casts. Next time you're on an airplane look forward at all the built in TV screens and see how different they look. Your expensive computer equipment probably won't be that much off, but it will vary over time.
Whether you're printing your family photos or shooting for professional publications, at only $169, consider the Spyder4Pro a inexpensive color insurance. There are a number of calibrations systems out there, but this one gives you the most bang for your buck. It's also a big time saver. If you've ever had trouble getting your prints to look just right, then you know just how many hours you can throw away in a year trying to get them to match your display. Imagine what you could do with all those wasted hours? Calibrate on a regular basis and you won't lose them in the first place.
[iframe]<iframe src="http:///e/cm?lt1=_blank&bc1=000000&IS2=1&bg1=FFFFFF&fc1=000000&lc1=0000FF&t=danhbaisadvph-20&o=1&p=8&l=as4&m=amazon&f=ifr&ref=ss_til&asins=B006TF37H8″ style="width:120px;height:240px;" scrolling="no" marginwidth="0″ marginheight="0″ frameborder="0″></iframe><iframe width="120″ scrolling="no" height="240″ frameborder="0″ style="border:none;" border="0″ src="http://mer54715.datafeedfile.com/widget/aff_widget_prdt_generate-2.0.php?aff_num=6746&aff_net=1&widget_num=1609″ marginheight="0″ marginwidth="0″></iframe>[/iframe]