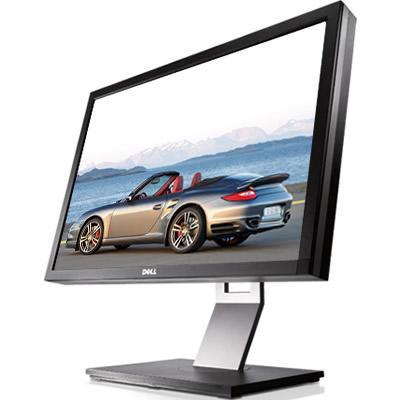 After your camera, there no single piece of hardware that sees more use then your monitor. It's what you use to preview, edit, correct and proof ALL of your imagery, and as we all know, there's nothing quite like viewing your photos on a large, high quality screen. That's why, whenever you visit The Apple Store, the first thing you do is pull up your website on the big 27″ iMac. Yea, I do it to.
However, if you don't have an iMac, or if you're not a big fan of the glossy and highly reflective screens on the Apple Cinema Displays, what are your choices for an affordable, high performance monitor for photo editing?
After years of sporting a pair of 17″ screens, I recently upgraded to the 24″ Dell U2410 UltraSharp Monitor. It's an excellent quality flat panel LCD display at a very reasonable price that has me wondering why I didn't do this years before.
With a 16:10 widescreen 1,920 x 1,200 resolution, factory calibration, industry standard IPS (In-Plane Switching) technology, 12-bit internal processing and compatibility with both Adobe RGB (96% coverage) and sRGB (100% coverage) color spaces, the Dell U2410 delivers vibrant, consistent and accurate colors that make it suitable for the demands of professional quality photo editing, graphic design and video work.
It has HDMI, DVI and VGA connectors, 4 USB ports (two on side, two on back) ports and an SD meda card reader built into the side of the display. Setup is about as easy as you can imagine- Plug it in and you're up and running. And as I said above, compared to the Apple monitors, there is no glare. I can't see my own reflection staring back at me. No windows, no lights, just the stuff on the screen. To me, that's key.
Viewing and editing photos on this display is a joy. In Library, or Filmstrip mode, I can view about twice the number of photos that I used to see on my 1,280 width monitor, and when zooming into full screen for previewing, comparing, or correcting, I'm presented with gorgeous, high resolution reproductions that fill the screen. When using Photoshop, I've still got enough room for a decent sized 100% image and the tool palettes
If I'm doing other tasks, I've got plenty of room to run multiple windows on the 24″. I'm still using one of my old 17″ screens for the email window and Photoshop tool palettes, but even if this was my only display, it's big enough to not feel too crowded. I may hook up the my second 17″ monitor for a triple screen setup, but unfortunately, the way the Mac Pros are configured, you need two of the $99 Apple MiniDisplay Port to Dual-Link DVI Adaptors if you want to run three displays off of the video card.
Why Didn't I Get The Dell 27″ or 30″?
Believe me, I thought about going big. I really did. Why didn't I? Part of it was price. When I bought mine, they were around $500. Prices have dropped, though. The Dell U2410 24″ is now only $265, while the Dell 2711 27″ Monitor is hovering close to $700. The Dell U3011 30″ Monitor is around $1,099. Add shipping to Alaska on a monitor that big, and I'd be spending a whole lot more, if I could even find a seller that would ship up here; some won't.
While these are great monitors, and bigger is always better, However, I will probably pick up a second 24″ U2410 in the near future and the simple fact is that two 27″ or 30″ screens won't fit on my desk. Two 24s will, and aside from that, the price of two 24s is considerably less what it costs for two 27s or two 30s.
I find the Dell U2410 24″ Monitor to be an excellent quality display, probably the best one in its class, and for the price, you really can't beat it. Some users have reported color tints when they get them out of the box, but I saw no such thing. I do calibrate my monitors, which you should always do,  (I use the DataColor SypderPro system), and have experienced nothing but consistent color, sharp text and crisp graphics.
Dell monitors have been used by professional photographers and stock agencies for years with great reviews. If you're looking to upgrade, this is a display that I'd highly recommend.
Support This Site: If you do decide to buy a new screen, please consider clicking through these links. It doesn't cost you anything extra and it helps compensate me for the time and effort that it takes to run this site. Thanks! -Dan
[iframe]<iframe width="120″ scrolling="no" height="240″ frameborder="0″ style="border:none;" border="0″ src="http://mer54715.datafeedfile.com/widget/aff_widget_prdt_generate-2.0.php?aff_num=6746&aff_net=1&widget_num=1011″ marginheight="0″ marginwidth="0″></iframe><iframe src="http:///e/cm?lt1=_blank&bc1=000000&IS2=1&bg1=FFFFFF&fc1=000000&lc1=0000FF&t=danhbaisadvph-20&o=1&p=8&l=as4&m=amazon&f=ifr&ref=ss_til&asins=B00302DNZ4″ style="width:120px;height:240px;" scrolling="no" marginwidth="0″ marginheight="0″ frameborder="0″></iframe><iframe src="http:///e/cm?lt1=_blank&bc1=000000&IS2=1&bg1=FFFFFF&fc1=000000&lc1=0000FF&t=danhbaisadvph-20&o=1&p=8&l=as4&m=amazon&f=ifr&ref=ss_til&asins=B006TF37H8″ style="width:120px;height:240px;" scrolling="no" marginwidth="0″ marginheight="0″ frameborder="0″></iframe>[/iframe]