Last year, I wrote a practical comparison of two Nikon telephoto zoom lenses, the 80-200mm f/2.8D vs. the newer Nikon AF-S 70-200mm f2.8G ED VRII. Today I'll run a similar comparison of two comparable Canon telephoto zoom lenses, the EF 70-200 f/2.8L USM and the EF 70-200mm f/2.8L IS II USM.
Before we go any further, I'll come right out and say that this comparison won't feature any graphs or even sample images. Instead, I'll simply list the features of the two lenses and give you my practical real world advice on which one you should buy. You don't need graphs to figure this one out, they're both great lenses. As far as images go, I promise you, either one will give you awesome results.
Canon EF 70-200mm f/2.8L USM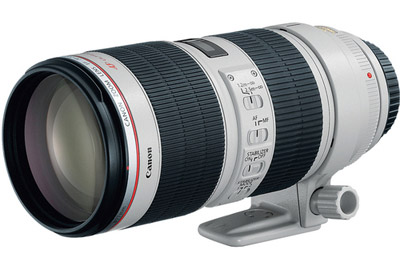 The Canon EF 70-200mm f/2.8L USM is an outstanding lens. It's built to professional standards with 18 elements in 15 groups, it features an Ultra Sonic Motor for internal focusing and it's got a fast f/2.8 aperture.
For all purposes, it's a pro lens. It will absolutely give you sharp, high contrast imagery and let you shoot action, sports, portraits, or anything else for that matter, in a wide variety of lighting conditions, inside and out. The large aperture lets in a lot of light and it so it will let you freeze your subjects, even if they're moving.
Autofocus on this lens is great, just like all pro line Canon autofocus lenses. There are reasons why many sports shooters shoot with Canon gear, they make great cameras and lenses and they're fast at capturing the moment. At PhotoPlus Expos this year, stopped by the Canon booth and was really impressed by their lineup.
The Canon EF 70-200mm f/2.8L USM would undoubtedly be an awesome addition to your kit. It's comparable to the Nikon 80-200mm f/2.8D lens that I've been using for years with excellent results. You simply cannot go wrong with this lens. (Street price is $1,399.)
Canon EF 70-200mm f/2.8 IS II USM
Enter the Canon EF 70-200mm f/2.8 IS II USM. This is the latest telephoto Zoom from Canon and it features the Extra Low Dispersion UD Glass and, of course, their latest generation of Image Stabilization. Effectively, it lets you gain 4 stops of stabilization.
This lens is an incredible performer when it comes to shooting quick action and sports. Focusing is fast, it also features the Ultra Sonic Motor, and like the model above, it has a fast f/2.8 aperture. Combined with the IS, this lens lets you shoot in an extremely wide variety of settings.
If you shoot action and sports photography, this would potentially be your first choice lens for a telephoto zoom. However, it costs a thousand dollars more than the 70-200mm f/2.8 version Non-IS version above. (Street price is $2,374.)
So, which one should you buy?
As I said in my Nikon review last year, unless money is not a big factor and you definitely need the IS feature, then it's a no brainer. Get the newer IS version of this lens.
However, money is a big factor for most of us, and so with that in mind, I'd recommend getting the non IS EF 70-200mm f/2.8L USM. Here's why.
The non IS version is still an awesome, all around zoom telephoto for a variety of outdoor photography, sports, landscapes and portraits. And when it comes to Image Stabilization, what I've found is that most people don't really need it.
I often hand hold my bigger lenses, and and with the higher ISO performance of modern DSLR cameras, I just don't see that I'd use the VR often enough to justify the 2X cost, especially for general outdoor photography use.
The reality is that much of the time when you'd need the IS feature, your subject is moving, so it won't make that much of a difference. If your subject is not moving, then you'd do better to stick it on a tripod anyway. You'll probably get better results that way.
Here's my real world advice: Buy the EF 70-200mm f/2.8L USM, and save the extra thousand dollars. You can always use it to buy one or two more lenses, or save up for a 1DS Mark 4. Or you can put it towards a plane ticket to some exotic land where you can take awesome photos with your new 70-200mm lens. I guarantee, for the money you save, you'll still shoot professional quality imagery with that lens, and have an extra grand in your pocket.
Another Option: The Canon EF 70-200mm f/4L IS USM lens
Another option is the Canon EF 70-200mm f/4L IS USM lens. It runs about the same price as the Non-IS EF 70-200mm f/2.8, ($1,249) but it has some distinct advantages for the outdoor and travel photographer.
It's a little smaller and lighter, and it does offer Image Stabilization. As one reader pointed out below in the comment section, if you shoot landscapes or travel subjects, the IS will definitely come in handy. And, in reality, f/4 is only one stop slower than f/2.8, which doesn't make that much difference in most situations. (I often my own 80-200mm f/2.8 at f/4.) This still makes it a great option for general outdoor use for things like people, wildlife, and action.
With this lens, you'll still get professional quality results, sharp, high contrast imagery and great bokeh. And many photographers report that this lens actually has faster autofocus then the EF 70-200mm f/2.8L.
So forget what I said above. If you don't need that one extra stop and want to save on weight, the Canon EF 70-200mm f/4L IS USM just might be the right lens for you. Read a full review of this lens by outdoor and nature photographer, Michael Russell, who uses it for landscapes and wildlife.
——–
If indeed the stars align and you find yourself in position to drop some cash for either of these lenses, consider odering it here at B&H Photo. Doing so will throw a tiny bit of cash my way and it won't add any additional cost to your order. It's your way of saying,
"Thanks for taking the time to write this review, Dan!"