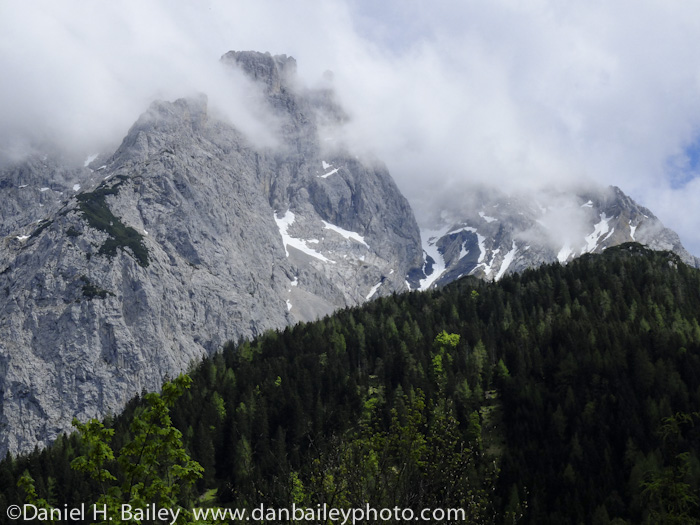 After completing Part 1 of our journey, and pedaling up to Neuschwanstein Castle in the pouring rain, we woke the next morning to a beautiful sunrise in the town of Füssen and a bold view of the Austrian Alps, which lay just to the south. I stepped outside for some morning photography, which actually turned out to be the last dawn of good light until the end of our ride, and captured some nice scenes with the Fuji XE-1.
This was really the first time that I'd shot the Fujifilm XE-1 in good light, and I was definitely impressed when I saw the image quality that came out of the camera. Subjects were crisp, sharp, high contrast, and had great color. I looked forward to what lay ahead in the coming days with it in my hands.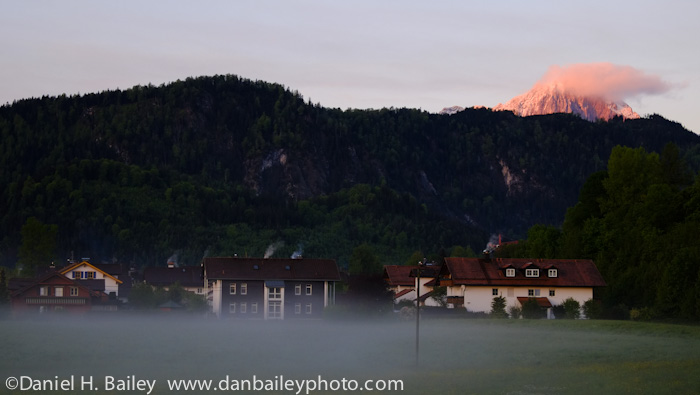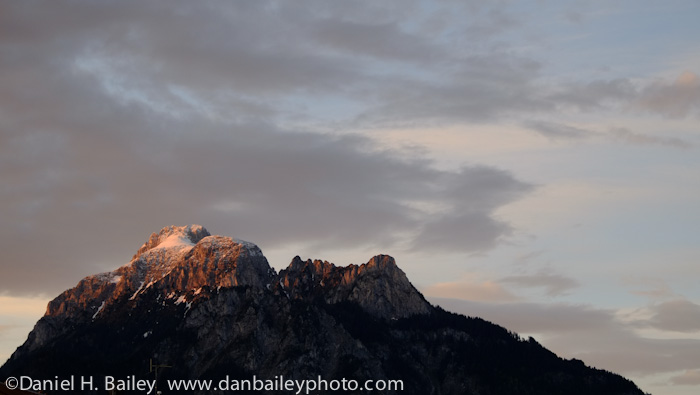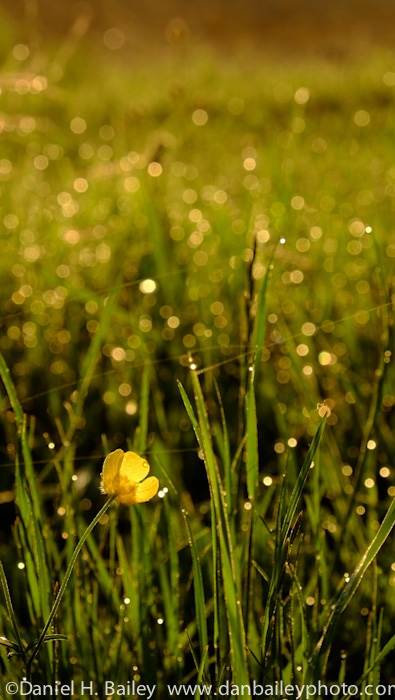 Into Austria
From our guesthouse, it was but a short ride to the Austrian border, which sits astride a the Lech river, a powerful flow that brings a torrent of green, silty water down from the mountains. Leaving the river, we wound our way on small paved farm roads through a number of tiny towns: Pinswang, Oberpinswang, Unterletzen and Pflach. We waved at old men who were tending to their yards and shouted, "servus," which is the traditional greeting in this part of the Alps.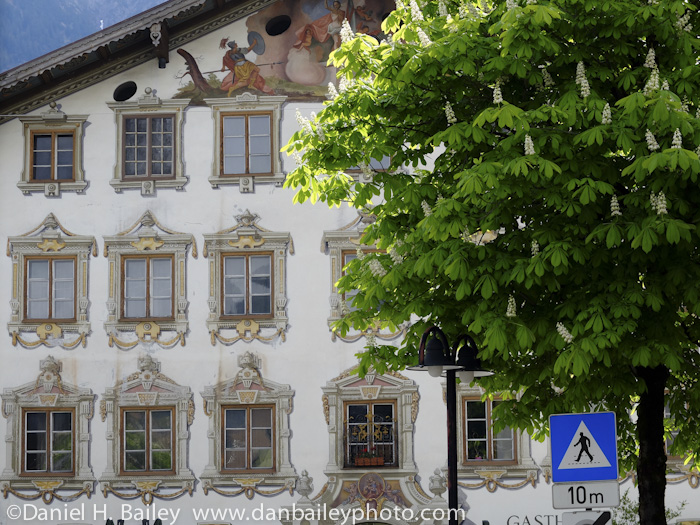 After passing through the large town of Rutte, and marveling at the old castle that sits atop a hill above the wide green valley, we hit a steep off-road section of trail that required pushing. Pushing a loaded bike is certainly not the most fun mode of travel, but a trip that doesn't require at least some pushing just doesn't feel very adventurous. Fortunately, it didn't last long, although it would have been over even sooner if I hadn't missed the turn and sent us 100 yards up an even steeper trail. What can I say, my maps are all in German.
Back on track, we climbed through a short forest section before popping out of the trees and descending into the picturesque town of Heiterwang, which sits amidst wide open fields of green grass and dandelions. I found myself asking the question, why do they look so delightful here, and yet so pesky and unwanted in my own yard back home? Perhaps it's accompanying Tyrollean architecture that gives them such a pleasing appearance. Maybe they'd look better if I decorated every window of my house with shutters and garden window boxes.
Just Like Colorado. Sort of.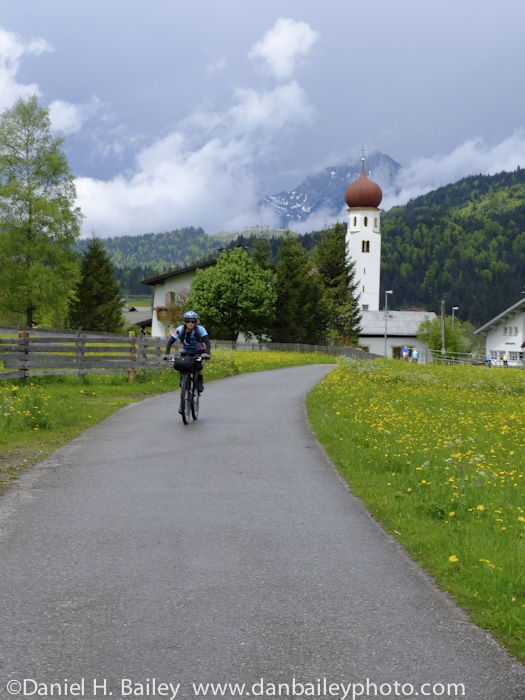 After Heiterwang, we cruised through what seemed like the I-70 of Austria. Not the ugly, traffic laden I-70, the quaint I-70 of Colorado that passes through a different ski town every few miles. Or rather the I-70 that was imagined when it was built. After all, those Colorado ski towns are were all patterned after little Tryollean towns and built by former 10th Mountain Division soldiers who were stationed over here during WWII.
The Austrian ski towns of Bichlbach, Lähn and Lermoos all sit in a narrow, yet steep valley, and each town has a lift, at least one ski shop and lots of rentals. It definitely reminded me of Colorado.
At Lermoos, we turned south and climbed over Fernpass, nearly 1,000 feet up, and even more down along a gradual gravel path that sat completely away from the main highway. In fact, for most of the climb, we couldn't even see the road. In some ways, the up was easier than the down, because a significant portion of the down followed a rocky mountain bike/hiking path that made us glad we came equipped with 29″ mountain bikes. Definitely felt like Colorado. Except for the chickens.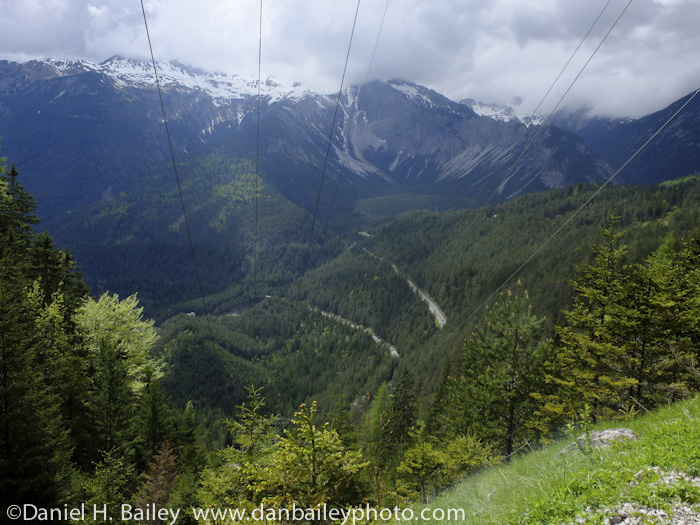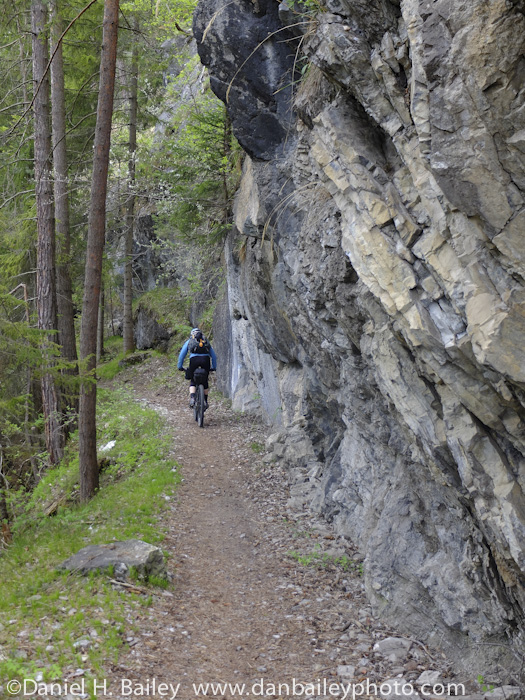 Bumping over sharp rocks and drops with full panniers rattles your gear quite a bit. For an extended off-road tour, I'd either pull a trailer or just use the Revelate Designs frame bags, but since most of this was road and releatively smooth gravel, the panniers did just fine.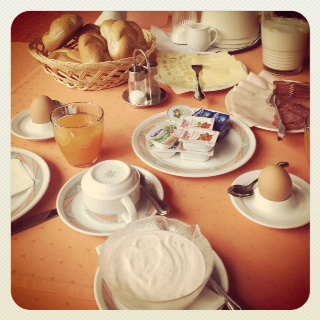 We stopped in the town of Nassereith for the night, just ahead of a menacing wall of dark rain clouds, fueled up on a hearty Austrian breakfast of bread, butter, jam, cheese, salami, cured ham, soft boiled eggs, müesli and Nutella flavored cereal, then dropped into Tarrenz and Imst the next morning along what was one of my favorite stretches of road. A beautiful double track through the forest gave way to paved bike path past scores of perfect Austrian barns and fields of green grass, wildflowers and sheep.
Imst is the biggest town in the valley, and it's the recreation capitol of this part of Austria. Its surrounded by scores of steep, high peaks, and only sits a few miles away from thebeginning of the Ötzal, which, if you remember from Part One of our story, is where the Timmelsjoch Pass is located. With everything above 5,000′ being covered in clouds, though, we're glad that we weren't able to go that route. So much better to see stuff when you're riding.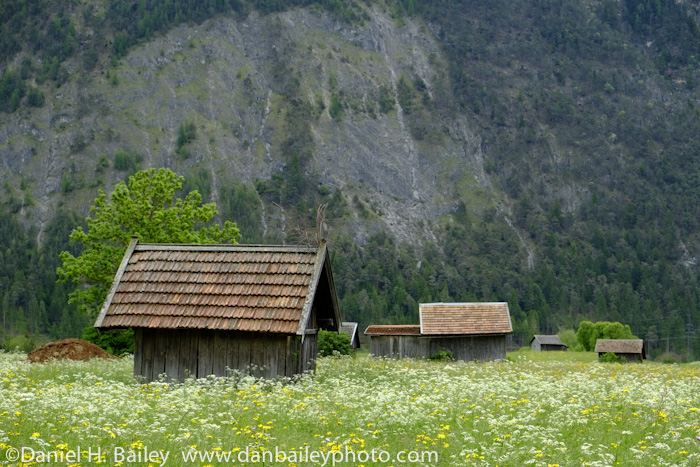 All day, I kept either my Fuji X20 or the XE-1 and 18-55mm lens around my neck and shot many photos from the saddle. I've gotten pretty good at unslinging the camera, turning it on and shooting entirely with one hand. So far, both of these setups are proving to be bike trip worthy gear. Both are performing great, dry out fine overnight after a day in the rain, they're certainly lightweight, and are easy to use and adjust while riding.
To Nauders and Reschenpass
Lost our way for a few minutes in the busy town of Landeck, but then snacked on freshly made apfleküchen, then started the long climb towards Reschenpass, which is the border into Italy. The route follows the Inn River on dedicated bike trails and country roads for nearly 30 miles, and even gives you a few mile strech in Switzerland before finally spitting you out below the final 1,000′ switchback road up to the town of Nauders.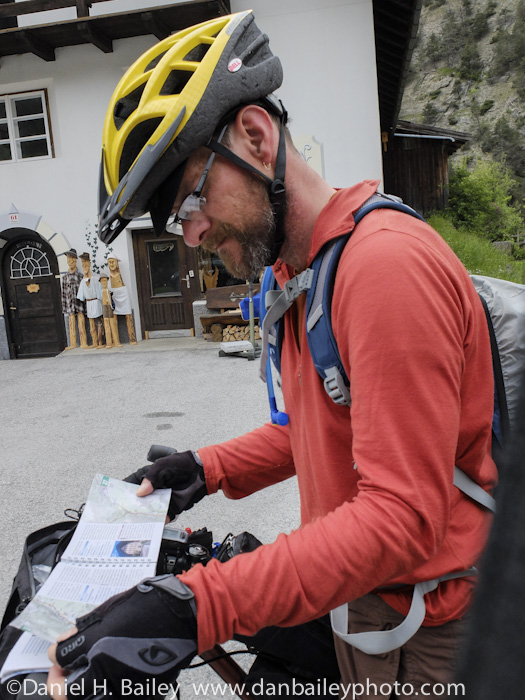 At one point, we lost our way because the Via Claudia trail crossed over a dam. We went straight. We're from the USA, where you're not allowed anywhere near most dams. In fact, since 9/11, the concept of crossing a dam doesn't even exist in our sense of reality anymore. We would have kept going except that the trail dead ended into the forest. Totally unpassable. Went back and saw that the road crossed the dam. In Europe, they're not scared of people crossing dams.
The final climb to Nauders involved 10 switchbacks and blistering speeds of anywhere from 3.8-5.7 mph. It's a pretty big climb, but if you don't think you're in shape to do this part of the route, there are shuttle busses in Landeck that have big bike trailers to transport Via Claudia Augusta riders and tours up to the town of Nauders. The Via Claudia is such a popular European cycling route that they make it accessible to just about anyone. Up to this point, we've seen people of all ages, and even families with kids riding along the route.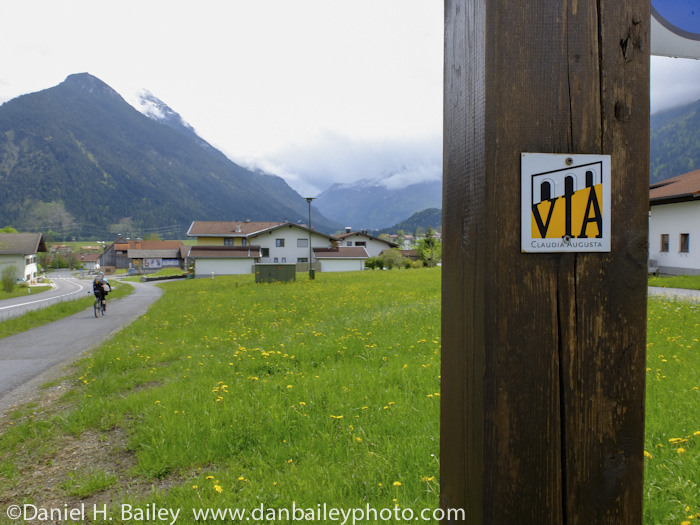 Although the clouds threatened a few times during the day, the weather held during our entire ride from Nasserieth to Nauders. At the end of our 55 mile day, we were tired and glad to reach a stopping point, but also sad that our bike ride through Austria was almost over. The next day, we'd pass into Italy and say bid farewell to the biking heaven that is known as Austria. Would love to come back and ride more of this awesome country!
Read the final entry, Crossing the Alps by Bike – Part 3: Downhill to Verona, Italy