Black Friday has come and gone, and I know that most of you were either still spending time with family and friends or out exploring with your camera and not waiting in line at the shopping mall during the mad scramble for good deals.
Have no fear. Now that Small Business Saturday and Snow Bike Sunday are over, it's time to log on and get some awesome, guilt free Cyber Monday deals. There are plenty to be had, and here are a few notable photography related deals from my favorite companies that might be of interest to my fellow outdoor photography people.
Don't wait, though, because most of these will expire at the end of today.
Lumiquest 
Makers of super lightweight flash gear, including my favorite, the Softbox III, Lumiquest is offering 25% off on every order, plus free shipping. Pick up a portable lighting modifier or one of their portrait lighting kits, any of which will slip easily inside your camera bag or laptop case and let you go fast with light.
Clarity: Photography Beyond The Camera
Clarity: Beyond The Camera is a new PDF photography magazine that looks at photography from the enthusiast's perspective. It's filled with tutorials, exclusive video content, fabulous insight from a wide variety of pros and other gorgeous looking content that add great quality to your photography lifestyle.
Today only, you can get Clarity for 50% off. Use these links to get whichever deal you want, either $3.99 for a single issue, or $19.99 for a 6-issue bi-monthly subscription.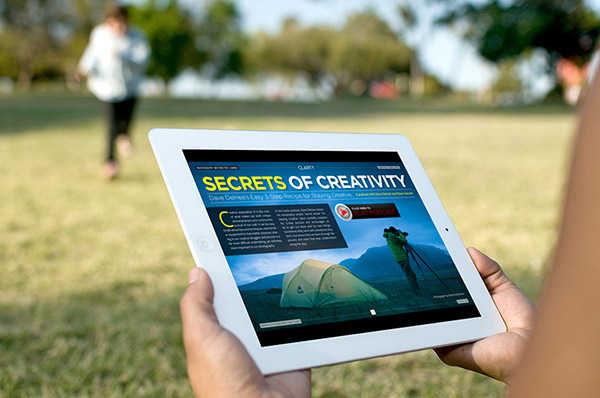 Moo.com
My favorite business card printers, Moo.com has incredibly stylish designs that makes it really easy to create photo business cards, stickers and shipping labels. For Cyber Monday Moo.com is offering 25% off on everything.
Kelby Training
Definitely one of the top resources for learning photography and Photoshop, Kelby Training offers online workshops and video courses from many of today's top pros, like Joe McNally, Tom Bol, Jay Maisel, Colby Brown, Dave Black, Katrin Eismann and many more. Good instruction should be part of every photographer's yearly plan.
Only through today, Kelby Training is offering $40 off on annual subscriptions.
B&H Photo Video
B&H Photo has a number of great Cyber Monday deals, some of them only lasting a few hours. Today from 1 to 4PM, you can get Adobe Lightroom 5 for only $89. All day today, you can grab the Fujifilm X10 for only $299, or the Sigma 105mm f/2.8 EX DG OS Macro lens for only $699. (A $300 savings.)
Here's the link to all the B&H Cyber Monday photography deals.
Amazon
Including their regular, massive selection of Cyber Monday deals, Amazon has a wide variety of photography related offers going today, including Adobe Lightroom 5 for only $69.99.
My Photography eBooks
In case you missed that big banner at the top of this post, I'm offering my photography eBook titles for 40% off through today. Click here to see my books and then use discount code BLACK40 when you purchase. The offer expires midnight on Monday, Dec 2.