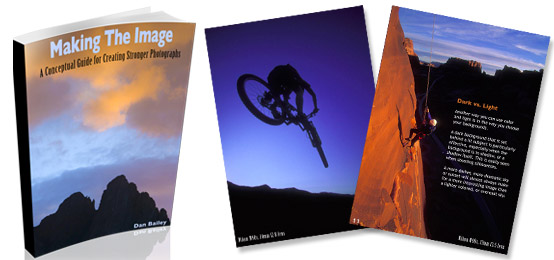 .
You can now get the first two chapters of my eBook, Making The Image: A Conceptual Guide to Creating Stronger Photographs as a free download.
This free excerpt contains the Introduction, as well as the two chapters, Light and Color, which which begin the exploration of how the human visual system perceives and responds to the world. See how you can use this information to help create stronger imagery of whatever subjects you like to shoot.
This book contains concepts that I've leaned and applied to my own image making for nearly two decades. I consider it the defining guide on my own photographic style, as it accurately represents how I see and compose my imagery.
Of course, if you want to continue with the rest creative concepts in the book, and if you think that it's worth a few bucks, then by all means, purchase the full version. You don't have to, though. Just click the button below and get your free sample of Making The Image right now and see what it can do for your own creativity, inspiration and composition.
Get the free download:
Don't forget to share this offer and and pass it along to your other photography friends!