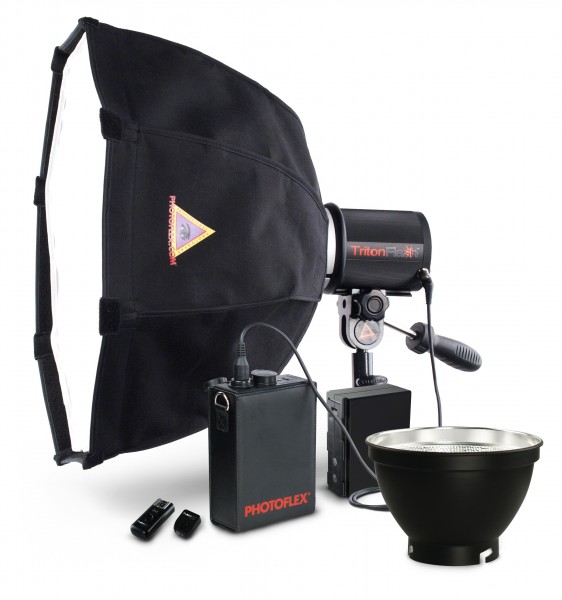 Photographers who continue to experiment with off camera lighting techniques and expand their shooting styles, quickly discover the limitation of using regular speedlights.
If you're shooting a big job, you'll drain your batteries, which severely slows down recycle times. Also, when trying to overpower the sun, sometimes a single flash just doesn't put out enough light. Your answer is to either carry a handful of flashes, or enter the world of battery powered strobes, which, often times don't allow you to go fast and light.
The latest battery powered strobe from Photoflex is the surprisingly portable TritonFlash. Now, before I go on, I need to disclose that I'm a featured Photoflex Pro who writes lighting tutorials about how to use gear like the TritonFlash. As an action and adventure shooter, the Photoflex guys wanted me use it and put it through the rigors.
That said, I had to be talked into even trying it out. As a guy who likes to carry all my gear on my back, I was pretty hesitant about entering that world, but as soon as I got my hands on the Triton, I feel like my world opened up. Things changed. In short, I saw the light.
Here are the basic specs and my real world analysis of the TritonFlash:
Rated at 300 watt seconds with a Guide Number of 185
Fires 750 full power flashes on a full charge
Ultra fast recycling that allows firing rates of up to 6 frames per second
Built-in optical slave sensor
19 power settings in 1/3 stop increments
10 second modeling light
TritonFlash head weighs under 2 lbs.
Lithium-ion battery pack only weighs 1 lb
Kit comes with 2 batteries, cables, wireless triggers, Octodome NXT softbox and reflector dish.
Size, Weight and Portability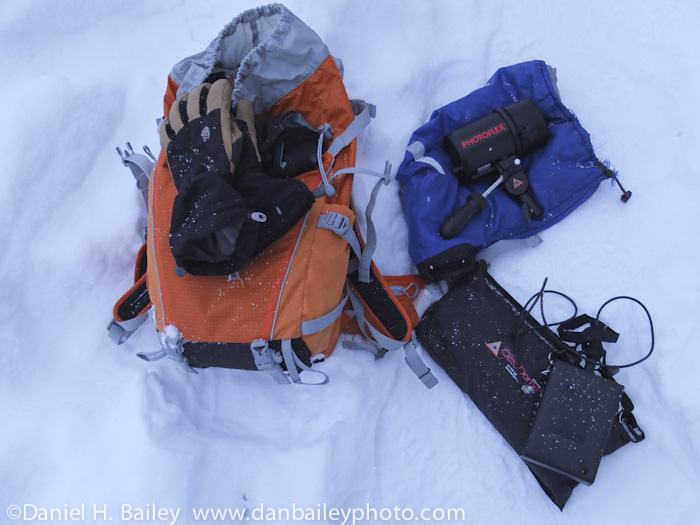 At roughly three pounds, with flash head, battery pack and cables, the TritonFlash is highly portable. It weights about as much as a 70-200mm f/2.8 zoom lens, and when broken down, it packs up small enough to fit inside my backpack, along with a camera, a couple lenses, radio triggers and a jacket.
The flash head itself is smaller than a Nalgene water bottle, and comes with a hard plastic cover which protects it from getting damaged when not in use. The lithium-ion battery pack is about the same size as a box of mac and cheese, and the included Octodome NXT softbox case is small enough to strap to the outside of a pack.
That's it: flash, battery, OctoDome and a couple of thin cables and you're good to go. Just the flash head and battery pack take about the same amount of room as two speedlights, but pack way more power. Pound for pound, the TritonFlash delivers big light in a relatively small package.
Ease of Use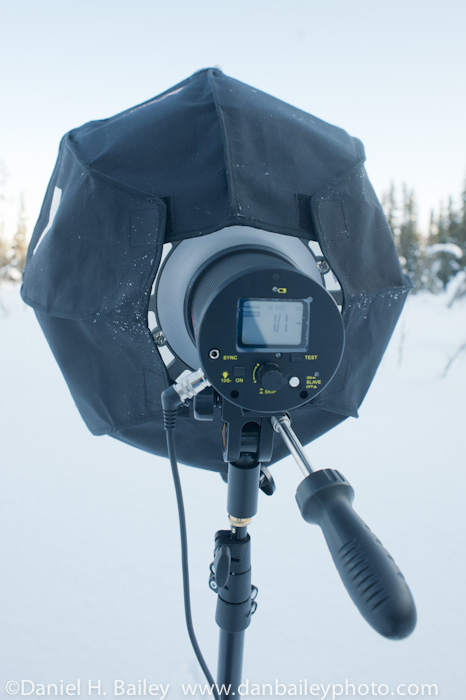 The TritonFlash comes with its own heavy duty swivel clamp. Stick that on a light stand or have your assistant hold it, hook up the battery and trigger cables to the head, slide on the softbox (OctoDome or any speedring compatible light shaping tool) or the 7 inch reflector dish, and turn on. You have light.
The back of the flash head only has a few controls: Sync input, modeling light button, optical slave button and the main command knob.
To adjust power, you simply turn the knob to change in 1/3 stops, until you're desired setting is achieved. Fast. Easy. No menus. No sub command dials. Just turn and set.
You trigger the TritonFlash in one of four ways: Included sync cord, included FlashFire wireless triggers triggers, PocketWizard, optical slave from another flash. I've used each of these ways and they all work. The Photoflex FlashFire triggers operate up to 164′ and sync up to 1/160 sec. PocketWizards actually work better, because you can sync up to 1/250 sec. and operate at much great distances.
However, sync speed isn't a huge issue, given that the duration of the flash head is about 1/8000 sec., which will freeze just about any action. Here's a test shot that I did on my first day with the Triton. (1/250 sec at f/16.) Normally, 1/250 doesn't always stop action, but the ultra high speed burst of light from the flash does.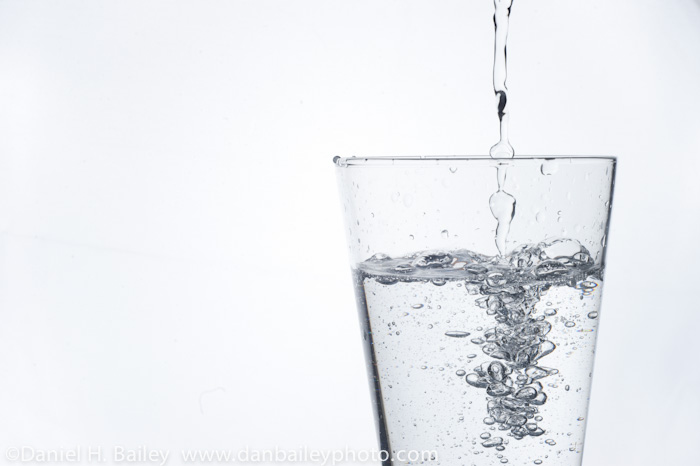 Light Quality and Power
Using the double-baffled OcotDome NXT softbox, the TritonFlash put out really nice light. Keep in mind, though, you can use just about any of the Photoflex diffusers with the Triton. I've used both the OctoDome NXT and the much bigger WhiteDome to shoot action, sports and portraits, both inside and out. I really like the OctoDome NXT, and had one before I got the Triton. It does an incredible job diffusing the light up close, and even looks good from a distance. (With the exception of the biker jumping, all of the shots below were done with the NXT.)
The hard 7 inch reflector is designed for use with umbrellas, or if you want a harder, less diffused blast of light. I haven't tried using it yet, but I can see how it could come in handy for direct lighting effects. You could even stick a makeshift snoot on it for a really strong directional light source. Might be something to play around with…
When it comes to power, the TritonFlash recycles fast enough to shoot up to 6 frames per second bursts. Actual speed and firing rate depends on battery charge, temperature and flash power. When it's really cold, recycle time does slow down quite a bit, but nowhere near as slow as a regular flash would under the same conditions.
At full power, the Triton is rated to 750 shots on a full charge. At minimal power settings, you'll get a few thousand fires per charge. And with the way that lithium batteries work, recycle times will remain quick right up until it dies. Supposedly. I've never actually had one die, not when shooting for 2 hours at 10 below zero. Kept right on working.
Even it if does die, you've got a second battery. Depending on your power settings, that gives you somewhere between 1,500 and well over 10,000 frames, which is more than enough to get any job done. Keep charging and swapping out batteries and I guarantee, the TritonFlash will keep working longer than you.
The TritonFlash features a 10 second modeling light, which is perfect for grabbing focus in low light, or for doing a quick check on how your scene will look when it's lit. Hit it once, do your check and it will turn off by itself. Nice feature. I've used it a few times and when you need it, it's there.
Durability
I can attest that the TritonFlash is indeed durable. I've already dropped it and bent the ring on the reflector dish, which I fixed with a pair of pliers. I've dragged it outside in the snow and cold numerous times and have had no problems with it at all. As I said, recycle times certainly slow down, but the thing keeps firing. The plastic cover protects the unit adequately to the point where I have no qualms about carting it around into the outdoors.
The fabric on the OctoDome is tough and quite tear resistant. You'd be hard pressed to ruin it. Might get dirty, but that's about it. You might bend the little metal rods, believe me, but unless you really wrench on them, you can usually straighten them right back out.
Limitations
The TritonFlash does have limitations. For one, it will only sync up to 1/250 sec. under normal operation. As I pointed out above, though, the 1/8000 sec. flash duration is fast enough to freeze action in most uses. There is a way to sync it up to higher speeds, but it requires some separate gear.
By triggering an an off camera flash in non-TTL mode with pair of PocketWizard FlexTT5 or MiniTT1 radios, you can set the TritonFlash to optical slave mode so that it reads the other flash. This way, you can get the Triton to sync all the way up to 1/8000 sec. shutter speed. There may be other ways, as well, and maybe this is something that Photoflex will work out in future models.
Also, I'd like to see a small handle on the casing of the TritonFlash head. This would allow you to take off the swivel clamp and save even more weight and space if you're hand holding (or having your assistant hand hold) the unit. As is, you can still hand hold it with the swivel clamp, but I'd like to see the option of being able to easily use it without.
Price and Value
The TritonFlash Kit runs around $1,499. (Right now it's $1,299 at B&H Photo until the end of March.) It's not cheap, especially if you're just getting into lighting gear. However, put it into this context. When compared to a top of the line speedlight, it's still less than three SB-910s or 580EX IIs. (Often times, photographers will double and triple up on flashes to shorten recycle times.)
Plus, you get the OctoDome NXT, which costs around $164 brand new, and a set of wireless triggers. Not PocketWizards, mind you, but the FlashFires do work, and they take up less room than a set of Plus IIs.
When you consider the amount of power and versatility that you get from the TritonFlash, and that it costs less than most fast lenses, it's actually a pretty good value for a high performance piece of technical photography equipment.
Comparison vs. the Elinchrom Ranger Quadra
The Elinchrom Ranger Quadra is the TritonFlash's main competition, alternative, or whatever you want to call it. I have not used the Quadra, but I know it's a very capable strobe unit that's used by a wide selection of both indoor and outdoor photographers. Both the Triton and the Quadra are excellent, professional quality units, and either will get the job done.
Light Output & Recycle Time: The Quadra is rated to 400 watt seconds, vs. 300 on the TritonFlash. However, the TritonFlash wins out big in recycle time. Whereas the Quadra recycles in 4.0 seconds (full power) and 2.2 seconds (half power), the TritonFlash is rated to recycle at 3.0 seconds (full power) and will recycle at 0.1 seconds under partial power for quick bursts of up to 6 frames per second. From that standpoint, it seems the the TritonFlash is the better choice for shooting fact action and sports.
Battery Performance: The Quadra is rated to produce 150 shots full power charge, compared to 750 full power shots on the TritonFlash. One review on the Quadra listed a practical limit of 200-400 partial power pops. Even when using the TritonFlash in below zero temperatures outside, I've easily gotten that many pops with well over half the battery charge remaining. Like I said above, I've still never drained my TritonFlash battery, even on longer photo shoots.
Size and Weight: The Quadra flash head is considerably smaller and lighter than the Triton. (1/2 lb vs. 2 lbs.) However, the Quadra's battery pack  is quite a bit larger and 2 lbs. heavier. (Click here to see a photo of the Quadra battery.) In my experience, the TritonFlash battery is small and light enough to tuck inside your jacket when it's around your neck. Not sure it would be very comfortable to do that with the Quadra. (Click here to see the size of the TritonFlash battery.)
Overall Value: The TritonFlash kit comes included with the OctoDome NXT, whereas the Quadra does NOT come with a softbox. Also, for roughly the same price, the TritonFlash kit comes with that second extra battery and wireless triggers.
Final Analysis
A battery powered strobe like the Photoflex TritonFlash is certainly not for everyone, but it's a very powerful, capbale and portable tool that gives you great options for shooting just about any type of subject inside or out: action, studio, location assignments, interiors, portraits etc…
As for me, Mr. fast and light, run around adventure photographer guy, I'm sold. I feel that the TritonFlash has added an entire new dimension to my photography, especially to my style of Going Fast With Light.
See more info on the Photoflex Website, see my TritonFlash in use in my LightingSchool Lessons, and view some of my TritonFlash shots below.
[iframe]<iframe src="http:///e/cm?lt1=_blank&bc1=000000&IS2=1&bg1=FFFFFF&fc1=000000&lc1=0000FF&t=danhbaisadvph-20&o=1&p=8&l=as4&m=amazon&f=ifr&ref=ss_til&asins=B0050LY0GE" style="width:120px;height:240px;" scrolling="no" marginwidth="0″ marginheight="0″ frameborder="0″></iframe><iframe width="120″ scrolling="no" height="150″ frameborder="0″ style="border:none;" border="0″ src="http://mer54715.datafeedfile.com/widget/aff_widget_prdt_generate-2.0.php?aff_num=6746&aff_net=1&widget_num=916″ marginheight="0″ marginwidth="0″></iframe>[/iframe]