During the dog days of summer, we can always count on two things: 1. Network TV news desperately sensationalizing anything in order to bring people back inside when we'd all clearly rather be outside playing, and 2. Stuff going on sale.
Right now you can save decent money on the two smaller Fujifilm X cameras, $50 on the X10 and a whopping $200 on the X100. If you've been thinking about picking either one of these, now would be a great time.
X100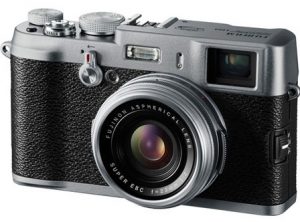 There is speculation that the X100 is being discontinued to make way for a replacement at the September Photokina trade show. (Possibly an X200?) However, these rumors are unconfirmed, and honestly, I'd be a little surprised to see Fuji dump this wildly popular model so soon.
The X100 is an unbelievably astounding little camera and it has sold quite well. With it's APS-C sized sensor, hybrid viewfinder, fixed 35mm f/2.0 lens and its rugged, stylish body design, the X100 not only looks and feels awesome in your hands, it takes brilliantly sharp images. Street and travel photographers, photojournalists and portrait shooters love the X100, and for good reason. It's about the closest thing you can get to a Leica for a fraction of the price.
With the effort that Fujifilm has put into developing and promoting the X-lineup, and especially the X100, I just don't see shaking it up so quickly. Maybe a minor update, but what do I know. It's not uncommon for cameras to go on sale in the summertime, so until we actually see a replacement, we won't know whether this was just a summer sale or unit clearance. Besides, the X100 page at B&H clearly says that this deal is good until August 11. So there.
Whether they plan to upgrade the X100 this year or not, it's still a one-of-a-kind camera and if you've had an inkling to grab one, $200 (17%) is a pretty darn good savings.
X10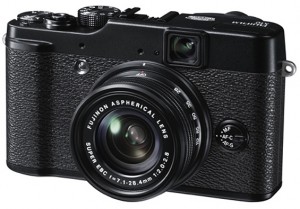 The X10 is definitely NOT on it's way out. Trust me. It's only been out for a year, and Fujifilm is still actively marketing this capable little camera. If you've so much as wandered anywhere near this site, then you already know how much I love the thing. As much as I covet the X100, the zoom and overall pricepoint makes the X10 much more usable for carting it around in the outdoors and shooting everything from landscapes, to macro to full on adventure sports. That said, I may still get one yet.
Like I said, right now the Fujifilm X10 is $50 off. At any rate, if you haven't taken your summer vacation yet and are still looking for a compact camera to bring with you, I'd definitely consider one of these two models.
[iframe]<iframe width="468″ scrolling="no" height="60″ frameborder="0″ style="border:none;" border="0″ src="http://mer54715.datafeedfile.com/widget/aff_widget_prdt_generate-2.0.php?aff_num=6746&aff_net=1&widget_num=1363″ marginheight="0″ marginwidth="0″><p>Your browser does not support iFrame.</p></iframe>[/iframe]
[iframe]<iframe src="http:///e/cm?lt1=_blank&bc1=000000&IS2=1&bg1=FFFFFF&fc1=000000&lc1=0000FF&t=danhbaisadvph-20&o=1&p=8&l=as4&m=amazon&f=ifr&ref=ss_til&asins=B0043RS864″ style="width:120px;height:240px;" scrolling="no" marginwidth="0″ marginheight="0″ frameborder="0″></iframe><iframe src="http:///e/cm?lt1=_blank&bc1=000000&IS2=1&bg1=FFFFFF&fc1=000000&lc1=0000FF&t=danhbaisadvph-20&o=1&p=8&l=as4&m=amazon&f=ifr&ref=ss_til&asins=B005KBB79C" style="width:120px;height:240px;" scrolling="no" marginwidth="0″ marginheight="0″ frameborder="0″></iframe>[/iframe]