[iframe]<iframe src="http://player.vimeo.com/video/46720183?color=ffffff" width="600″ height="337″ frameborder="0″ webkitAllowFullScreen mozallowfullscreen allowFullScreen></iframe>[/iframe]
Lowepro has just released The Photo Hatchback AW. It's a sleek new daypack with multi-functional gear storage and a separate camera compartment that you access from a zipper panel on the back of the pack.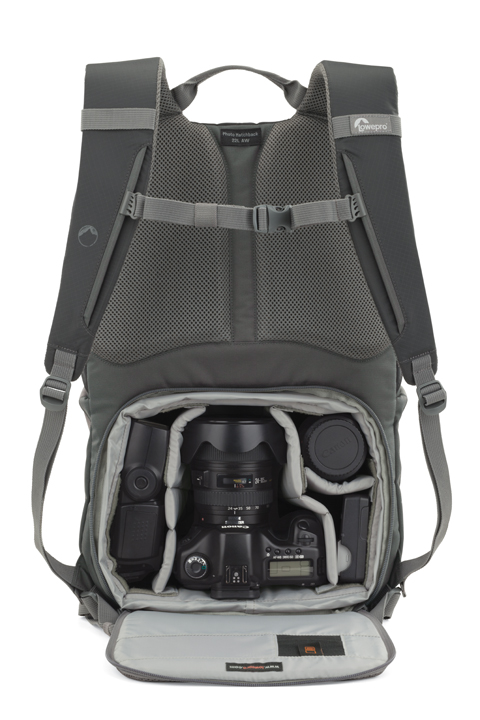 Made for outdoor photographers on the go, this pack gives you versatile options room to carry a your camera gear and everything else you might need for a day spent adventuring, hiking or exploring out in the world.
The Photo Hatchback will fit a modest amount of camera equipment, as well as all of your outdoor essentials: jacket, food, water bottle, notebook, sunglasses, iPad and a few other small accessories. The larger 22L will even fit a Macbook Air
The Photo Hatchback comes in two sizes, 22L and 16L. The 22L size will fit a regular sized DSLR body, a couple lenses, a flash and another accessory, like a pair of radio triggers, memory card case or a small point and shoot.
With the 16L version, you might have to lose one of your lenses or flash unit. Overall they don't carry a ton of gear, but for light trips, this is about all you really need. It won't fit a bigger lens like a 70-200 f/2.8, but there's enough room to carry it inside the top. The 22L does fit the larger speedlights.
Organizational options are pretty good here. In the top of the roomy main compartment, you'll find a pair of small mesh pockets, and a zipper pocket with key chain clip; great for a passport, train ticket or some cash. The deep double panel outside pocket is sized for a tablet, notebook or a small flash modifier, like the Lumiquest Softbox III.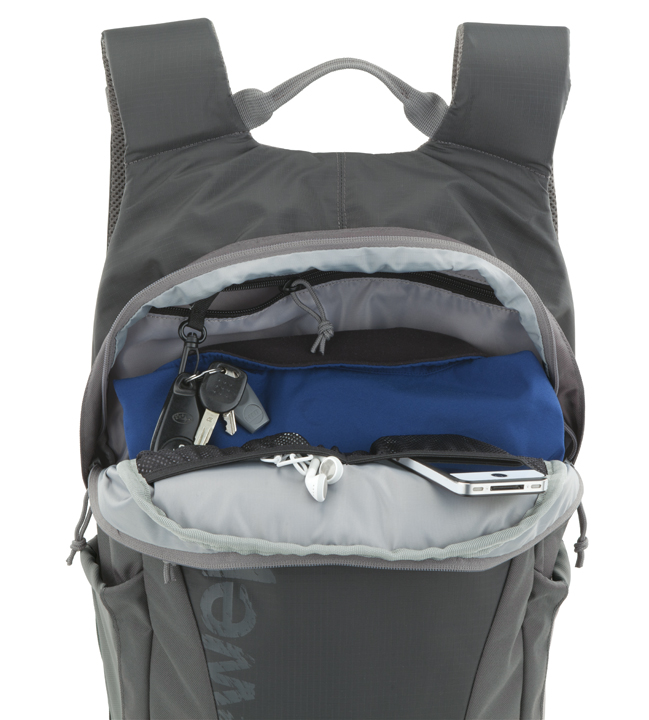 Two stretch side pockets on either side of the pack will fit a water bottle, jacket, snacks, baguette, a can of bear spray, or whatever else you want to cram in there. I usually stuff a Gorillapod in one side and a windbreaker in the other.
As with all of Lowepro's AW series packs, the Photo Hatchback sports a waterproof rain cover that tucks away into a flap at the bottom of the pack. You don't have to worry about getting caught in downpour or a summer mountain shower. You may get wet, but your gear will stay dry.
The Photo Hatchback makes a great pack for traveling. Being the same size as most standard day packs, it works as carry-on luggage, either under the seat or in overhead bins. In addition, the back panel camera access keeps your gear secure from wandering hands while you're wandering in foreign places. As long as you're wearing the pack, your gear is out of sight and out of reach. Plus, it has a subtle appearance that doesn't shout "camera bag!"
Don't need to carry the camera gear? As with the Flipside Sport AW, the entire camera compartment in the Photo Hatchback lifts right out. Undo the velcro flap and you've got a regular full sized day pack. Even more usable for traveling.
Edit: The Photo Hatchback recently won a 2012 Popular Photography "Pop Award" for being one of the best new pieces of photography gear.
My Review
So, what do I REALLY think of the Photo Hatchback? I'll be honest. When Lowepro first contacted me about trying out this pack and writing a review, I wasn't really sure how it would fit in my lineup. I've already got numerous technical packs of multiple sizes and design, so I didn't think that a pack that was targeted towards the causal user would get much use.
How wrong I was. I've been using the 22L Photo Hatchback for a couple of weeks now, and I love it. I think it's an awesome pack that fills a very defined need.
You see, there are plenty of times when I don't need a full-on technical camera pack. Maybe I'm just out for a day hike. Maybe I'm flying my little yellow Cessna. Riding the park shuttle bus. Cruising around town on my bike. Maybe I'm just on vacation.
The Photo Hatchback gives me flexible options for carrying all the stuff I'd need for a day trip or a relatively short outing, and at the same time, it keeps my camera gear separate and secure. i.e., it doesn't just swim around the pack, or make me need to bring a second camera bag.
Although someone who's been using Lowepro gear for many years, and yet is also extremely hard to please in this area, I'm especially excited about the trend that their current products are following. They've really been stepping things up with their designs and paralleling with modern backpack technology. The Photo Hatchback is no exception.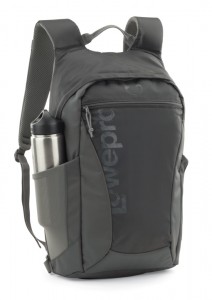 Since I've had it, I've taken it on a bear viewing excursion, a glacier photography hike, a couple of bush flying adventure, and of course, on a run to the coffee shop. For everything I've used it for, The Photo Hatchback has worked great. It has a nice streamlined profile, clean design and it's certainly built to last. The 16L version is even more streamlined. It doesn't have lots of compression straps or ice axe loops, but it's not intended to be a technical pack. Like I said, it's a day pack with a camera compartment. Easy and simple.
That said, it does has a capable suspension system with comfortable straps, a sliding chest strap and a 1″ waistbelt. It ventilates well and is easy on the shoulders, even for a long day on the trail. Like color? It also comes in blue and orange.
A Camera Pack For Everyone?
I really think that Lowepro hit the mark with this pack, simply because it's so simple and yet so versatile. Out of all the camera packs that I've used and reviewed, it occurs to me that for the great diversity of photographers out there, the Photo Hatchback may very well have the broadest appeal of any pack that Lowepro has made in recent years.
Why do I think this? Because the vast majority of photographers out there are enthusiastic, regular people with a passion for creative image making. They're not out shooting assignments, they're out shooting for fun. They're not racing up 14-ers, hanging off of rock faces or skiing steep couloirs with their camera gear, they're simply out adventuring and exploring the world at their own pace. Hence, they don't need a highly technical pack, they just need a decent and secure way to carry their gear.
Also, they don't have battery-grip bodies, huge f/2.8 zoom lenses or a ton of big glass, they've got smaller, mid range DSLR bodies with one or two regular sized lenses, maybe even a compact system like a Sony NEX or a Panasonic Lumix G. When they head out the door with their cameras, and whatever else they need for the day, a simple, funcational photo day pack is likely just what they need.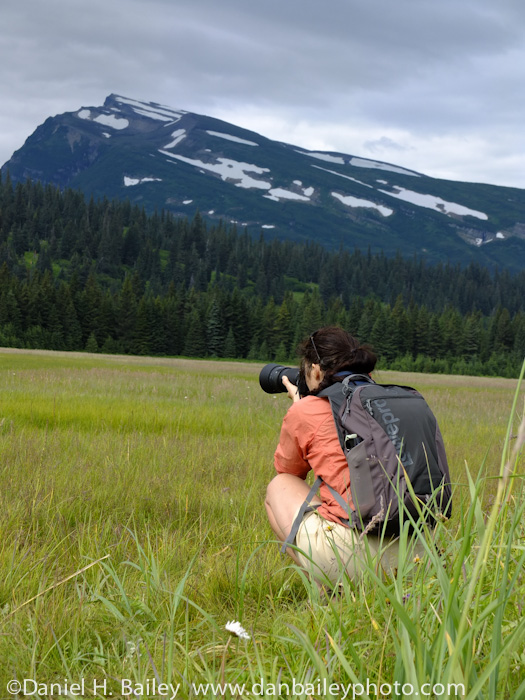 And you know what? That's essentially what I need too. It's what we all need. Like I said, I'm not always in "pro" mode, sometimes I go casual, and when I do, I just want something simple. The Photo Hatchback fits that bill perfectly.
Seriously, I wish they had this kind of pack when if first started shooting over 20 years ago. My very first camera bag was a totally amateur-looking square shoulder bag. Something like this would have been way cooler and much more functional.
Whether you're a beginning photographer looking for an affordable camera pack, or a veteran shooter who needs a slightly more casual bag to compliment your closet full of technical packs, and whether you like to hike with your camera, travel, cross country ski, ride your bike, or do urban street photography in the vicinity of caffeine distribution centers, I think that you'll find the Photo Hatchback to be an extremely utilitarian bag.
Pack your gear, throw some stuff in the top and off you go. Who cares where you end up, so long as you've got enough gear for the entire day.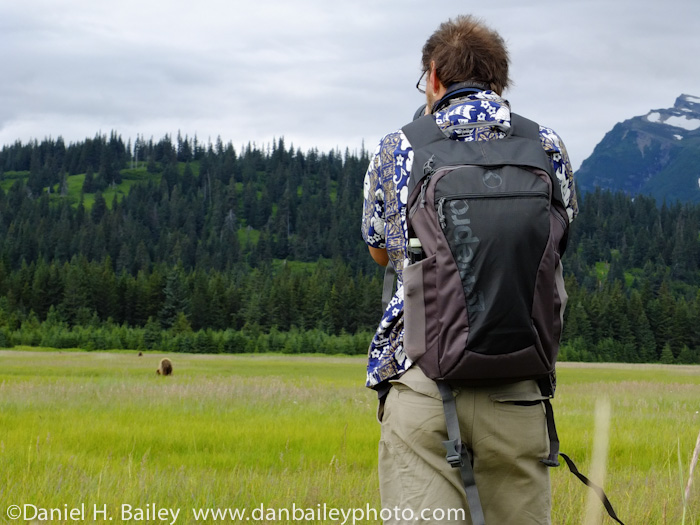 [iframe]<iframe width="120″ scrolling="no" height="240″ frameborder="0″ border="0″ src="http://mer54715.datafeedfile.com/widget/aff_widget_prdt_generate-2.0.php?aff_num=6746&aff_net=1&widget_num=6747&sid=" marginheight="0″ marginwidth="0″></iframe>[/iframe]