How to Become a Pro Photographer, Part 1- Making the Jump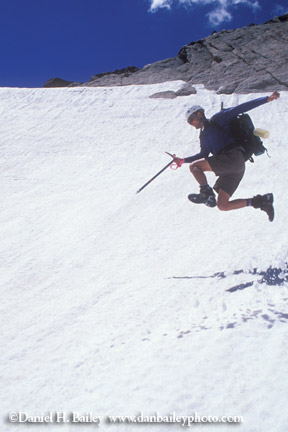 Edit, November 2010: I am pleased to announce that I have condensed the content of my How to Become a Pro Photographer series into a concise, richly illustrated 27 page eBook that contains all the info, professional insight, links and resources included in the blog posts.
The great benefit of having it in eBook format is that you can have all the info at your fingertips, in one place, right on your computer or iPad.
———–
Fifteen years ago, almost to the day, I got laid off from my day job as a scanning and imaging tech at a digital photo lab. Never mind that I was actually the second guy to be let go that week and that I didn't have much respect my boss, I was still devastated. No matter what the circumstances, it sucks to get fired.
I cleaned out the area around my Kodak PCD workstation, mostly music CDs and a few of my own climbing photos that I had scanned and printed, said goodbye to my office mates and rode my bike home, feeling utterly dejected and wondering what the heck I was going to do for money. Serendipitously, my landlord had just started re-roofing the house I was living in and since he was doing the job alone, I easily convinced him to hire me.
A week of manual labor in the sun gave me plenty of time to consider my options and that's when I decided to try to become a pro photographer. I had already sold a few photos and had worked for a year as a stock agency photo editor, so I had a working knowledge of what I needed to do to get started.
I figured that the worst thing that could happen is that I'd find that it wasn't for me and move on to something else. I was right.
Here it is, fifteen years later and I'm still going strong. Am I the most successful outdoor adventure and travel photographer around? No. Am I living my own dream? Yes. Is it easy? By all means, no, but to me it's worth everything and I wouldn't trade my career for anything.
Photography Today- The Realities
The photo industry looks a whole lot different today than when I first started out. The global economy has gone from boom to bust to it's current state of terrified trepidation as it inches forward towards a slow recovery.
Like just about every other business model, photography has been severely affected. Photo and advertising budgets have been slashed. Print publications have shed many staff photographer positions. Competition is fierce. Internet commerce has caused a dramatic increase in content.
Put these factors together and you have a textbook example of the basic laws of supply and demand. In photography, this has meant dramatic decreases in some pricing structures, which has left many photographers struggling to keep their businesses afloat.
Put simply, it's a tough time to try and be a photographer.
That said, photography has always been a highly competitive field, and there is almost no business model that hasn't been hit hard by the recession. If you're one of millions of people who has lost their job, you know this as well as anyone. Putting your professional destiny in your own hands may very well be an attractive option for you.
And, as I've pointed out in previous posts, it's actually a very exciting time to be a pro photographer. Digital imaging technology, the internet and an enormous media appetite for images have created more opportunities to photographers than at any other time in history. However, those opportunities don't come easy, by any means, you still have to work just as hard, if not harder to find them.
————–
Want the rest of the info? Get the eBook.
Follow @Danbaileyphoto