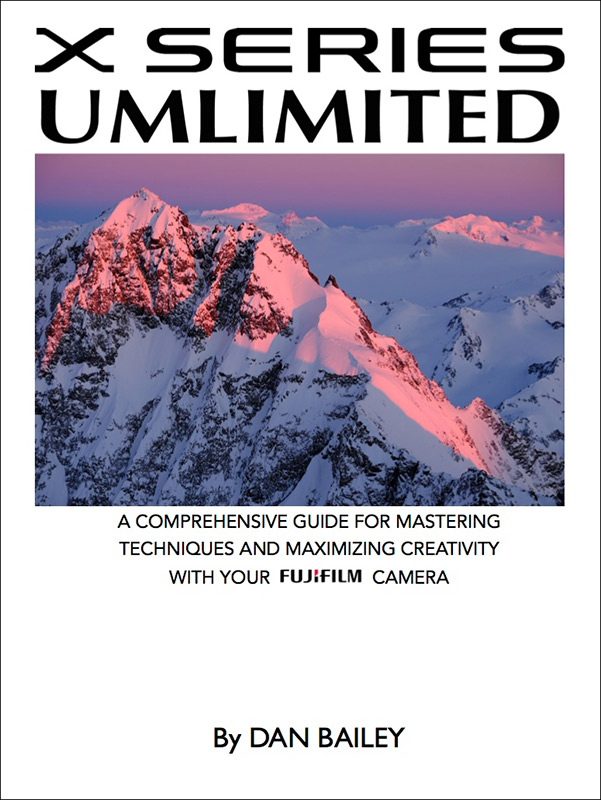 I have just released a major update to my X SERIES UNLIMITED eBook.
The new October 2018 Revision contains full info on the X-T3, as well as the X-H1 and all the recent firmware updates that have been released during the past six months.
The X-T3 has a whole bunch of new settings, including PRE-SHOT ES, COLOR CHROME EFFECT, D-RANGE PRIORITY, B&W ADJ., and a huge humber of new video features.
I cover every new feature on the X-T3, and I also cover all of the settings on the X-H1. The X-H1 was released right when I was about to release my last update, so I only mentioned a few key points. This update includes the full list of settings and menu items.
If you have an X-T3, X-T2, X-H1, X-Pro2, X-T20, X-E3 and X100F, there's a lot of new and relevant information for you inside this brand new version of X SERIES UNLIMITED.
If you have an older Fuji, like an X-T1, X-T10 or X-Pro1, any of the X-A series or the new X-T100 & XF10, my book is still highly relevant to you, because many of the Fuji settings are coming to all models, even the original X100 and X10. There's a ton of info that will help you get the most from your camera, customize it to your own style and expand your creativity.
X SERIES UNLIMITED has been a labor of love for me. I wrote it last year to help my fellow Fuji users better understand what their cameras are capable of, and in just a few months, it became a hugely successful, GO-TO guide for X SERIES photographers all over the world. It's introduced me to even more Fuji shooters and has allowed me to connect with photographers I might not ever have met. In that way, it's been a very fulfilling journey for me as well.
The new version is available today, so if you purchase the book for the first time, you'll be getting the latest information, and you'll also receive future update for free.
If you've already purchased the eBook version of X SERIES UNLIMITED, then the update is free. You should have already received an email notification and download link.
You can read more about X SERIES UNLIMITED here.
Or, just take these peoples' word for it that X SERIES UNLIMITED is an essential investment for all Fujifilm X SERIES shooters and order your copy right now. I promise, you won't be disappointed.
Thanks. The ebook is fantastic. It provides answers and tips to help me get the most from my X-T20.
I purchased your X-Series Unlimited ebook and have spent a little time each night reading with the camera in front of me. It has been very helpful. You do certainly have an interesting life style and I do enjoying checking out where you have been, along with seeing your photos.
Also, I find I'm not as hung up on always shooting RAW. Shooting JPEG and playing with the simulations, bracketing and adjustments was something I picked up from you.
Your book is of tremendous help and it ranks as my number one reference guide in my iBooks library.
SaveSave
SaveSave
SaveSave
SaveSave
SaveSave
SaveSave
SaveSave
SaveSave
SaveSave
SaveSave
SaveSave