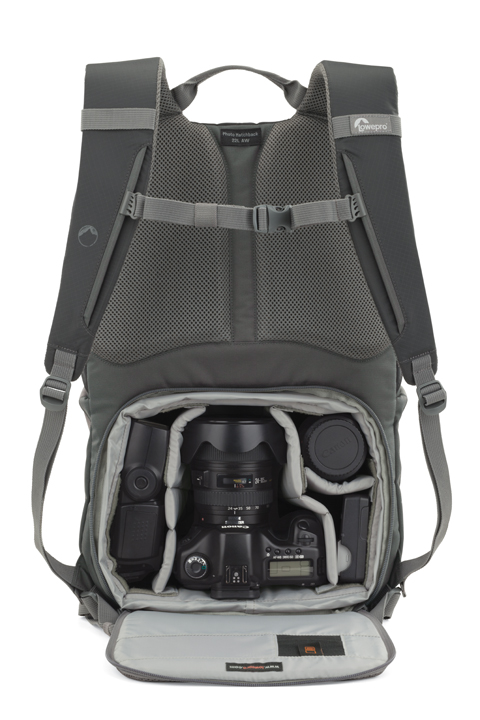 One year ago, Lowepro released the Photo Hatchback AW, a versatile camera pack that's designed for everyday outdoor photography adventures.
With it's highly functional design- Camera gear on the bottom compartment, food, food water and clothing in the top, the Photo Hatchback won a Popular Photography industry award for 2012 Outstanding Products.
In addition, the pack has deep side pockets, an all weather rain cover and a double flap zipper back pocket that fits an iPad, a MacBook Air or other small tablet/notebook or journal.
I was actually one of the first photographers to test the Photo Hatchback (you can read my review here), and even though it's built for more casual outdoor adventures, as opposed to technical climbing and skiing, I found it to be quite useful for a variety of outdoor photography situations.
One year later, I'm still using it. Last week, when I headed off for a few days of backcountry flying and hiking in the Wrangell Mountains of Alaska, I took along my Photo Hatchback 22L, because it's light, fits a modest selection of gear, carries well on your shoulders, and holds everything you need for a day hike, a bike ride, or an excursion to a new place.
In short, I find the Photo Hatchback to be a great road trip camera bag. It won't fit a really big lens, but if you've got a DSLR with a couple small to medium sized lenses and/or flash, or a compact/Micro Four Thirds kit, then it will hold everything just fine. Plus water, clothes and other gear.
Right now, you can save 20% on either size of the Photo Hatchback. You can get the pack through one of the product links below, or if you're a U.S. based photographers can also shop right from the Lowepro store and use discount Code LP20. In fact, that discount code will let you save 20% on anything you purchase directly from the Lowepro site.

[iframe]<iframe width="300″ scrolling="no" height="250″ frameborder="0″ style="border:none;" border="0″ src="http://mer54715.datafeedfile.com/widget/aff_widget_prdt_generate-2.0.php?aff_num=6746&aff_net=1&widget_num=1367″ marginheight="0″ marginwidth="0″><p>Your browser does not support iFrame.</p></iframe><iframe src="http://rcm-na.amazon-adsystem.com/e/cm?lt1=_blank&bc1=000000&IS2=1&bg1=FFFFFF&fc1=000000&lc1=0000FF&t=danhbaisadvph-20&o=1&p=8&l=as4&m=amazon&f=ifr&ref=ss_til&asins=B008OQUX22″ style="width:120px;height:240px;" scrolling="no" marginwidth="0″ marginheight="0″ frameborder="0″></iframe>[/iframe]