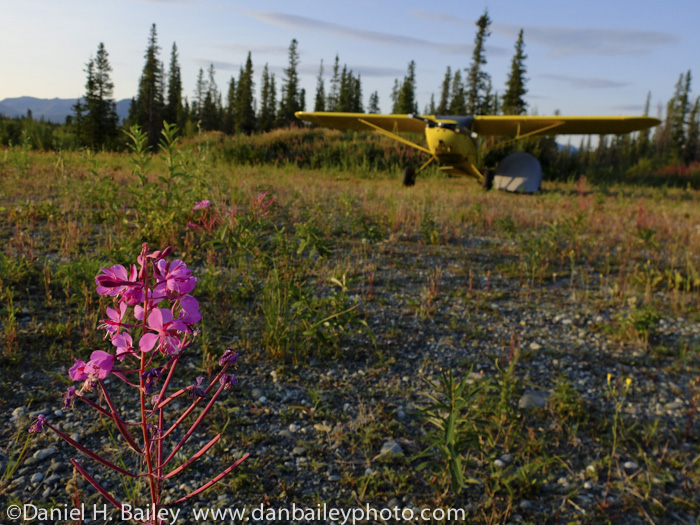 Here in Alaska, the traditional saying is that summer is over when the fireweed finishes blooming. Although much of the fireweed flowers have reached the top of their stalks around the state, this particular plant seems to be desperately clinging to the very end of summer. I'll gladly take a few more days of warm sunny weather.
With southcentral Alaska now moving into its usual August rainy weather pattern, I managed to learn that as of last week, summer is still in full swing out in the Wrangell Mountains. Loading up the little Cessna and packing the Fuji X20 and  Fuji XE-1, I headed out for a few days to shoot landscapes and aerials of Wrangell St. Elias National Park and find some much needed solitude in the Alaska Wilderness.
Wrangell St. Elias Park is pretty much tailor made for backcountry flying, and it even has a number of public use airstrips and cabins that are you can use, providing the weather and winds cooperate with your flying plans and comfort level. Fortunately, I had awesome weather during my trip, and I stayed for two nights at the Glacier Creek cabin, which sits at the edge of Glacier Creek, by the Chitistone River.
Since I knew I'd be landing on short/rough gravel strips, I needed to go light on camera gear. The two Fujifilm X cameras fit the bill perfectly. For day hiking trips, I carried everything in my Lowepro Photo HatchbackAW, with which I seem to have a rekindled fondness. It's really a great little pack that holds a modest selection of photo gear as well as clothing, water bottle, bear spray and enough food for a day out in the wilderness. Since it's not always sunny in the outdoors, the Photo Hatchback even has a full rain cover which does a great job keeping your gear dry.
If you've never been to Wrangell St. Elias National Park, it's well worth a visit. It's one of the largest national parks the world, and is rated as one of the 37 parks to visit before you die.