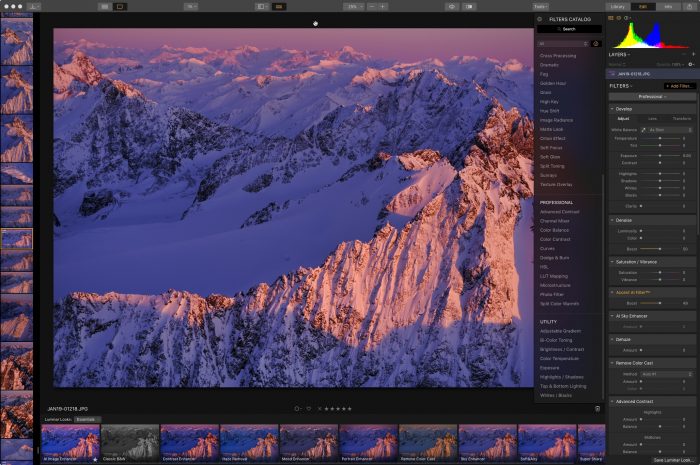 Luminar 3.0.2 has been released, and it now adds full support for a number of new cameras, including the Fujifilm X-T3, GFX 50R and the new Nikon Z series mirrorless cameras and D3500.
In addition, the latest version of Luminar builds on the foundation by adding a number of new features, performance enhancements and overall stability improvements, like faster launching, faster adding and improved sRGB exports.
With its brand new Library Module and a set of professional-quality tools and presets, Luminar 3 offers photographers a straightforward and highly intuitive way to organize, browse, edit and export their photos with a high degree of creativity and efficiency.
Having used Luminar since the day it launched back in the Fall of 2016, I've been excited to watch the program evolve from a simple editor to a feature-rich photography management and creative solution. An essential part of my own workflow, I feel that Luminar offers a wonderful solution to a very wide range of shooters.
The user interface is highly customizable, so you can run it with whatever configuration of tools you wish, and you can always add and remove tools from you Workspace to match your current needs and creative desires.
Sure it's not quite as feature-rich as Lightroom and Photoshop yet, but those programs have been around for a very long time. Luminar is certainly catching up as they continue to add new features, and the truth is that most photographers don't require the kind of depth that Lightroom contains. And they don't want the monthly subscription either. Luminar offers a viable alternative at an appealing price.
I know that Luminar is not for everyone, and there are certainly people out there who grumble about it, but as a working pro who uses Luminar as my main editor these days, I can attest that it's a highly capable and fun program.
It also comes with a 60-day money back guarantee, so if you're at all interested, Luminar is worth checking out. If you decide to purchase Luminar, be sure to use discount code DANBAILEY to save $10 on the program.
You can check out my full review of Luminar 3 with Libraries here.
If you're already a Luminar 3 user, you can simply update to the latest version right from inside the program via the "Check for Updates" Menu item.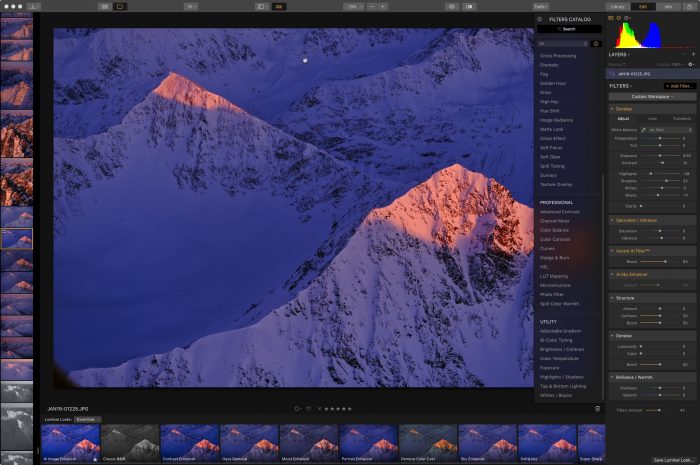 What's New in Luminar version 3.02
New Features – Mac Version
DATABASE MANAGEMENT. Your Luminar image catalog database is automatically backed up to preserve your edits and metadata.  You can control the frequency of backups with the new Preference Panel.

PREFERENCE PANEL. Take control of your preferences settings by choosing Luminar 3 > Preferences. You can specify options for Cache, Catalog, and Automatic Backup.

IMPROVED HANDOFFS. If you're working with raw file or 16-bit image and use the File > Open In command, a high-quality 16-bit files is exported.

AURORA HDR INTEGRATION. Easily hand off bracketed photos to merge in Aurora HDR.  Just select multiple photos in your library and choose File > Open In > Aurora HDR. Please note that when sending images, your original, unmodified photos are used. When finished in Aurora HDR, be sure to save a TIFF or JPEG file back to the original folder to add it to your Luminar library.

LOCATE FOLDER. Have you moved or copied media to a new location? You can right-click on an offline folder and choose Locate Folder to select and reconnect files.

ADDING FOLDER IMPROVEMENTS. Change your mind when adding a folder? Just click Cancel to stop the current task.

IMPROVED NAVIGATION. Quickly switch between Gallery and Single Image view with dedicated toolbar buttons.

NEW LANGUAGES SUPPORTED. Use Luminar in more languages with new localizations:

Chinese Simplified, Chinese Traditional, Korean, Portuguese, Russian, Italian

SAFER IMPORTS & COPIES. Luminar will alert you if you try to import or copy more files to a new destination when there's not enough hard drive space.

IMPROVED EXPORTS. If you try to export images that already exist in a location you'll be prompted to control if the files are overwritten or renamed.
New Features – Windows Version
SUBFOLDER MANAGEMENT. Subfolders make it easy to further organize your image library.  These are folders nested inside other folders in your catalog and directly tie back to real folders on your hard drive.

Subfolder creation. You can create a new by right-clicking on an existing folder in your Library.

Subfolder deletion. It is possible to delete a subfolder as well by right-clicking on it in your library.

LOCATE FOLDER. Have you moved or copied media to a new location? You can right-click on an offline folder and choose Locate Folder to select and reconnect files.

ADDING FOLDER IMPROVEMENTS. Change your mind when adding a folder? Just click Cancel to stop the current task.

OFFLINE FILE ALERTS. See a visual alert indicating unavailable files and folders.

IMPROVED NAVIGATION. Quickly switch between Gallery and Single Image view with dedicated toolbar buttons.

SHORTCUT KEYS. Take advantage of new keyboard shortcuts for View, Looks Navigation, Masks, Tools, and Edit.

NEW LANGUAGES SUPPORTED. Use Luminar in more languages with new localizations:

Chinese Simplified, Chinese Traditional, Korean, Portuguese, Russian, Italian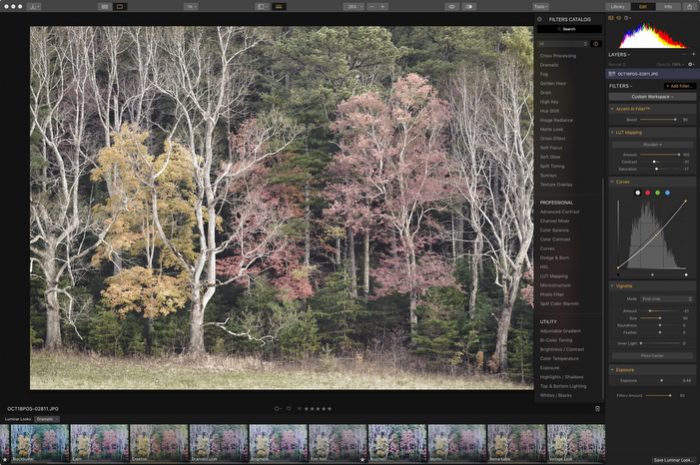 New Cameras Added
The following new cameras are supported by this recent update:
NIKON

Nikon D3500

Nikon P1000

Nikon Z6

Nikon Z7

PANASONIC

Panasonic Lumix DC-LX100 II

FUJIFILM

Fujifilm GFX 50R

Fujifilm X-T3

SONY

Sony RX100VA

Sony RX100VI

Sony DSC-HX99

Sony DSC-HX95

LEICA

Leica M10-D

Leica M10-P

Leica D-Lux 7