I like books. I immerse myself in them, learn, explore and then emerge taller, so to speak, more enlightened and full of new knowledge and insight. You do too.
As photographers, we're always searching out new books to give us information and inspiration to spark our photography or our photo careers. Here are 10 books and eBooks that I've recently discovered and that have made a difference for me.
After you read this list, leave a comment and let me know what photo-related books you found particularly helpful or inspiring during the past few months.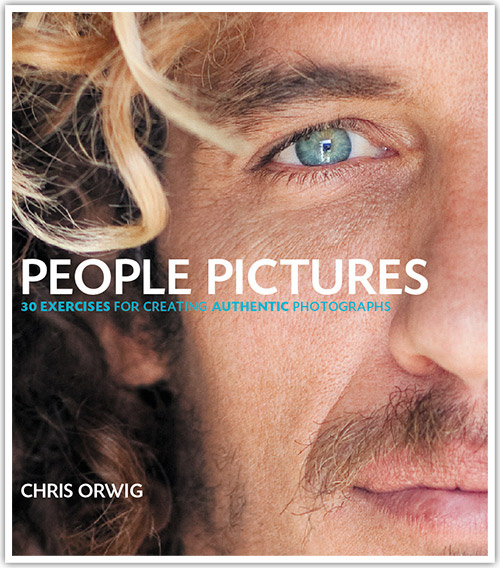 I've got the Kindle version of this book on my iPad and I've been working through the exercises. Author Chris Orwig has come at this from a really fresh perspective.
The content of this book is structured as a 30 lesson workshop, complete with self assignments and enough creative ideas to get your creative people photography skills loose and active. With so many books out there, this one is definitely one of my favorites of the year. I love the cover. Really compelling shot. Read my review of this book that I wrote last month.
There's even a brand new a companion DVD to this book called People Pictures: Creating Authentic Photographs with Chris Orwig. I haven't seen it. If you have, let me know if it's worth watching.
The full title on this Craft and Vision eBook is called The Inspired Eye 3: Notes on Creativity For Photographers. I may be a sucker for anything related to creativity, but David duChemin lays it out like noone else can. Between the quality of his imagery and his introspective writing on vision, I liken him Galen Rowell.
I didn't read the other two volumes in this series, so I can't speak for them, but TIE3 is an awesome collection of thoughts on things like imagination, sketching, risk, talent, action, play, and other aspects of what makes and blocks our creative process in our brains and outputs. Of all the awesome Craft and Vision eBooks they put out this year, this was my favorite. You can get the full bundle of all three TIE titles and save three bucks here.
The other Craft and Vision eBook that I really loved this year, this is a free compilation of brand new articles on photography technique, methods and creativity by a number of their regular authors.
Not only is it 67 horizontal spreads of inspiring and educational content and imagery, it's free. No reason not to pick this one up, it should be on everyone's computer, iPhone, iPad or whatever device you use to read PDF eBooks.
Download it here. You can also get the entire 2011 C&V collection for 30% off if you order before the end of the year.
I picked this one up towards the end of the year, so I haven't finished it yet, but I totally dig it so far. The Moment It Clicks. Classic Joe McNally throwing tips, techniques, little trade secrets that he's learned over the many years of his career, put together with sentences that only he'd come up with. What's not to love?
In addition, it's got Joe's Lighting Tips. Joe's Camera Bag. Joe's Lighting Gear. And a free PDF chapter if you register your book at Peachpit.com.
If the words don't inspire you in this book, his fantastic imagery will. If it doesn't, then you probably don't have a pulse, or are on way too much Zoloft.
The full title is Kevin Kubota's Lighting Notebook: 101 Lighting Styles and Setups for Digital Photographers. Another book I picked up just before the holidays, so I'm not finished reading it yet, but it's already made an impact.
The books starts out talking about lighting, emotion, feel and history in art, touches on gear and then breaks into the real meat- 101 different sample lighting setups that detail the gear, approach and technique used for each one. They're also listed by the overall cost of gear used, types of light, (natural, flash or mixed) and number of assistants used. Or, clamps, if you prefer.
Kevin is a brilliant wedding and portrait photographer, but light is light and you can learn a great deal from studying these setups, and then applying them to your own style and subject matter. This one could be called Going Big With Light. Definitely worth a look if you use any kind of flash in your photography, or if you shoot people.
It's no secret. I blog. In fact, I blog alot. Not quite sure how that happened, but the fact is that for as much time as I spend blogging, I want to make sure my time is well spent. I've read a couple of really good blogging eBooks, and Photography Blog Success by Zach Prez is as good as they come.
It's just under 60 pages of really solid tips and advice for how to make your blog a success, and how to get it found, seen and read. A lot of the info in here is pretty straightforwards and stuff you could get somewhere else, but I like that fact that it's all here in one place. That's worth something. I'm open to good resources when I find them, and I'd by lying if I said that this book didn't have some impact on my blogging this year.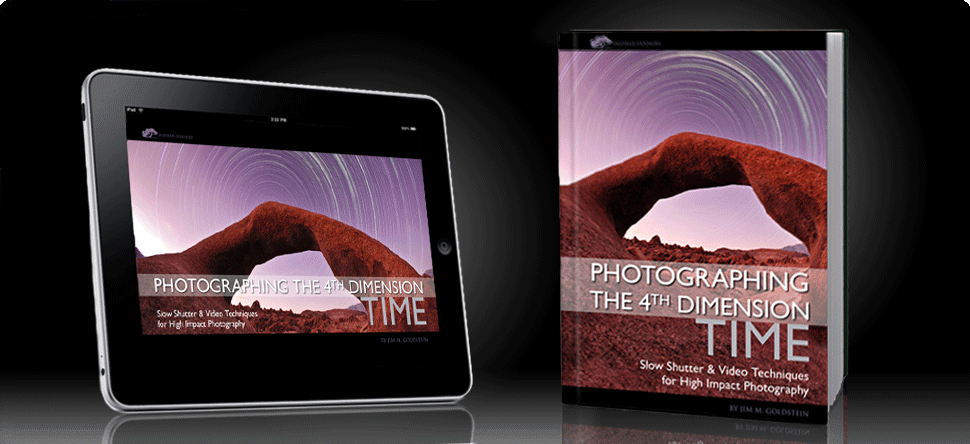 Jim Goldstein's first title, Photographing the 4th Dimension – Time: Slow Shutter & Video Techniques for High Impact Photography is a pretty cool eBook, probably because it's different in approach from many other books out there.
He starts with the basics, explaining the actual part that light plays in photography and how you control it. He then goes into human perception, detailing how our eyes and brain perceive the world and how you can effectively use the camera as a time machine.
His method chapters include making basic long exposures, light painting, composites, star trails, sequences, strobe effects, maximizing motion with still, and of course, time lapse. He also touches on cinemagraphics, or video effects for still photography.
The book is filled with loads of practical information, charts, tables, gear recommendations and awesome photographs. He's also included a "Field Checklist" that you can print out, fold up and stick in your camera bag, for handy reference on location.
It's been awhile since I've done much time lapse and long shutter speed photography , but reading this makes me want to get back into it.
Ok, I know I keep coming back to this one. I didn't discover it or even read if for the first time in 2011, but I kept coming back to it. I keep working through it and brainstorming from the notes that I made from this book, which I carry around every day in my pack.
In fact, when I ran into Dane at PhotoPlus Expo this fall, I showed him my little "brainstorm" notes and explained what they were and how much they'd helped me. He was floored. Thanks again Dane, you rock. Your book rocks. Still a favorite. Even after another year.
Blank page notebooks inspire me. They make me imagine what I'll fill them with. Mine goes with me everywhere. Keeps my thoughts, my business ideas, my creative ideas, my future blog post ideas, my eBook ideas and just about every other photography related note that pops into my head.
I carry it in my pack, right along with my Fast Track notes, and make very good use of it. I've said it before, Creative Ideas Don't Live at Your Desk. If you've got a little notebook, you can grab and hold onto them when you're out and about. Everyone should have an idea notebook. Doesn't have to be red. Doesn't have to be a Moleskine. Any kind will do.
Ok, so it's not really a book, but it's kind of like a book, one or two paragraphs at a time. This is Seth's Blog is filled with brilliant and insightful tips and tidbits that have to do with business, marketing, strategy and new world economy ideas.
The dude is smart. Really smart. The stuff he says rings so true, you read it, look around and then click away, inspired. Not because he's some kind of photographic genius, though. On the contrary, his blog posts are boring looking. Each one is just a few lines of text, but what's written in that text has some serious real world relevance. Check it out for yourself.
Out of all the things on the web, this is the only blog I subscribe to and read every day.