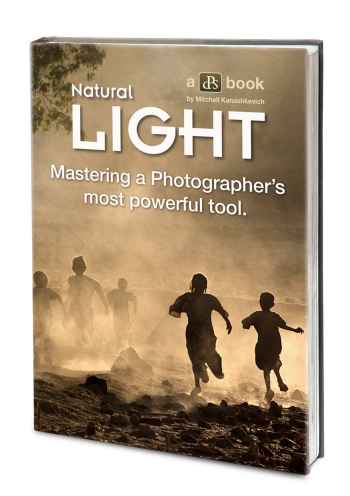 Digital Photography School has just released a brand new eBook called Natural Light: Mastering a Photographer's most powerful tool, by pro travel photographer Mitchell Kanashkevich.
This one looks promising for a couple of reasons. First of all, Mitchell is a top notch photographer. (He's the author of the Rabari eBook that I reviewed here a few months ago), and I think that he shoots very compelling work.
More importantly, we often hear that photography is all about the light, but we don't always learn how to effectively use it in our photography.
In this 96-page eBook, Mitchell details not just how to use magic hour light- (that's the easy one), he explains how to understand and use all different types of light in order to communicate and evoke the mood and emotion that you're trying to bring forth in your imagery.
Photographers often get told to put their cameras away at midday, but the truth is that if you're only shooting pictures at sunrise and sunset, you're missing an entire day's worth of great photo opportunities. Some subject matter can actually benefit from different types of light, whether it's harsh, cool, soft, diffused or foggy. Understanding and gaining mastery of how to use these different types of light will indeed make you a better photographer.
In Natural Light, Mitchell covers the role and power of light in photography, how to deal with the technical aspects of shooting in different types of light, how to use quality, direction, diffusion, and reflection to your advantage when composing subject matter and how to control the light without having to resort to using lots gear.
That's the kicker. Without extra gear. The light is already there, and it doesn't necessarily take lots of flashes and modifiers to create compelling imagery if you know what you're doing, it just takes understanding and practice. Natural light is simple. It's unencumbering. It's free. It's real. Natural light is how we cut our teeth as photographers and it's what we always come back to when we want to slip through the world with only our cameras, our eyes and our minds.
Equipment is cool, but being a master of light is even cooler.
Check out Mitchell's book, Natural Light: Mastering a Photographer's most powerful tool.