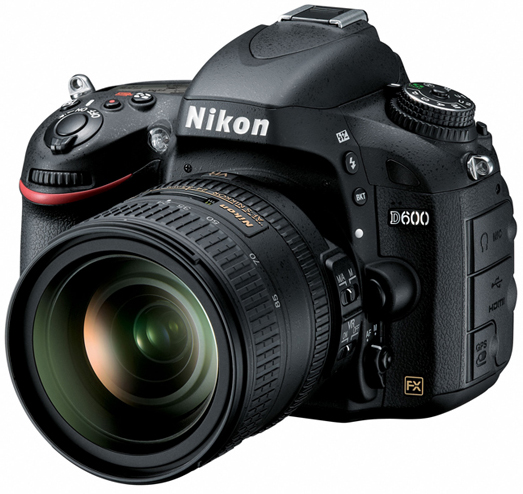 It's here. The rumors were true. Yesterday, to no one's surprise, Nikon announced the heavily leaked and highly anticipated D600 camera body.
With a 24.3 megapixel CMOS FX format sensor, Full HD 1080p cinema quality video capabilities, 5.5 frames per second shooting at full resolution, 39-point AF system, ISO range of 100-6400 (expandable to 50-25,600), wireless compatability and an incredibly compact body design, the Nikon D600 bridges the gap between pro-level full frame bodies and the more affordable DX sensor bodies in the lineup.
Built as the little brother to the D800, the D600 features the same EXPEED 3 image processor that's found in both the D4 and the D800, which means that the D600 will be able to capture images with brilliant detail, incredible depth and smooth tonal gradation in a wide variety of lighting conditions.
And, since it produces smaller image files, it actually surpasses the D800 in a critical area: Frame rate. Where the D800 can only shoot 4 fps at full resolution, the D600 fires at 5.5 fps, which makes the D600 a highly versatile camera for sports, action and adventure photographers.
Finally, since it uses the same NE-EL-15 battery as the D7000 and D800, the D600 will slide right into your system. See full specs at the Nikon website.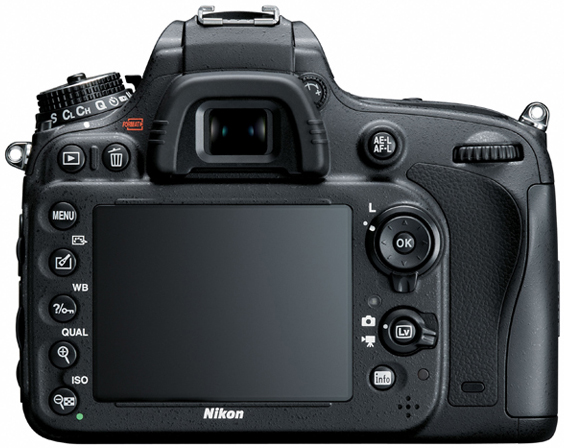 When the first rumors began circulating last year, it was thought that the D600 would be a consumer-level DSLR that lacked the kinds of pro features that demanding users require. To the contrary, and much to their credit, Nikon has delivered a rugged and highly capable camera that will appeal to a very wide selection of photographers.
Built with magnesium alloy and composite construction, a 100% viewfinder and the same dust and weather sealing found on the D800, the D600 is made to withstand harsh environments. It's compact body design will certainly appeal to outdoor and nature photographers who want to go light and fast, as well as to people who have smaller hands.
And with an an impressive shooting speed of 5.5 fps, the D600 is faster than both the D700 and the D800. For photographers who were unsure if the D800s slower 4 fps would be fast enough for them, the D600 solves that issue.
In fact, the D600 solves two other issues that has kept many people away from the D800: Price and RAW file size. At $2,099, the D600 is considerably less than the $2,999 price tag of the D800 and much more affordable to many people. Yes, it's quite a jump higher than he D7000, for the pro features that it does have, it's a solid, and doable investment if you're serious about your photography.
Also, the truth is that most shooters simply don't need 36 megapixel images and enormous 70MB RAW images files. The D600's 24.3 megapixel RAW photos should be high enough resolution for all but the most demanding of commercial and landscape photographers.
So what's the catch? The D600 is truly an amazing and innovative camera, but in order to keep the price at a reasonable level, Nikon had to make a couple of small sacrifices. In my mind, the biggest is the 39-point AF system, essentially an upgrade to the D7000 AF system. For comparison, the D4, D800 and D700 all have highest end 51-point systems with 15 cross type sensors.
To be fair, I have never used the D7000, so I don't know the ins and outs of how well a 39-point autofocus system works when compared to the higher end bodies. Also, to put things in perspective, I shot action for years with the N90, which only had an 11 point system and 1 cross type sensor, and I got some fantastic images. I would imagine that with the upgraded Multi-CAM 4800 technology, even at only 39 points, the D600 will perform very well in that department. D7000 users, I'd be curious to hear your experiences.
Also, the D600 has a slightly smaller buffer capacity than its bigger brothers. (16 images shooting at 14-bit RAW, vs. 17 for the D800 and 20 for the D700.) However, in most shooting conditions, I'm not just pressing the shutter down for 5-6 seconds at a time, I'm capturing small bursts of images during the peak of the action. That said, I like my frame rate to be fast and the 5.5 fps frame rate of the D600 gives this camera a great deal of appeal for people like me who shoot action, sports and fast breaking subjects.
Third is the flash sync speed, which is only 1/200. Most pro cameras sync at 1/250 or higher. Still, the built in flash on the D600 will operate in commander mode and control up to two groups of off camera speedlights like the SB-700 and SB-910.
While I would have liked to see the AF and flash systems built to pro-specs, these things may not necessarily be deal breakers, not when you throw in 5.5 fps, full weather sealing and a $2,099 price tag. Of course, what I really wanted was a 24 megapixel professional grade body in all respects, not just some. You know… (I almost don't even need to say it) … a true upgrade to the (here it comes…) D700. Unfortunately, this is not it.
That said, Nikon has indeed delivered more than most people had expected with the D600. It's an outstanding camera that will produce exceptional imagery, and with the features that it does have, I think it will have tremendous appeal across a broad range of photographers.
Best part about the D600 is that it begins shipping next week. No waiting for months, it's already in production and slated in-store date is September 19. Pre-order a D600 body at B&H Photo , and you'll have one in your hands by the end of the month.
Now that I've said my piece, let me know what you think. Does it meet/exceed/fall short of your own expectations? Will you get one?