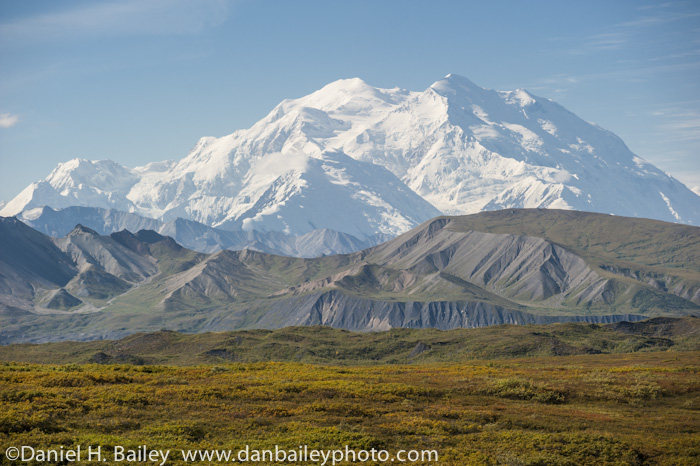 I spent last week up in Denali National Park, tromping around in the backcountry and shooting for one of my favorite clients. Each and every time I visit Denali, I'm reminded about how much I absolutely love the place and wonder why I don't get up there more often. It's without any doubt one of my favorite places on earth.
I could go on and on about how much I was moved by the magnificence of the wilderness, but that might bore you. Instead, here are some photos of my trip and a few notes that describe this particular trip.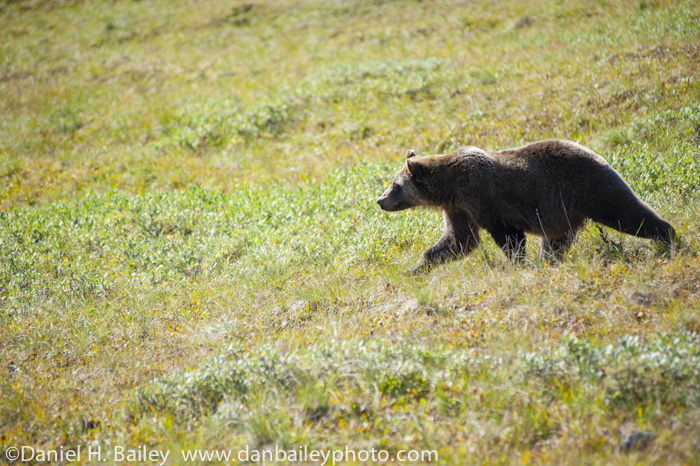 Grizzly bear. Shot from the window of the park bus. So far, I've seen a bear every time I go into the park, but this was the closest. I think that the park service could go so far as to guarantee refunds to people who don't see bears in Denali.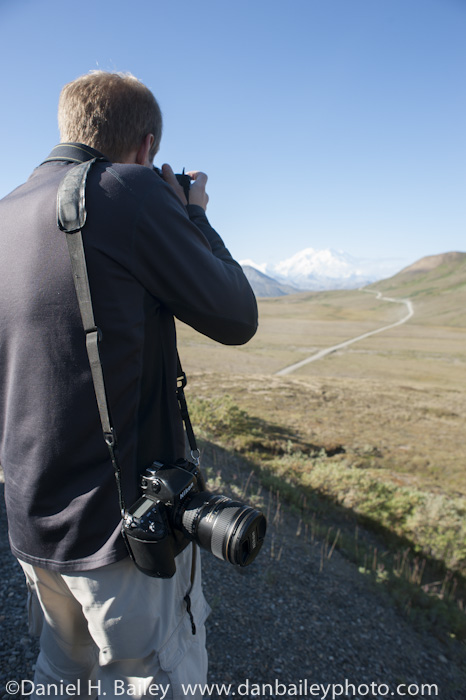 One of the best things about riding the park shuttle busses is looking around and seeing what camera everyone has. I sometimes find myself obsessed with this activity as I try and spot all the Nikons on the bus. Makes me feel good, like I'm part of a team.
On this trip, I kept my eyes open for signs of the elusive D800. Didn't see any, but I did drool with fond memories over this guy's well-worn Nikon F5 that was apparently imported from the past. (The F5's advertising tagline was "imported from the future.") Mine is sitting in a box back in Colorado.
Anyway, this enthusiastic young fellow, who's name is Justin, almost missed the bus in his eagerness to go exploring at every stop. He reminded me of someone I know and also reminded me of the time two years ago, when in my own eagerness, I failed to make it back to my bus at the rest stop. It, and all my gear, drove off without me. I got it all back a few hours later.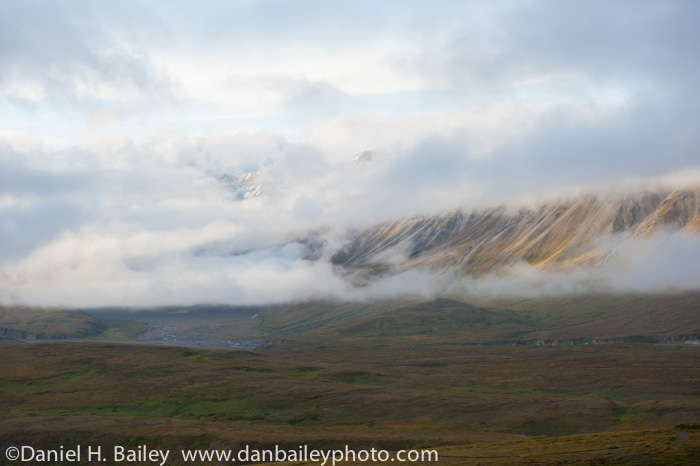 Clearing clouds, seen from Eilsen visitors center at 8:30 AM. It's said that weather inside the park is so unpredictable in the summertime. Not so, I think. You can always count on being teased by random bits of sunshine and then given large doses of clouds, rain, fog that play tricks on you and hide the mountains from view.
I was fortunate to see Mt. McKinley on my way into the park, but by the time I got back to Wonder Lake, it had disappeared. My hopes of capturing a classic sunset/sunrise photo of the mountain will have to wait until next time.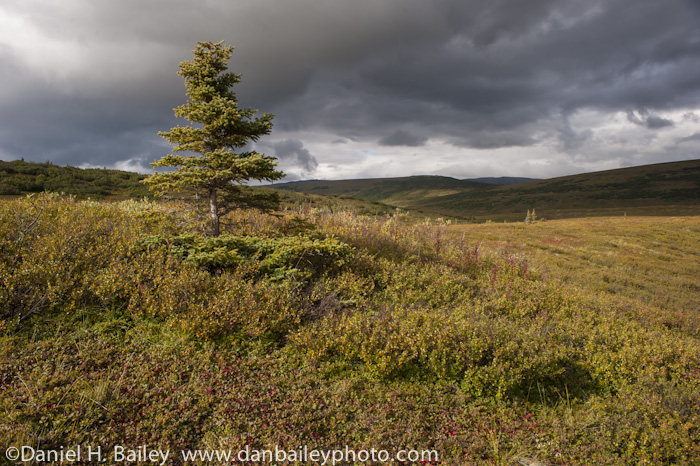 Tundra. I love the tundra landscapes in Denali. I could tromp around on the tundra all day long. Hey, wait. That's just what I did. Three days of exploring soft rolling hillsides, with only the sounds in my ears being wind, rushing water and the occasional spattering of raindrops on my jacket.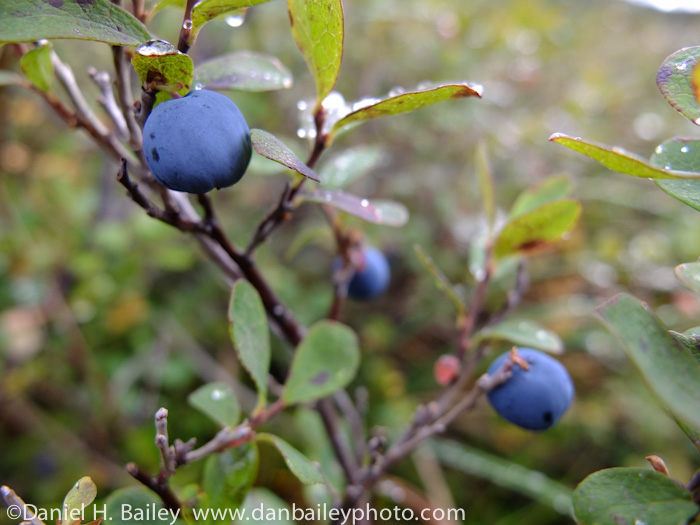 Whenever my energy levels dropped, I  found sustenance by eating handfuls of these little blue berries. So sweet and delicious, no wonder the bear like them so much! I wonder what they're actually called.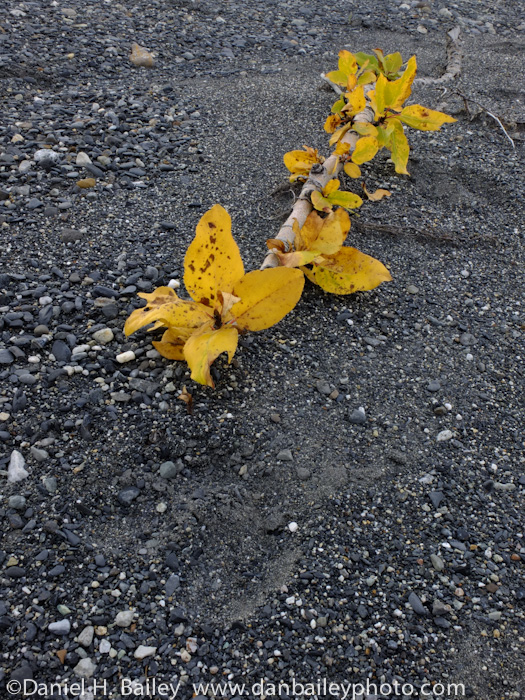 This one is titled "Caribou tracks and a birch tree that refuses to succumb to the McKinley River."
Shot this one with the Fujifilm X10. In fact, I used the X10 quite a bit on this trip; I kept it slung around one shoulder with my D700 around the other.
Since the X10 has such great macro capabilities, I often used it for shooting closeups and intimate details of the park.
Also, the image processor on the X10 is so good, I find that photos shot on overcast days need less tweaking in Lightroom than RAW files from my Nikon DSLR bodies. This photo is straight JPEG with absolutly no color or tonal correction.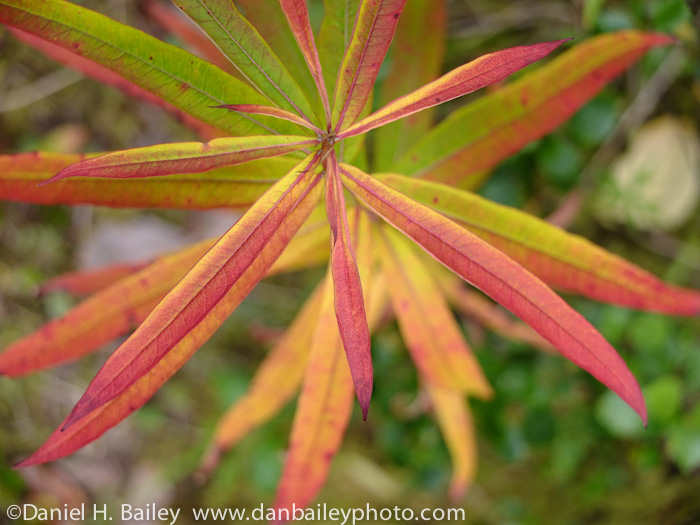 Changing fireweed. Macro shot made with the X10. Shot in Aperture Priority, straight JPEG mode with no adjustments. I just love the way the X10 renders colors.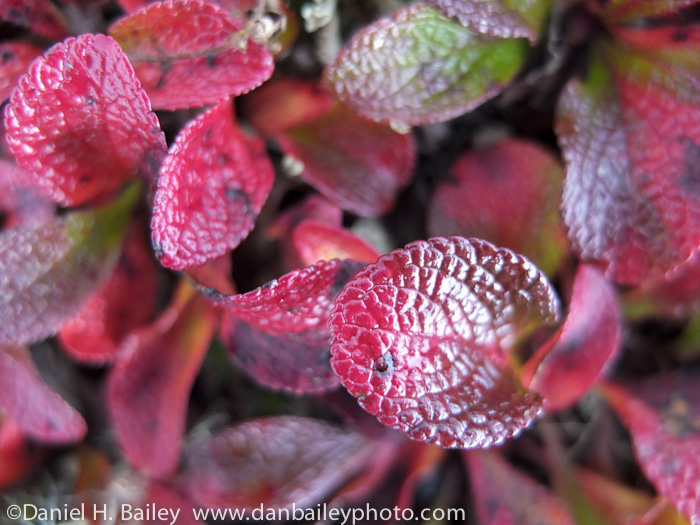 Early autumn colors are starting to appear on the tundra. Yes, I know, fall is on the way. Don't remind me, I'm not ready for summer to be over yet. Another macro image made with the X10.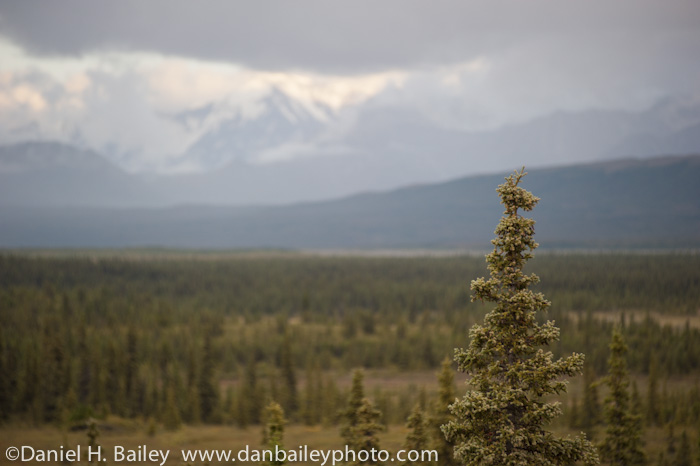 Evening clearing, or rather partial clearing off in the distance. Seen from my campsite at Wonder Lake.
Home now. Can't wait to go back.