During the past couple of years, I've reviewed and featured a number of great tripods here on the site. But what about the other part? You know, the one that goes on top and actually holds your camera?
There are a number of really high quality tripod heads on the market, but which one should you buy if you're on a budget? Unless you're using really heavy pro gear, you don't need to spend a lot of money to get a decent tripod head. Here are three great ball heads that are durable enough for general outdoor photography, that will hold a modest sized camera and lens steady, and that all cost under $100, or right around there.
Why a ball head and not the kind that have the arm, the pistol grip or the handles? Because ball heads are simple, compact and quick to adjust, which is what you want when the light's changing quickly in the outdoors.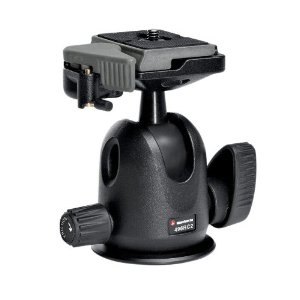 I've used the Manfrotto 496RC2 ball head quite a bit, and in fact still have an older model fixed to my venerable Bogen 3001. It's a solid, simple design with two controls: A locking lever that operates the ball head and a friction knob for helping you make fine tune adjustments.
It also comes with a rubberized quick release plate, which makes for much faster mounting on the tripod when you need to get your camera in to position quickly. No bubble level, though.
This is an extremely popular model, and in fact, while obsessively checking out other people's gear during my trip to Denali last week, I saw quite a few of these being carried by photographers. The 496RC2 is rated to 13 lbs, so it should even hold a pretty good sized camera/lens combo. If you think you need to go with a slighlty heavier duty model, you might want to check out the Manfrotto 498RC2, which is rated to 17 lbs.
Ok, this one is just over $100, but barely. The Giottos MN-1302 is my current favorite and the one that I use most of the time. It's an excellent quality, all metal ball head with a number of features that make it a superb choice for landscape and outdoor use.
It's got a triple knob design for precise adjustments, a degree scale on the base, a bubble level and an Arca-style quick release plate.
Giottos heads are manufactured to high quality standards an they have a very professional feel in your hands. The 1302-MH is rated to 13 lbs; I regularly use it with my D700 and 80-200mm f/2.8 lens.
Another great ball head that gets high reviews by the photographers who use it, the Vanguard SBH-250 is crafted with all metal, magnesium design, and it features a dual knob adjustment, a 360 degree scale, quick release plate and bubble level.
Despite its all metal construction, the SBH-250 is relatively lightweight for how rock solid it is when supporting light to medium weight camera gear.
If there's a downside, it's that the quick release plate is not quick as quick to manipulate than those found on the other two models mentioned above.
Overall, I'd say you can't go wrong with any of these heads for landscape work and general outdoor photography. For the price, they're the best three ball heads that I've seen. My pick, though, is the Giottos MN-1302. I really can't say a bad thing about it.