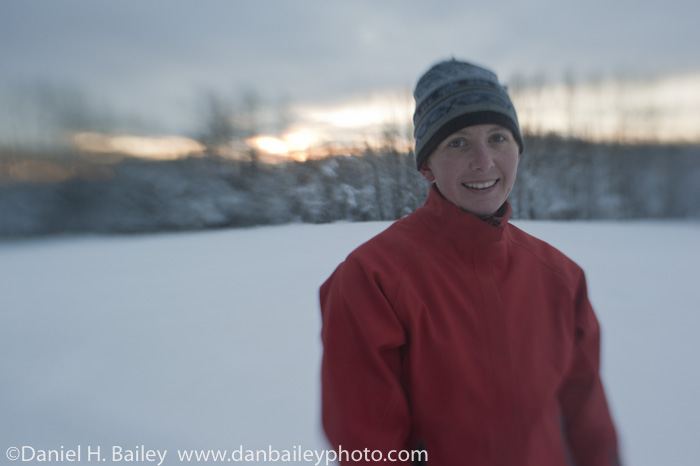 On Friday afternoon, I found myself with a couple of hours to kill before our neighborhood pizza party. Ok, I'll admit. I didn't have any any extra time to spare, especially since I was the one bringing the dough, and I still hadn't made it yet.
However, in classic Dan Bailey fashion, I tried to cram and make it all happen. With precise thought to the absolute latest time I could start the dough, I texted my model, threw on my camera pack, clicked into my skate skis and raced over to the park.
When Keri showed up a few minutes later, we shot for exactly a half hour. I tried grabbing some skate skiing action shots at first, but those weren't really working, so we quickly got down to shooting portraits.
I started with the top photo here, and then after a couple of frames, I pulled out an SB-800 flash, a Lumiquest Softbox LTP, which I had shoved into the outer pocket of my backpack since it folds flat.
Shooting with one hand, while holding the sync-corded flash in my left hand, I shot a few frames, standing very still, since I was shooting all manual focus with the Lensbaby Composer Pro.
Despite the fact that I had the entire state of Alaska acting as an enormous bounce card, the no-flash shots just don't have the same life as those photos below, which were shot with the flash.
You can also see that the Lumiuqest LTP, which has a diffusion surface that's 40 times the size of the flash head, throws some very nice light onto the entire right side of Keri's body, instead of just her face and shoulders, which a smaller softbox like the Softbox III would do. I wanted to highlight all that brilliant red in her jacket, which is why I reached for theSoftbox LTP instead of SBIII.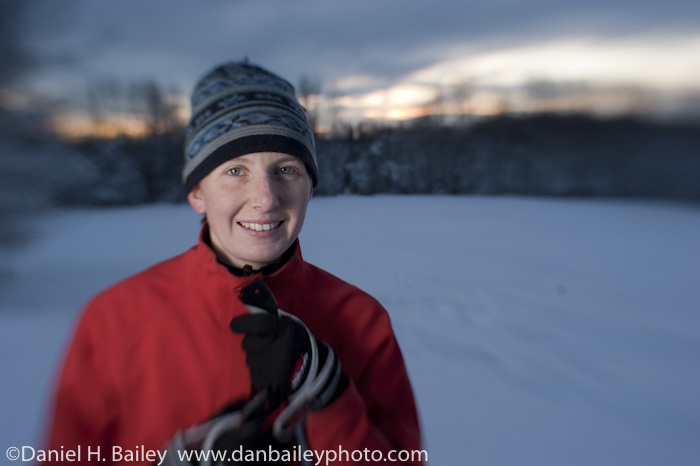 Although I think both photos work nicely, the second, vertical shot is my favorite. Tell me what you think and why?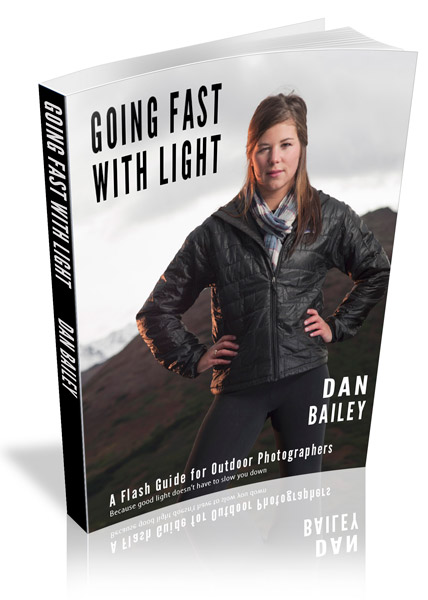 This is literally Going Fast With Light in action. It's what my entire 83-page eBook is about, moving and shooting quickly with lighting gear that doesn't slow you down, either with weight or method.
Our entire photo shoot lasted a half hour, and the portrait part of the shoot lasted for less than half of that.
Time: 12 minutes to take the flash out of my pack, attach the LTP and sync cord, do a couple of test photos for exposure, and then shoot 44 frames, a couple of which I REALLY like.
Of course, when 4:30 hit, I knew I had to race home. I threw all my gear back in the pack like a total spaz, forgetting to zip the camera compartment shut. I skied all the way back with the flap hanging wide open, and made it home just in time to get the pizza dough started. I can't believe that my D700 didn't fall out along the way. Maybe someone is looking out for me!
Read Oh What a Difference a Flash Makes! (Part1).