If you're a regular reader, then you probably know that I have camera bag issues. I keep searching for a bag that fits my fast and light style. Or my fast with light style. Whatever… I can't even remember which one it is anymore.
You see, for me it's all about accessibility.
I'll say it again. Accessibility. As photographers, we all know that moments are fleeting. The best ones fleet the fastest. Expressions. Action. Glimpses. If you can't move camera from bag to hand in mere seconds, or even faster than that sometimes, you'll miss the shot.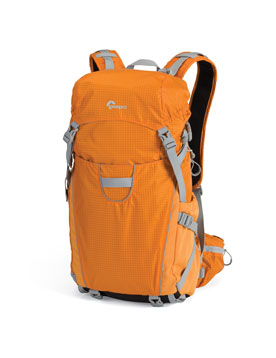 Recently, I got my hands on the new Lowepro Photo Sport 200 AW camera backpack (that's the one I mentioned in my 10 Things You Want on Your Photography Wish List), and after trying it out for a few weeks, I've decided that it's the pack I've been waiting for.
I don't mean to sound all romantic and mushy, but that's really how I feel. Let me explain.
For nearly every single activity that I do, hiking, biking, skiing, climbing, trekking, tromping, trapsing, I'm always wearing a backpack. In fact, I'll be honest here, I've actually discovered that if I'm just walking around without a pack for any length of time, my lower back get sore. Go figure.
Anyway, when I'm adventuring out in the world, in addition to my camera gear, I'm carrying snacks, water, bike pump, hand warmers and technical gear; the stuff I need to stay warm, survive or just plod along in the outdoors for hours on end.
Unfortunately, with most packs, if I'm carrying camera gear, I need to bring along the chest pouch, which can be cumbersome on the bike, and also stuff extra lens/flash cases into the pack, which I'll have to fish out if I want to shoot any photos. And, since it's heavier, this stuff usually goes on the bottom, below the lightweight clothing and jackets.
That's NOT accessible.
The Lowepro Photo Sport 200 AW is a hydration ready, top loading backpack that fits a decent amount of outdoor gear. It also has a side zipper camera compartment on the bottom where you can fit a DSLR body with lens, and, depending on how you pack it, a second lens, or a flash and another small lens.
The side zipper allows access very quick access to your camera, which as we agreed above is often the key to getting the shot, right? As you can see in my video above, you don't even have to take the pack off to reach your camera, although, slinging it off and on is pretty simple.
Of course, there's often a difference in design and usability. You want to know, does this system really work? Absolutely. I can tell you that it works quite well. So far, I've used the pack downhill skiing, snow biking and skate skiing, and I've found that it's not only usable, it's comfortable. In recent weeks, I've worn it up to seven hours at a time on long bike and ski days.
In fact, this pack is pretty much where my camera lives full time right now. When I'm not outside, it's permanently parked on the floor of my office right next to the door. It holds a surprising amount of gear. (See the list below to see what I typically cram into it.)
I love Lowepro stuff. I think it's built really well and it fills a niche with the adventure and outdoor photography crowd, but I'll be honest, not all of their stuff works form me. Their chest pouches and many of their waist packs are either too big or too small to comfortably fit me, and their bigger packs are designed more as photo gear packs than outdoor gear packs. Like I said, I'm picky. I have issues.
However, the Photo Sport 200 AW is just the ticket. The bomb. The cat's meow or pajamas, or whatever. Like I said, it's the pack I've been waiting for. In my mind, it's the ideal pack for all day adventuring with your camera. Period.
Is there anything I don't like about this pack? Well, I'm used to slinging backpacks off of my right shoulder, so it's taking me awhile to get used to this system. However, if it slung the other way, I wouldn't be able to grab my camera with my right hand, so that's my own design flaw, not theirs.
Also, I wish it were just a tiny bit bigger some of the time. Not all the time, but there are times when I'd like to pack a little bit more camera gear. Maybe they'll make a Photo Sport 300.
Finally, I wish the top lid had more room, it gets pretty full with snacks and sync cord, which makes it hard to get into. I wish it had at top lid the size of my Osprey Talon 33, which is my favorite non-camera technical outdoor pack. In fact, maybe if they make a Photo Sport 300, the whole pack will be that size,
Minor things. Overall, it's an awesome pack, and as much fun as I've been having with it this winter, I can't wait for summer!!
If you're an outdoor shooter who wants versatility and accessibility, then I'd highly recommend that you take a serious look at the Photo Sport 200.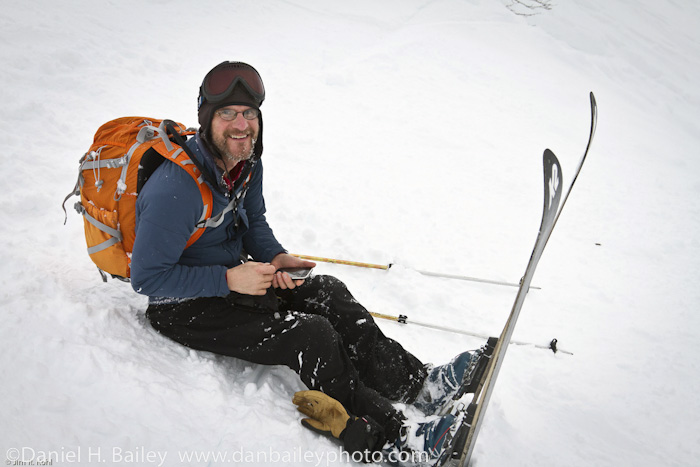 I hope you enjoyed my video review. Thanks for watching, and special thanks to Jim Kohl for his most excellent video work and for laughing at my face plant. (Don't miss the blooper reel at the end!) Check out his website at www.jimkohlphoto.com.
What I usually carry in my Photo Sport 200:
Nikon D700 w/ either 24mm, 50mm or 85mm lens or Lensbaby
SB-800 Speedlight
A second small lens
Sync cord
Lumiquest Softbox III or LTp (shoved in the outside pocket)
80-200mm lens, SB-900 or thermos of Bailey's
Extra puffy jacket, hat & gloves
Hand warmers
Clif bars, cookies or sandwich. Or all three (top lid)
Memory card case (waist belt zipper pocket)
Gu packet (waist belt zipper pocket)
Gorillapod (shoved in side strap)
100oz Camelbak bladder (inside hydration compartment)