Organize Your Creative Ideas with Shot List Assist App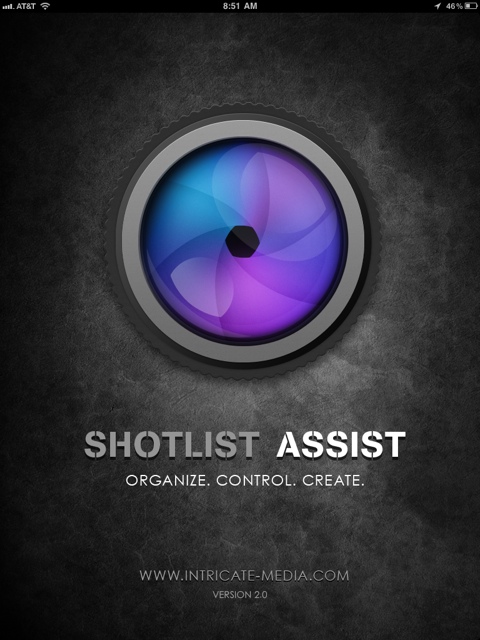 With the sheer volume of iPhone and iPad apps out there, I've almost given up trying to review them; there are simply too many to keep track of. However, every once in awhile, I find one that I feel is worth sharing.
Shot List Assist is a very useful app that helps you keep track of potential image ideas and plan shots for future assignment, stock shoots or personal projects.
The app's simple interface allows you to create categories, subcategories and detailed shot info, which you use organize and store your creative ideas for future reference.
You can add your own presets for just about any type of data that might be associated with a shoot, like cameras, lenses, lighting setups, models and locations. You can also shoot reference shots or store images from your photo library and use the built in lighting/shot diagram to visually map out the details of your shots.
If you're one of those photographers who shoots cool photos that you see in magazines just to have for future reference, study or inspiration, this is a great place to store them. Simply create a category called "Magazine Cutouts" and save them all there, where you can easily call them up later. It's a much more efficient system than just shooting and scrolling through endless images stored on your iPhone.
The app also has a GPS feature which you can use to physically map out the location of your proposed ideas. If you ever find yourself in a particularly photogenic setting, you can just save your "current location," or, you can go into the map and drag the pin around to whatever location you desire.
While I've seen a couple of other apps like fall into this category, such as Second Shootr, which is specifically designed to plan wedding photography, I was always waiting for one that's built to for more general photography use . Shot List Assist definitely fits the bill. The app is well designed, very easy to use and definitely helps you store and organize your creative ideas all in one place.
Stock, assignment, portrait and commercial photographers, as well as 365 project shooters will all find this app useful. It's been out for iPhone and iPod Touch for awhile, and it was recently released for iPad. The designer has created PDF and video help files that you can access right from within the app. It's quite easy to use, though, you'll get the hang of it pretty quickly by just playing around with it.
Shot List Assist costs $3.99, which is extremely reasonable, when you consider how well it can help keep your ideas organized. I'm glad I found this app, and I definitely recommend it, no matter what kind of photography you do. Get it at the iTunes Store.
Follow @Danbaileyphoto