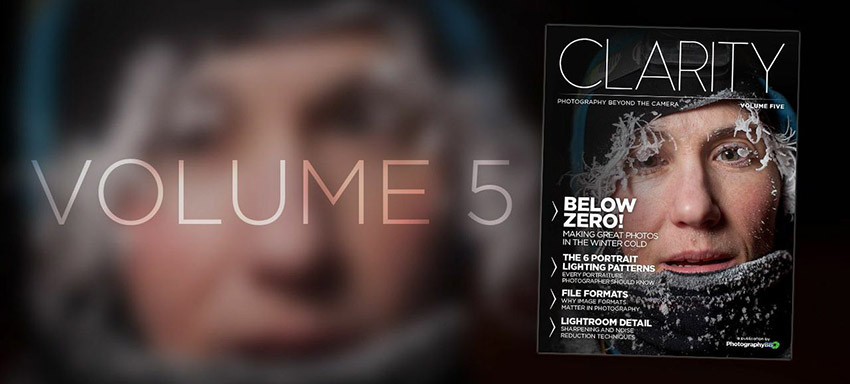 The latest issue of CLARITY: Photography Beyond The Camera is now out, and I'm excited to announce that I've got the cover story!
Not only does my photo appear on the front of the magazine, the issue contains an 1,800 word feature story that I wrote called Below Zero: How to Make Amazing Winter Photographs While Protecting Yourself and Your Gear. The piece contains a variety of tips for dealing with winter light, temperatures and compositional ideas, as well as numerous photo examples to illustrate.
NOTE: Due to the recent changes in VAT, the US shopping cart doesn't work for EU and UK customers. If you're based in the EU, use this link to get CLARITY, Vol. 5.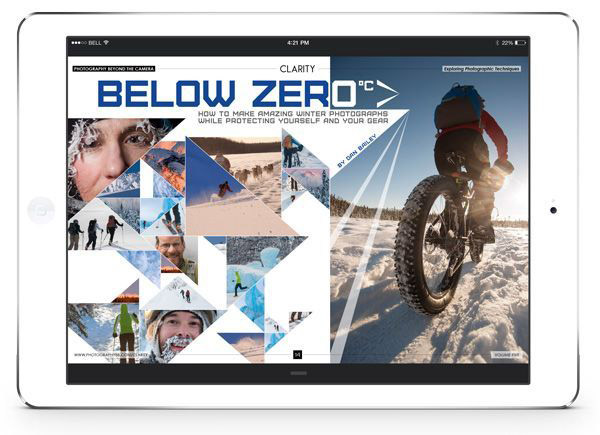 CLARITY is a quarterly photography lifestyle magazine that puts the emphasis on light and composition ahead of gear. What I really like about CLARITY aside from the fact that it's visually striking and looks great on mobile devices as well as regular computer screens, is that the PDF e-magazine approaches photography from a fresh new direction. Also, This photo is one of my favorite winter portraits, and so it's really exciting to see it on the cover of this issue!
CLARITY covers way more than the standard how-to photography techniques and processing tips. Reading each issue, you'll learn about the stuff that really makes photographers better at their craft – topics like: working with light, developing creativity, how to make images that communicate your own ideas, the role of the digital darkroom, and more. It's always packed with great photos, articles by a variety of pro photographers and it even contains supplemental video tutorials. This month contains over 30 minutes of video!
I also like the fact that CLARITY is published by a super good guy named Dave Seeram, who pours his heart and soul into developing and designing each issue. From sourcing authors for the articles to packaging a gorgeous looking magazine, CLARITY is the product of a real person who's following his own passion for photography in such a way to enrich the lives of other people. In today's world, people and efforts like that are well worth supporting. It all comes back around.

This latest issue of CLARITY, which is Volume # 5 contains some really great pieces and a ton of informative content. Here's what you'll find in this issue:
Portrait Lighting Patterns: Whether you are shooting with natural light or flash, the position of your lights and your camera have a dramatic impact on your portraits. You'll learn which lighting patterns work best – including a 19-minute video demonstration!
Getting Creative: Creativity is a tough beast to master. In this article, you'll learn techniques to turn on your creativity anytime.
Moving To Film: Why would any photographer choose film over digital in today's face-paced world? Find out why one photographer made the transition and how it transformed his passion for photography. You might find untapped inspiration here!
How to Make Amazing Winter Photographs: There are particular challenges that photographers face when shooting in the cold winter months. In this article, you'll learn techniques for better photos in winter as well as vital tips for keeping your gear safe.
Lightweight Lighting Essentials: Part of lightweight lighting is often not relying on "lighting" at all. When shooting in any type of lighting, you'll learn how the digital darkroom plays an important role in achieving the perfect look you have in mind.
Why Image File Formats Matter in Photography: The age-old debate between RAW vs. JPEG never burns cold. You'll learn the real pros and cons of each format, but it's not just about RAW and JPEG anymore – there's a new player in town…
The Beginner's Path to Great In-Camera Photos: Shooting auto is great when you get your first DSLR, but making the transition to manual is overwhelming and often causes beginners to stick with auto. In this article, you'll discover a natural path to learning manual mode that will help you make better photographs in-camera.
Photography Around the World: In our travel series, Chris Corradino takes us into the heart of Italy through inspirational photography and storytelling.
How to Make Amazing Travel Portraits (Part 2): Learn 5 (more) tips for making great portraits when travelling the world. There's a lot to learn, and Piet Van den Eynde shares his vast experience for coming home from your travels with photographs you'll be proud of.
Small Scale Photography: Experimenting with different photographic techniques is the real key to learning. In many cases, it's helpful to step outside our usual comfort zones and try something new. This is one technique that requires no special equipment, guaranteed to delivery happiness, and further drive your passion for making creative photographs.
Lightroom Video Tutorial: In this video, we look at the role of Lightroom Plug-ins and why you should consider adding 3rd party plugins to your digital workflow.
Photoshop CC Video Tutorial: Blown out skies? Learn how to quickly replace the sky in any photograph (even with complicated foregrounds) with this shockingly simple technique.
Lightroom for Photographers: In our series on understanding the Lightroom Develop Module, we look at sharpening and noise reduction techniques – all inside Lightroom.
Food Photography: What edition of CLARITY would be complete without a good recipe? In addition to some yummy treats, you'll also learn 4 timesaving tips for better food (or any staged) photography.

You can get the latest issue of CLARITY Volume 5 with my winter photography cover story for only $8, or you can buy the magazine as a bundle, which gets you Volumes 1-5, plus the next 3 issues for only $40. Essentially, that's getting 3 issues for free.
Also, by buying the issue, you're directly supporting Dave and me because  CLARITY is completely free of advertisements. Thanks, and if grab a copy, I hope you enjoy the Magazine!
You can download the issue here.