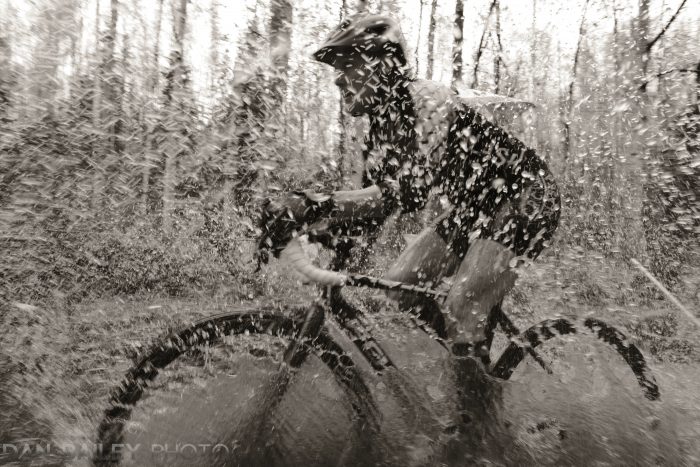 This is the coolest action photo I've ever shot. I made it with the new Fujifilm X-T3 during last Saturday's cyclocross race.
I realize that's a tough claim to make, considering that I've been shooting photos for 28.5 years, and I've been a professional action and adventure photographer for just about 22 years now.
Over the years, I've shot a wide variety of very exciting sports, including rock and ice climbing, kayaking, mountain biking, skiing/snowboarding, hiking and mountaineering. Even without scrolling through my Lightroom catalog or flipping through the pages of my old slide boxes, I can bring up a number of my all time favorite action images that have been permanently burned into my memory.
Those are the photos that defined my career and my style as an adventure photographer. Those are the scenes I cut my teeth on while I worked to make a name for myself in the industry. Those are the kinds of jaw-dropping shots I've always aspired to capture and that I still aspire to get every single time I put the camera in my hands.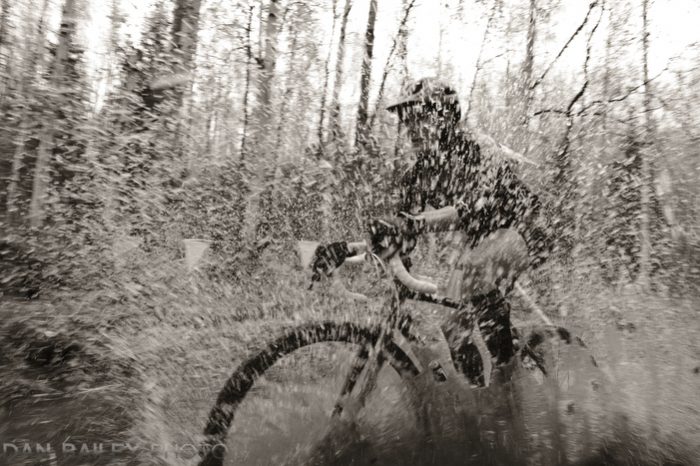 That's the great thing about photography, you never stop learning and improving. I've been shooting action sports for half my life and I'm still motivated to keep trying to nail even better, more exciting photos each time I go out.
I'm always trying new techniques, building on what I've learned in the past and applying new methods and styles to my approach. Through experience, I know what works, so that kind of gives me a head start. I usually have a pretty good idea where to begin, but sometimes that all goes out the window when I get on the scene and the dirt, or in this case, when the water starts flying.
Even though the technical stuff is second nature to me, each scene is unique, so I try to blend experience with on-the-spot creativity to come up with new ideas of how to portrait my subjects in the most exciting way possible.
It's always a balance between doing what I know works well and launching into uncharted territory. Doing what works is playing it safe. I know I'll get a good shot, but is it the best shot I can possibly get? Jumping off into the deep end is a gamble, because I might come up with something truly great, or I might biff it and walk away with nothing. I could have stood back and gotten the "safe shot," but would that make me feel the most satisfied as a creative image maker?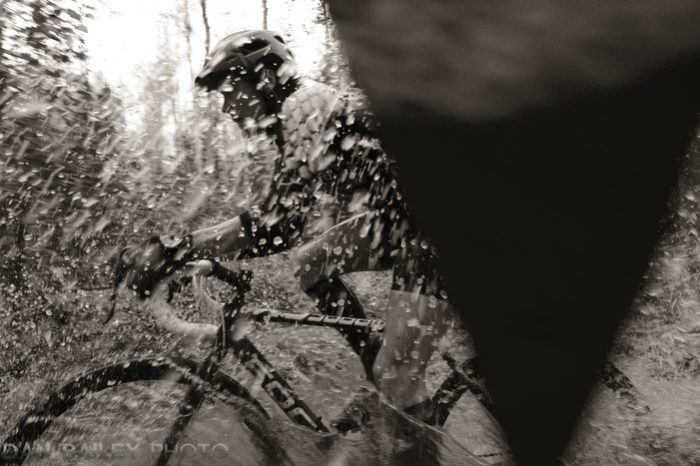 The camera gear makes a difference too. In my 22 years a pro shooter, the camera gear has improved just as my own skills have improved.
As I mentioned, I shot this with the Fujifilm X-T3. It's basically an X-T2 on steroids. With a faster processor, improved AF algorithms and a new sensor that has 4 times the number of Phase Detect autofocus pixels, it's tailor made for shooting fast action, providing you have the skills to keep up with it. (Read my full review of the X-T3 here.)
Since it's brand new, this was my first chance to shoot cyclocross with the X-T3. I was super excited on Saturday morning, because this was my first opportunity to put it through its paces and see if it's up to the task. In other worlds, could it keep up with me?
Here was my chance to find out.
I shot a lot of photos that day; 1103 frames to be exact. I tried a lot of different techniques and settings. I went back and forth between the mechanical shutter at 11 fps and the Electronic Shutter at 20 and 30 fps. I tried out the new PRE-SHOT ES mode, which starts capturing images as "half press" and writing them to the buffer.
I used different film simulations and played around with the warm/cool tints that can be applied to the monochrome looks. I shot telephoto. I shot wide. I tried out a variety of different vantage points as I ran around the course looking for killer locations.
This giant puddle seemed like it had a lot of potential, so I parked myself there for quite awhile. I shot a total of 698 frames here, hoping to get something truly amazing.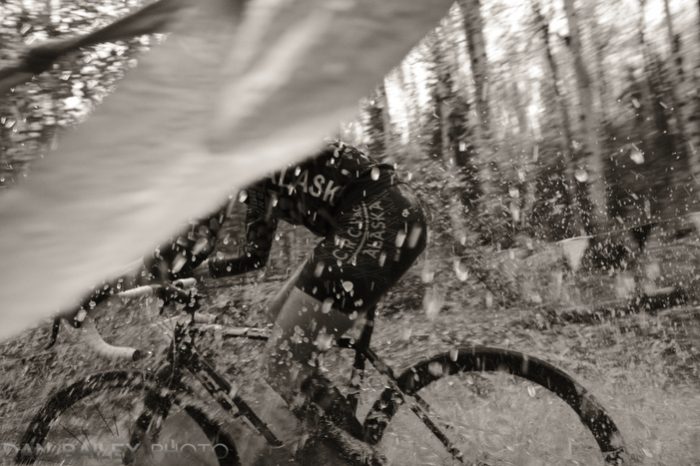 At 21:21pm, I saw my friend Amber Stull coming through on her 4th lap. I'd been shooting vertically for the previous 50 frames or so, but when I saw her approaching the puddle, I flipped the camera horizontally. Crouching down, I snapped off four frames in a quick, 11 fps burst as she flew in between the course flags that partially concealed my field of vision.
The second frame was THE ONE. It's the culmination of everything I've learned as a photographer, combined with my well-defined creative ideas about what I want to show in my work.
To me, it perfectly captures the hair-raising, high energy, messy off-road chaos of cyclocross racing, and it has the perfect amount of speed and blur, the perfect exposure, the perfect framing and a gorgeous tonal palette. I love that you can see Amber's incredibly toned muscles, the determination on her face and her race number fluttering in the breeze on the back of her jersey through all that water.
Part of the reason I like shooting cyclocross is that I know most of the racers up here. Essentially, I'm just trying to make my friends look like heroes and it's never very hard to make Amber look like one. She happens to be the subject of my last cyclocross post I ran last week, too. Go figure.
Amber is an amazing athlete who's been competing and inspiring others to do their best for years up here in Anchorage. She's won many races and triathlons, and this year, she took 2nd place in the 2018 Alaskaman race, a brutal 143-mile extreme triathlon with 11,335′ of climbing.
She and her husband Jamie own Chain Reaction Cycles and 9:Zero:7 Bikes here in Anchorage, and they're just such great people. Both class acts all around, and very proactive in our Anchorage cycling community. I always enjoy seeing them and their two highly athletic daughters, who keep getting faster every year. In fact, a few minutes after I shot this photo, Amber's older daughter Cadence passed her up the final hill and beat her mom for the first time ever. What a huge milestone for both of them.
—————
It's always exciting to nail those amazing moments and walk away with photos that blow you away. It never gets old. That's what it's all about, right? And it doesn't matter who you are or whether you're a pro or not, we all get the same sense of elation and satisfaction when we capture a truly compelling image.
As I constantly improve as a photographer, I feel like my photos keep getting better as well. Every skill and technique that I've practiced over the past 20+ years, and ever single photography experience, success or failure, has led me up to this point, where right now, I'm the best photographer that I've ever been.
And if that holds to be true, then it logically follows that this image of Amber is the coolest action photo I've ever shot in my entire life. That is, until I pick up the camera again and find myself in another equally exciting situation with equally exciting subject matter. That's the great thing about photography: It only gets better from this point forward.
If you can't tell by now, I'm super proud of this image. Here it is again. Make sure you click on the photo to see it nice and big at high res. Thanks for reading.