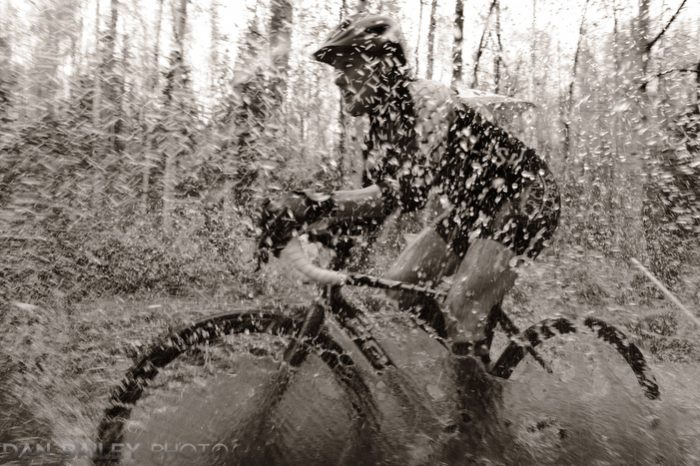 As a spastic, high energy cyclist and action photographer, I practically live for cyclocross season. I find it to be an incredibly fun way to spend a few hours on a Saturday morning in the fall, as I cheer on friends and race my own bike through the mud and whatever other obstacles and challenging terrain get thrown into the course.
I also find it to be one of the best ways to practice my photography chops and test out the fast action and autofocus capabilities of my camera gear. In fact, during the past few years, I've pretty much used cyclocross as my benchmark to test out just how well the Fuji cameras and lenses perform when shooting very fast subject matter. 
And as with any subject that I'm passionate about, I'm always trying to better my skills and vary my approach, in the hopes that I can come up with something really incredible. Sometimes I get really good images, and sometimes… occasionally, on rare occasion, I get a truly great image.
This photo above is from last year's race at Mirror Lake near Anchorage, which featured a 30-foot long creek crossing. Just one of the 698 frames that I shot while standing by the creek during last year's race, it's a photo of my good friend Amber, who always seems to look great in action photos.
It was captured with my Fujifilm X-T3 and the XF14mm f/2.8 wide angle lens, at ISO 1600 with an exposure setting of 1/210 sec and f/5.6, using the Mechanical Shutter at 11fps in Aperture Priority Mode, using the super cool PRE-SHOT ES setting.
With the X-T3 set to ACROS Film Simulation, I also added a warm tint in the WARM/COOL BW ADJ settings menu.
I was blown away when I saw it, and in fact, I deemed it to be the coolest action photo that I'd ever shot in my 22 years was a pro action photographer. Here it is again.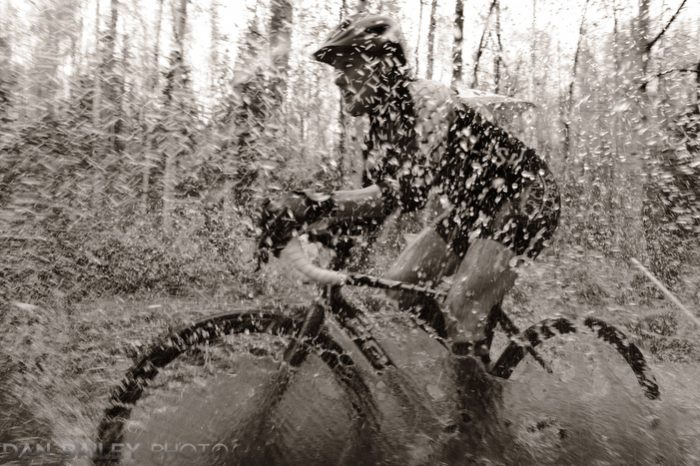 Fast Forward to This Year's Race
The minute I saw that the Mirror Lake course would be included in this season's cyclocross race schedule, I got all giddy inside, because I knew I'd get to relive the magic from last year. The cheering… the splashing… the chance for another killer action photo.
Of course, I had set a pretty high bar for myself. Having made my coolest action photo ever, at least up to that point, I knew that the pressure would be on for me to come up with another awesome image.
That's the great thing about photography, you always have room to improve. Even if you were to shoot the best, most amazing image of your entire life today, you can potentially shoot an even better one tomorrow. That's a really cool thing to think about, and it's what drives us, right?
All week, leading up to the race, I'd been playing it over in my mind. I'd been thinking about how I might approach the race this time, and wondering if I could indeed come up with something at least as cool as last year's image, if not better. That said, when we're talking photography, maybe "better" is not necessarily the right term. Let's go with "equally cool, but different."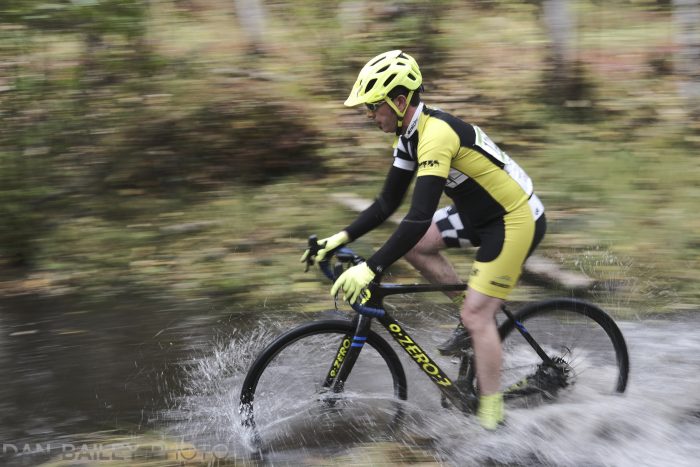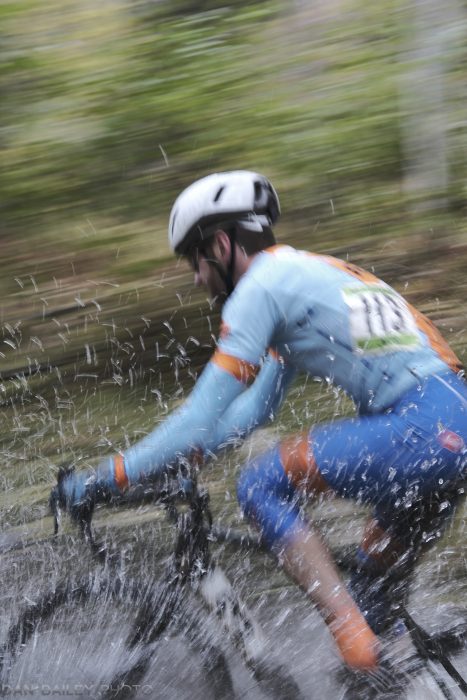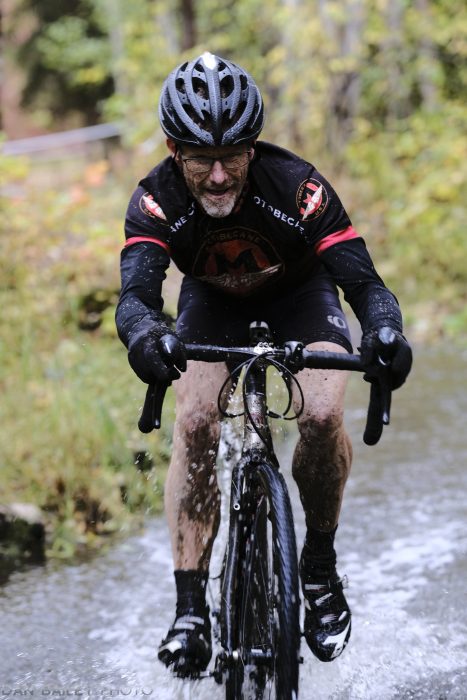 Come race day, I drove out to Mirror Lake, scurried down to the creek, warmed up by shooting the intermediate men's race, and waited for the pro women to start. Call it nostalgia, call it favoritism, I was really waiting for Amber. As I said, she always looks awesome in photos and I love capturing hero shots of my friends.
In my quest to come up with a different approach, I shifted my vantage point and moved to the other side of the creek. Shooting again with the XF14mm f/2.8 lens, I set the X-T3 to PRE-SHOT ES with 11fps bursts, this time using the Electronic Shutter.
I also set the camera to the ACROS film sim, since I love shooting cyclocross in black and white, and once again, I used the WARM/COOL BW ADJ setting, but with a slightly cooler tint than what I'd used for last year's image.
Standing on the on the edge of the creek, and reached out as far as I could, holding the X-T3 horizontally out over the water, using the Vertical Battery Grip for a more ergonomic purchase. I set the focus to ZONE AF, adjusted the location of the zone to a medium sized box at the right side of the frame and kept my finger on the Grip's shutter button as I waited…
During the first lap, I grabbed some shots of Laura, Jessie, Andrea and Kate.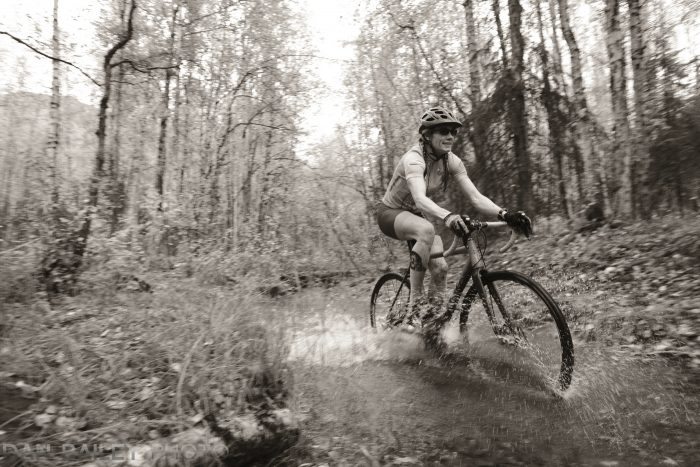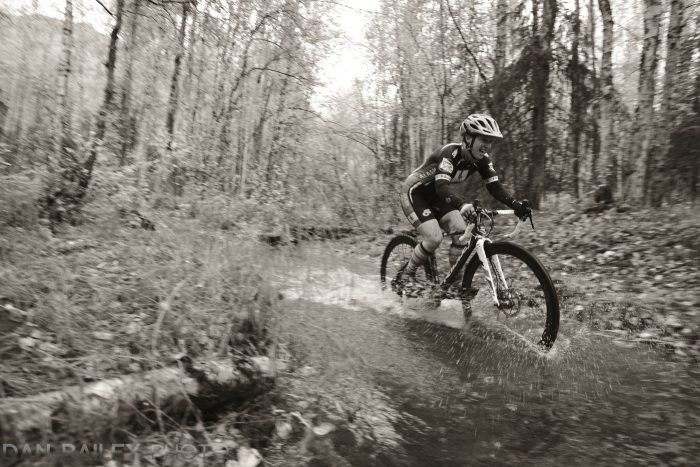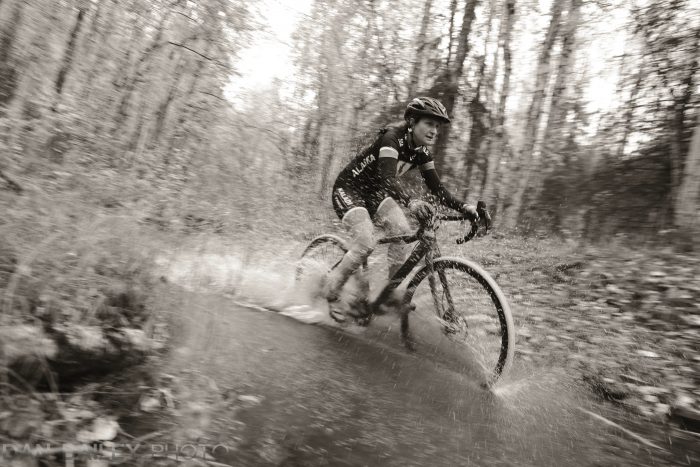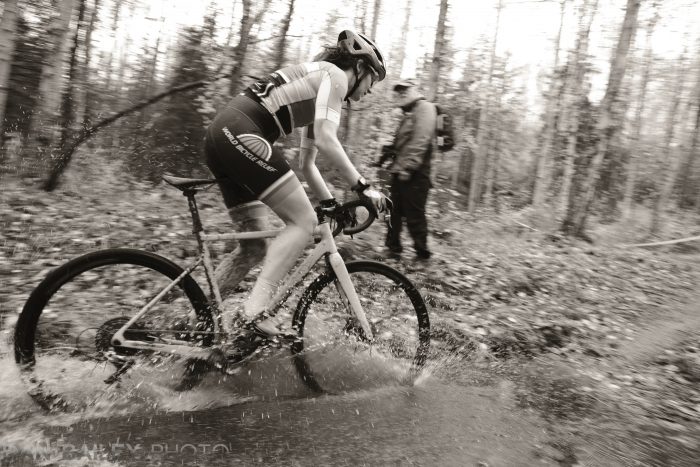 During the second lap, I could see Amber through the trees as she came flying down the tail opposite the creek and made the turn. When she hit the water, I did a front-to-back horizontal pan and shot an 11fps burst at ISO 800, 1/140 sec at f/4, with a +.7 adjustment on my EV+/- dial.
She was true to form, looking awesome with her determined expression as she splashed through the creek. This shot was the fourth in a seven-frame burst and I'm blown away by just how sharp she is, despite the amount of camera movement there was in the shot. Let's just say that I've had a lot of practice with this panning thing. Still it doesn't always come out that sharp.
After she came though, I checked the frame on my camera and was quite exited. It was good. Very good, and certainly different than last year.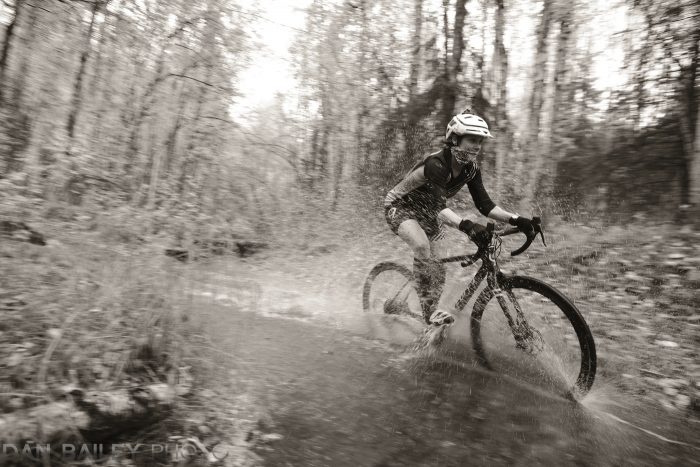 My Favorite Shot from This Year's Race
Then it happened. Amber's daughter Cadence hit the creek forty nine seconds after I grabbed the shot above. She's racing really strong this year, finishing 3rd place in the last two races, and she's every bit as photogenic. I'd shot a few photos of her during the first race two weeks ago, and I was really psyched by the results.
I was ready, having shot the two other women who were spaced in between. Using the same panning technique, I angled the camera down just a tiny bit to give the shot a slight more dynamic feel. Honestly, I don't remember if I did that on purpose, or if it just happened in with all the excitement.
This was the seventh frame out of the eight I grabbed as she flew by and raced her way to another 3rd place finish. For some reason, the shutter speed had switched to 1/300 sec, so this frame is definitely darker than the other photo, but I think it looks pretty cool. It has a lot of definition and a nice contrast between sharp and blur.
There's something a little bit different about this photo than the other frames I shot at the creek this year, it just has a little bit more energy, more water and a more exciting feel.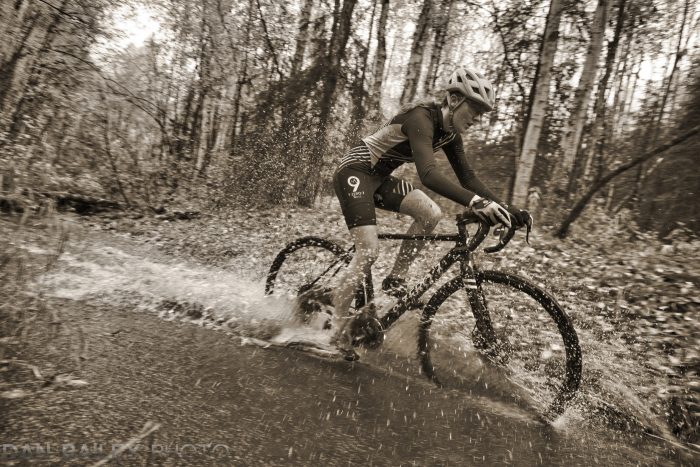 Comparing it to my favorite shot from last year, I think it holds up well. It definitely shows off the action capabilities of the X-T3, and from a creative standpoint, it satisfies my itch to continually push my own boundaries as a photographer and walk away from every scene with an original image that truly excites me.
With that in mind, I wonder how things will play out next season…
Anyway, thanks for reading and I hope you're having fun pushing your own creative boundaries as well this fall.