The Fargo
Last Thursday, I went to the bike store and test rode a new Salsa Fargo, bought one, then threw it in my truck and immediately took it on a 235-mile bikepacking tour of the Denali Highway, where I enjoyed three long, blissful days of pedaling gravel through incredible, wide open Alaska vistas.
Ok, to be honest, that wasn't quite how it played out, but it does make for a good story. Truth is, I'd already tried out the Fargo a few weeks previous, so I already knew what I was getting into. The Fargo is essentially a drop-bar off-road adventure bike with disk brakes and a mountain frame that's set up for touring. It's the kind of bike that makes you want to load it up and go places. Fun places. Far away places. Mountain-ey places. What's not to love?
For a guy who loves bike riding and adventure, the Fargo seemed like a perfect choice. Plus, it's blue this year, so there's that. Now, after breaking it in on the Denali Highway, where it rolled over the miles like a true gravel eating machine, I can attest that my other Fargo riding friends were right all along. This bike rocks.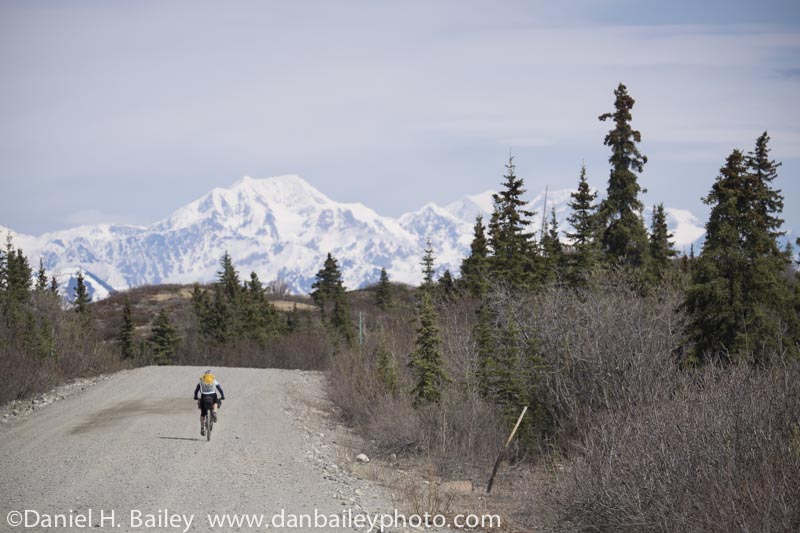 Breaking down the features and ride quality of the Fargo, it's like….
Oops… This is supposed to be a camera blog, not a bike review blog.
Sorry. I got a little carried away with excitement about my new blue bike. Let's see… how do I get back to cameras? Oh, right.
The Fuji.
If you've been reading my blog for the past few months, you know that the Fuji X-T1 has held the starting position in my camera bag since I first got it in my hands back in early February. I've shot with it in a wide variety of conditions and applications, even for pro work, and so far, the thing has not let me down.
In fact, this little Fuji X-T1 has indeed proved itself worthy of adventure, at least the kinds of adventures that I like to have, most of which involve just me, or me and someone else moving light and fast over varied terrain. I love it because it's highly functional, it produces incredible image quality and above all, it lets me shoot my style without limitation.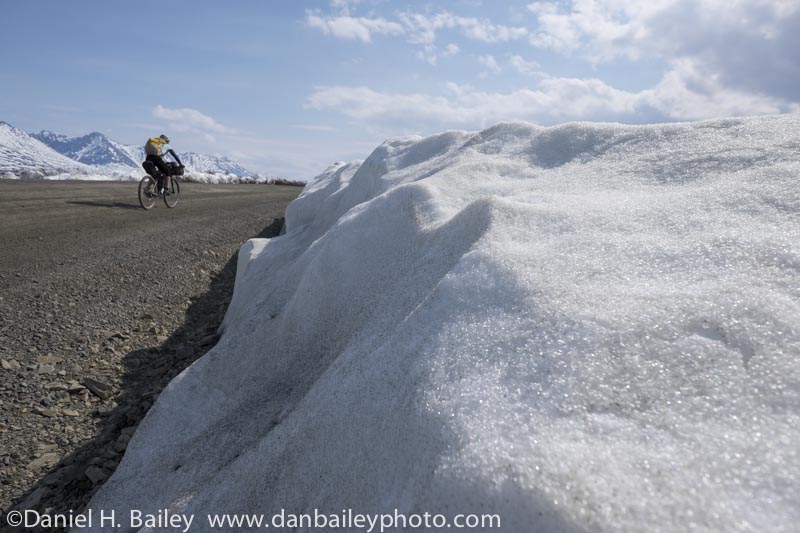 If anything, it actually compliments my style, because it allows me to take it places where my DSLRs just get too heavy. Believe me, I've carted that stuff to four continents on my bicycles, including the Himalayas, and every single tour, I wished that I had lighter gear.
Then, a year and a half ago, I did a week-long ride up Highway 1 along the California coast and only took the X20. For the first time ever, I left my DSLR at home. It was limiting, but liberating at the same time. Last year, I rode the Via Claudia Augusta route over the Alps and took along both the X20 and the X-E1. Although the X-E1 was still limiting in some ways for me, I saw the writing on the wall.
Now, with the X-T1, I feel as if I have arrived. I finally have a fully capable camera setup that's light enough for adventure bike touring, which is something that I've always loved and something that I plan to do a lot more of in the coming years.
The Fargo and the Fuji. Oh, what a perfect combination! I can only imagine what kinds of adventures lay in store for the three of us.
The Denali Highway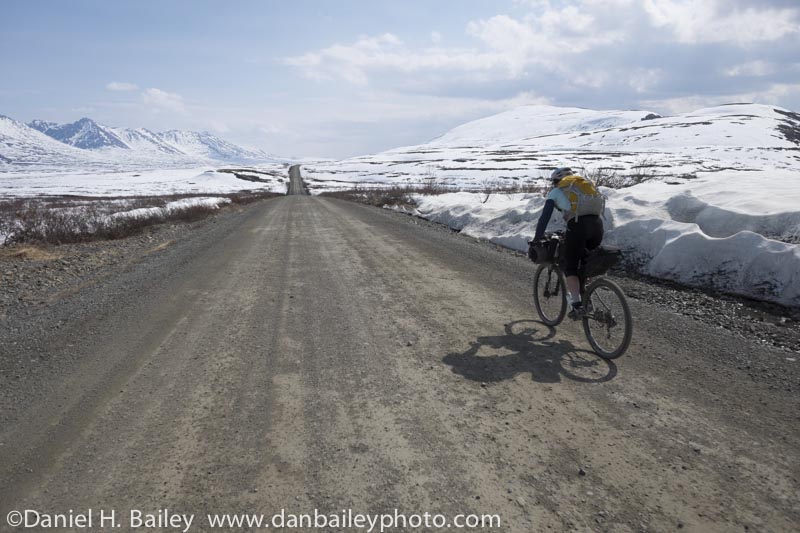 Although Alaska is an enormous state, we don't have very many roads up here. That said, what we lack in numbers, we make up for in sheer grandeur. While we don't have the extensive network of fire roads and four wheel tracks that many of the states in the Lower 48 have, we have two gravel roads of such lavish and magnificent proportion, that it almost makes up for our relatively small amount of rideable dirt: The Denali National Park road and the Denali Highway.
The 90-mile Denali Park road is without a doubt one of the finest mountain gravel roads in all the world. You can read about our summer solstice, all-night cycling tour here. If you like to ride bikes off of the pavement, you should ride the park road.
Not an hour south, lies the longer, Denali Highway, which runs for 135 miles from Cantwell to Paxson. Over 100 miles of the road is dirt and gravel, and since it's mostly BLM land, you can ride and camp just about anywhere. There are no park busses, (there are occasional cars and RVs), so in some ways, it feels more wild than the Park Road. It also crosses the 4,000+ foot Maclaren pass summit, which is the second highest pass in Alaska.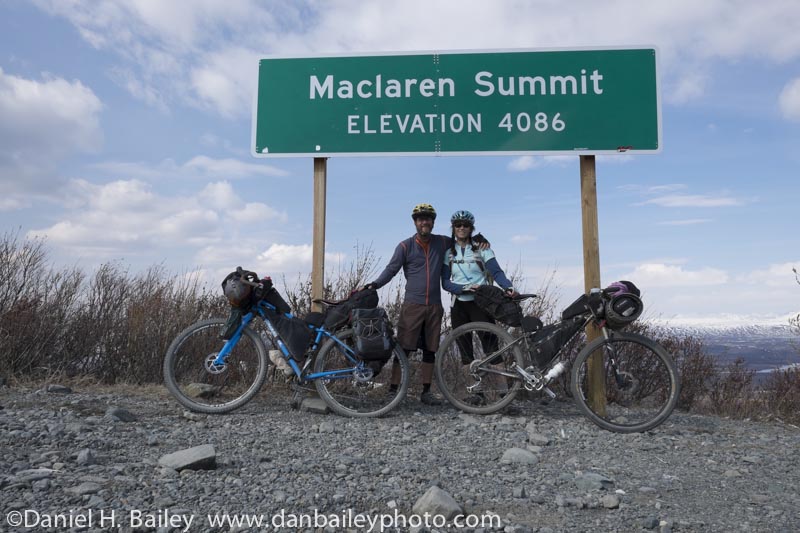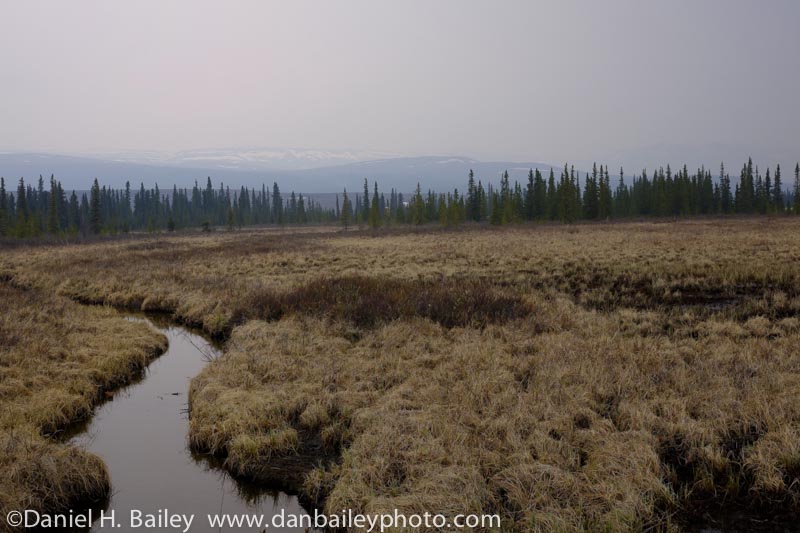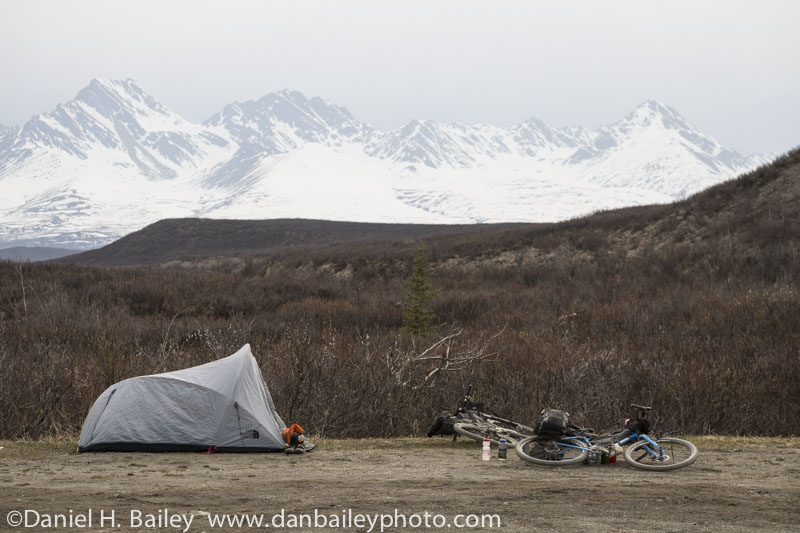 For our weekend bikepacking tour, we rode round trip from Cantwell all the way to the end of the gravel on the other side. There and back again. We had originally intended on riding all the way to Paxson, but after realizing that the last 20 miles was paved and that there is NOTHING in Paxson; no food, no water and no lodging, we turned around at the Tangle Lakes Inn.
3 days of dreamy gravel riding in great weather. What could be better? We did encounter some thick haze from the fire that's burning right now near Delta Junction. Overall, the Fargo did awesome. The Fuji did awesome. Our legs did awesome, although they got a little tired at the end of each 12+ hour day. When the sun sets at 11:00 PM, it's kind of hard to stop pedaling!
I can't wait for the next big ride.