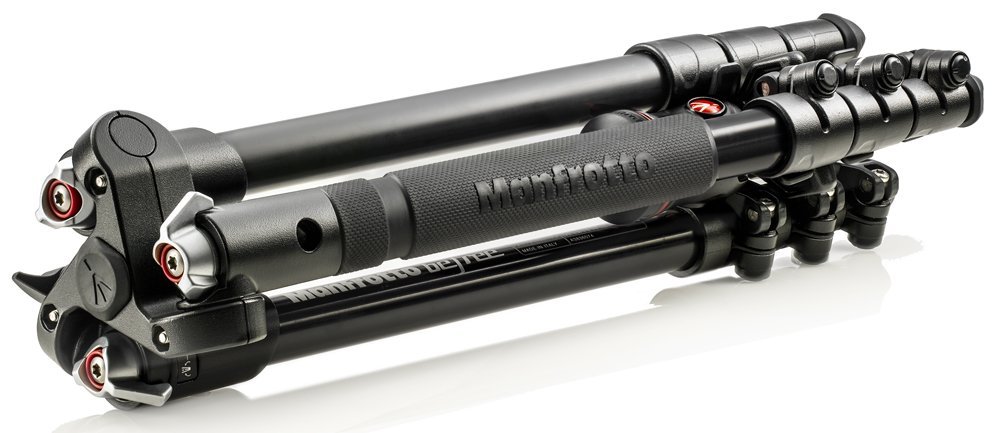 I'm always on the lookout for great new tripods that have innovative features, that are compact, lightweight, and that don't cost too much. After all, even though no photographer would turn down the chance to own something like a Gitzo Mountaineer, not everyone has the budget for a seven hundred dollar tripod.
The new Manfrotto BeFree is an affordable, lightweight aluminum tripod that is ideal for backpacking and travel. Its main feature is the new folding leg mechanism- the legs fold back on themselves over the head, which makes the length of this tripod only 15.8″ long; easily short enough to fit inside a carry-on bag or backpack. For a tripod of this price, that's really short!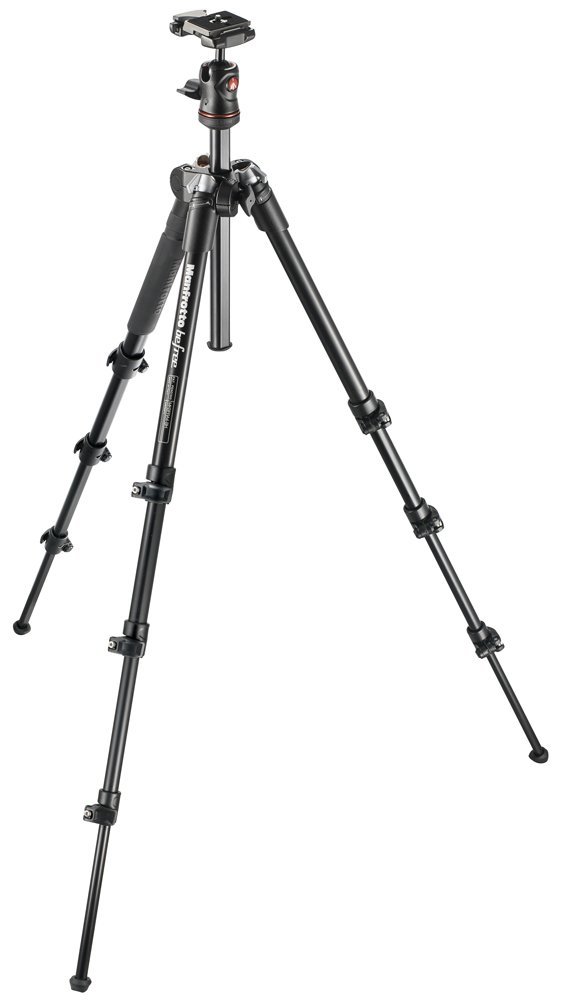 When it's open, the BeFree's four leg sections extends to 48″ (57″ with the center column all the way up). Load capacity is rated to 8.8 lbs, which is certainly heavy enough for most DSLR/lens combos, and any mirrorless camera system. It comes with a Quick Release Plate ball head and the legs can be set to two different angles which give you wide versatility for setting up and composing your shot.
It also has rubber leg warmers and even comes with its own padded fabric bag for protection and ease of packing. Total weight for the BeFree, including ball head and case, is only 3 lbs 14 oz. Best part, though is the price- less than $200.
I've owned a number of Manfrotto aluminum tripods and they've all held up well, despite years of abuse that I've inflicted on them. Aluminum isn't as light as carbon fiber, but it's a whole lot less expensive and offers an excellent strength to weight ratio. That's why they build bikes, climbing gear and jet liners with it.
I've also been very happy with Manfrotto's quality- I think they make great tripods that offer solid construction and excellent value for the photographer.
If you're looking for a good all around tripod that's compact enough for travel, either in the backcountry or on the back streets of foreign cities, and you're on a budget, then you should check out the new Manfrotto BeFree tripod. In my mind, it's easily one of the most lightweight, compact and affordable choices in its class.
You can pick up the Manfrotto BeFree  at B&H Photo, Adorama or Amazon.
[iframe]<iframe width="120″ scrolling="no" height="240″ frameborder="0″ style="border:none;" border="0″ src="http://mer54715.datafeedfile.com/widget/aff_widget_prdt_generate-2.0.php?aff_num=6746&aff_net=1&widget_num=4969&sid=" marginheight="0″ marginwidth="0″></iframe><iframe src="http://rcm-na.amazon-adsystem.com/e/cm?lt1=_blank&bc1=000000&IS2=1&bg1=FFFFFF&fc1=000000&lc1=0000FF&t=danhbaisadvph-20&o=1&p=8&l=as4&m=amazon&f=ifr&ref=ss_til&asins=B00CIVLAJO" style="width:120px;height:240px;" scrolling="no" marginwidth="0″ marginheight="0″ frameborder="0″></iframe>[/iframe]
Support this site: If you're thinking about picking up a new tripod, or any new gear for that matter, please consider shopping through these links. It's your way to let me that you find these reviews helpful, and it doesn't cost you anything extra. In other words, it's like the "like" button, only better. Thanks!