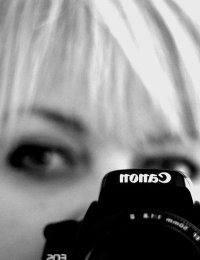 Very special thanks to California photographer Robin Black, who wrote this guest post.
The Muir Project Interview, by Robin Black
"Wander a whole summer if you can. Thousands of God's blessings will search you and soak you as if you were a sponge, and the big days will go by uncounted. If you are business-tangled and so burdened by duty that only weeks can be got out of the heavy laden year, give a month at least. The time will not be taken from the sum of life. Instead of shortening, it will indefinitely lengthen it and make you truly immortal." –John Muir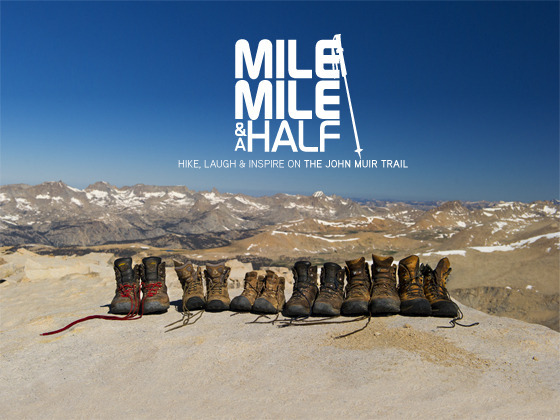 Last summer, a group of friends set out to thru-hike the John Muir Trail—but these are no ordinary hikers.  They call themselves The Muir Project, and they're an assortment of photographers, musicians and other artists who wanted to document their journey.  The footage they returned home with has become a work in progress called "Mile, Mile and a Half," and judging by the preliminary trailers they've shared, it's going to be a beautiful and inspiring documentary.
There were varying degrees of backcountry experience among the group, but after the idea had percolated for years, they were committed to their journey.  Some people plan this particular hike for years, or even decades—and fewer still are able to actually carry out the dream of a JMT thru-hike.  Their documentary may just inspire you to make your own thru-hike.
As their project gets closer to completion, they've lauched a Kickstarter fundraiser for the additional funds needed to make this a truly professional project.  They still have a few weeks go go on the fundraiser, and if you'd like to help them finish their project, you can find the details here.
If you want a peek at the documentary, they've posted a few trailers at their Vimeo site:  http://vimeo.com/themuirproject. Also, visit the Muir Project Facebook Page.
I sat down—virtually—with the members of the Muir Project recently to find out how they planned for and carried out their adventure.  They are:
Jen Serena, Still Photographer
Ric Serena, Co-Director/Cinematographer
Jason Fitzpatrick, Co-Director/Cinematographer
Durand Trench, Location Sound Mixer
Zee Hatley, Additional Camera
 1.  How did the project get started? Whose idea was it? 
RIC:  Jason was definitely the initial catalyst for the project.  He's a native Californian and I think it's always been on his list of things to do before he dies.  I'm ashamed to say this, but I'd never heard of John Muir before meeting Jason.  He's not a figure we grew learning about in the southeastern US, but after moving to Los Angeles and befriending Jason, I came to learn about John Muir and the trail named in his honor.
As the years passed, we continued talking about hiking the trail in its entirety and bringing our cameras along.  Jobs, children & prior commitments in one form or another forced us to put if off year after year, but we finally made the commitment to do it.  Ultimately, I think I was always missing that extra "something" that intrigued me about documenting our journey.  But as others became attached to the project, the artistry angle seemed to fall in place.
2.  Why the idea to include all the various artists and creative types? 
JEN:  Part of it was just a natural gathering of friends, but as each new member was added, with their particular strengths in various forms of artistry, we knew we would have a truly compelling story. Each viewer can latch on to just the sound, the music, the stills or video, but then it all blends to become a beautiful tapestry of storytelling. And the painters were just an extremely remarkable string of luck – as we met them along the trail.
3.  How do you all know each other? Did you all know each other before starting the trip?
JASON:  Ric and I worked together at CBS, and somehow we found out that we each loved backpacking. He and Jen joined me on a really difficult, but amazing winter trip to the Ostrander Ski hut in Yosemite. After that we helped each other out on a few film projects, and became good friends.
RIC:  Durand and I met a few years back through a mutual friend.  I knew he enjoyed the outdoors, but for as much as we discussed our shared interest in backpacking, we never hiked together.  Our friendship really formed on set (he's been a location sound recordist for nearly all my directing projects) and in bars (need I say more?)
JEN: Then PB & Bernie were good friends of Durand's, and the others we met along the trail as happy accidents.
DURAND:  What can I say?!  I like backpacking and good conversation with friends over drinks.  That usually brings a pretty eclectic and amazing group of folks together on the trail.  No matter what happens out there, we're always having a good time.
ZEE: I knew Ric and Jen through a mutual friend for the better part of a decade, the others I met during prep.  Jason and I got to spend a few weekends doing food drops, which means ROADTRIP! The next best way to get to know someone is by hiking with them.
 4.  How did the concept for the project progress–has this documentary always been the goal?
RIC:  We're all storytellers that went out for a long hike.  I think we hoped we'd have a film in one form or another, but I don' think any of us truly knew what we were going to walk away with.  Honestly, we would've been happy with a 10 minute short film, but it turned out we had enough material for a feature documentary.
JASON:  I think the film we have is different from what we thought it would be when we set out. I also think its much better. We never realized that it would be so much about us and our experiences on the trail, but I think that the personal elements to the film make it much more entertaining. I think that not only seeing the beauty of the trail but seeing how it effects each of us makes the film more accessible, and compelling than it would have been if it was focused simply on the history and geography of the trail.
5.  How long did you plan the trip before you took that first step on the trail?  What kinds of barriers/problems did you face in this phase?
JEN: We couldn't get a permit out of Happy Isles – the normal starting point for the trail – even applying 6 months in advance. And when we arrived a few days early to attempt the lottery, we found that there was a max of 4 permits per group, so we were out of luck there too. I guess the only other problem was Durand getting altitude sickness on the food drop, but I should let him tell that story.
DURAND:  If you've never attempted a month long thru hike like the JMT, not a single member of our group had done so before, the logistics that go into a successful trip are DAUNTING.  Between permits, food drops, transportation to and from the end points, and then simply planning how many miles you'll do each day the planning is crucial and can be overwhelming.  As Jen noted, I suffered from altitude sickness, as well as a brutal case of food poisoning, less than a week before hitting the trail which was a humbling reminder that it is impossible to foresee and plan for every problem you might face.  The best advice I could give, would be to treat the entire trip, planning included, as an adventure.  If you can't laugh and shrug off some of the inevitable and unforeseeable issues you'll face, it will ruin your trip.
ZEE: Honestly, prep went pretty easy for me, being that Jen and Ric were so good at the planning. Particularly the meal prep.  We got to spend a good day, as a group, divvying up the ingredients into meals according to recipes Jen had found.  Then the food drops, which were easy enough, until Durand decided to get sick on us within sight of the pass we had to get over for the drop.  That was scarier than he's letting on.  He did not look well, and we had to book it back down the mountain at dusk.  I was so worried for him, and so glad that it wasn't me (as I am clearly the weakest hiker in the bunch.)  But altitude sickness can hit anyone at any time.  Even with no prior episodes. If there's one thing I would change, I would have turned around as soon as he started looking green in the gills, and not let him push on.  It made it that much worse, and there's always the donkey drop.
6.  Did you all have prior experience hiking the backcountry?
JEN: For Ric & I, our longest trip was 4 nights. So this was a big deal. But once there, we found out that it actually wasn't. After 3-4 days, there's a natural rhythm that you work into.
DURAND:  I've been camping and backpacking as far back as I can remember.  The majority of family vacations in the Trench household involved getting in the car and heading to the backcountry.  While I can soundly say that I did not always appreciate the experience at the time, hiking in solid rain around Mount St. Helens and waking up to a sibling banging pots together at 3am to scare off wolves surrounding our camp comes to mind, I look back at all the experiences as invaluable life experience that allows you to put everyday situations into perspective.  Prior to the JMT my longest backpacking trip was 2 weeks. Each trip into the backcountry is an all too brief experience and I am already planning a longer outing.
ZEE: I'd done some destination trips in Sequoia/Kings Canyon as a kid, but that was along the lines of: hike in for a day, stay a week, hike back out.  Through hiking is a different story, a very different story. You see so much more, yet get to know it so much less intimately.
7.  Were there any close calls regarding life and limb (or cameras) while you were on the journey?
JASON:  We were pretty good about protecting our gear. We knew going in that we'd be dealing with some more extreme elements than a JMT hiker would on a normal snow year, do we had several layers of water protection for the crossings and rainy days.
As for limbs, other than a few cranky ankles, some pretty horrific blisters and a cut or two we were pretty lucky. Nobody was seriously hurt.
8.  If you had it all to do over again, would you?
JASON:  HELLS YEAH!!!!
RIC:  Absolutely, but I want to bring my sketch pad next time around.
DURAND:  Wait, what?!  When?  I'm in.
JEN:  Well, somebody has to feed these guys.
ZEE: I still need to work on my harmonica playing…
9.  How did you plan for carrying all the photography (painting, music) gear into the backcountry? 
RIC:  We had a test hike about a month before in the Ojai valley.  It provided us the opportunity not only to hike with others we hadn't been in the wilderness with before, but also to see what gear we needed and didn't need.  For example, I was dead set on bringing a 200mm lens with me, but quickly realized on that test trip, that it would be such a rare occasion that I could effectively use that lens (many times, I had to steal shots as we're hiking along) that it wasn't worth the weight.  From there, we all just distributed gear based on weight and who would use what equipment the most.  In terms of music, PB always brings his Uke and Bernie was trying something new with the glockenspiel.
(also check Bernie's blog:  http://themuirproject.com/blog/13503193)
RIC:  The painters?  We hadn't planned on meeting them…it was completely fortuitous.  Once we saw how dedicated they were to THEIR medium, I know I felt my creative commitment paled in comparison.
(also check out Tom Stipanov's blog:  http://themuirproject.com/blog/13503178)
10.  Because of all that extra gear, did you have to plan more resupply drops than a "normal" JMT hike?
JASON:  We didn't do more drops than most, we just had heavier packs.
ZEE: Well, we didn't do more drops than most people going our pace… but I don't know that people doing 9 day JMT trips were doing four drops. I also have no idea how they get to see anything at that pace, we certainly wouldn't have been able to shoot anything.
11.  What was your biggest surprise on the trip?  What did you learn or experience that took you by surprise?
JEN: I can honestly say I was pleasantly surprised by being able to "hang" with the guys. I've held my own on trips before, but that was only a few days. This was a month, and after seeing so many hikers dropping of the trail that year, I had my doubts early on. But in the end, working as a team, I was able to do it. And there's no greater feeling.
DURAND:  I was surprised that the days weren't as grueling as I had imagined. Don't get me wrong, we had some really, really hard days, but when you are in good company and can laugh at the trials and tribulations you face each day, it is made quite a bit easier.  I also learned that there is never enough time.  There will always be spots that you pass along the trail where you wish you could spend at least a few hours if not an additional day.
RIC: My biggest surprise was that Durand is funny.
12.  What was your greatest lesson on the trip, personal or otherwise?
JASON:  How amazing and worthwhile it is to take the time to immerse yourself into something exciting and positive. It may be a lot of work, and it's not easy to disappear for a month, but so many wonderful things have come as a result of it.
DURAND:  Opportunities like this don't come along very often and you really have to take advantage of them.  Taking a month off does not come easily, but I will never look back on this trip with regret.
RIC:  Prior to the trip, I had guilt about being away from our daughter for 30 days.  I knew she'd have an amazing time with her Grandparents, but I still questioned the decision.  Having finished the trip and returned to my regular life, I no longer have those feelings.  I want her to know her parents followed their dreams, and I'm proud we can set that example.
ZEE:  I learned that I had completely let myself go.  It was bad enough on the trail with my wobbly legs under that heavy pack, and the heavy breathing that makes me sound like a 30 year smoker. Then watching the movie, and seeing that I'll be immortalized with that flabby gut… literally in the worst shape of my life. I've since started running and being more active in general, and if we ever get a similar opportunity again, I'm planning on sporting a six pack. I really want people to meet me after seeing the movie, and have them not quite recognize me.
13.  Do you have a tentative release date for the documentary? 
RIC:  We're aiming for the middle of October for a completion date, but we're hoping to spend a few months in film festivals before releasing the film to the general public.  The Kickstarter Campaign will be instrumental in helping us to achieve both goals.
[iframe]<iframe src="http://player.vimeo.com/video/36675195″ width="600″ height="338″ frameborder="0″ webkitAllowFullScreen mozallowfullscreen allowFullScreen></iframe>[/iframe]
—————–
Robin Black is an award winning Los Angeles based photographer who spends most of her time photographing the Sierra Nevada, California coast and desert Southwest areas. Her work has been featured in galleries around the U.S., including the museum gallery in Yosemite National Park. Check out Robin's work at www.robinblackphotography.com and see update and new imagery at her Facebook Page.