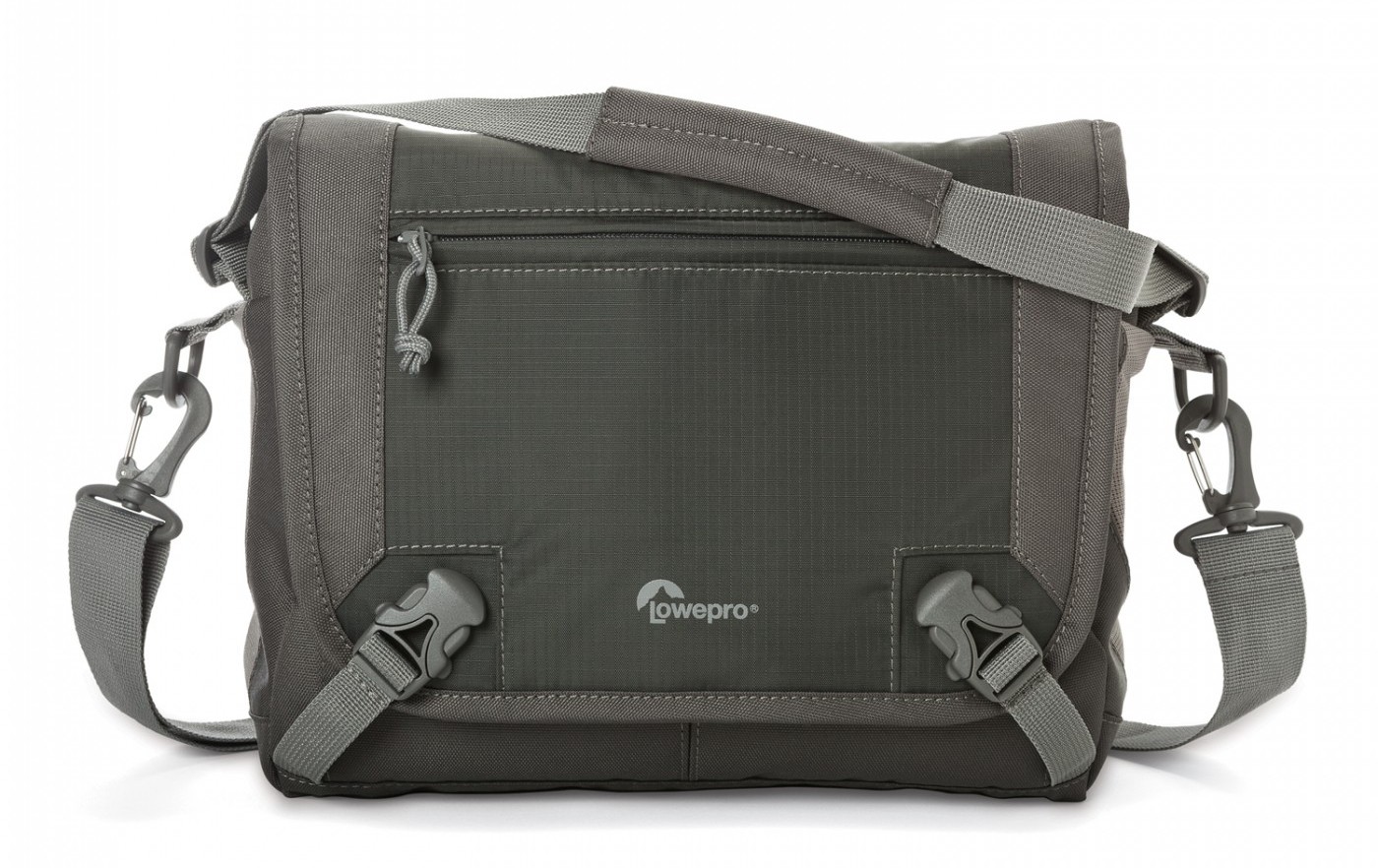 Do you remember your first camera bag?
I do. It was a small canvas shoulder bag that I carried everywhere. When I first started shooting, I was living in Boston, so a camera backpack wasn't really the ideal way for me to carry my gear. My shoulder bag let me get in and out quickly and it held a body, two lenses, flash and some accessories like filters, AA batteries and a small notebook. That bag is lone gone, but I remember it with much fondness.
That's why when Lowepro sent me their latest camera bag to test and review, I felt like I was taking a trip down memory lane. The new Nova Sport AW is basically a hot-rodded version of my first bag, but with more and way better features. They call it an "Adventure Photo Shoulder Bag." I'll buy that.
Face it. Camera packs are awesome, but there are times when a should bag is just more practical, like when you're shooting events, doing street photography, going out for an outing around town on the cruiser bike or day tripping in the car or train. Or when you just want to look a little less conspicuous. Nothing screams serious outdoor photographer like a photo pack. Throw on a little shoulder bag and you'll blend in much more with the crowd.
Of course, it's got to be the right shoulder bag. It's got to be well designed, rugged and useful in a variety of conditions. The new Nova Sport AW has many of the same basic design features that all their other recent packs have, like the Flipside Sport AW Series and the Photo Hatchback AW. In fact, I'd pretty much call this the shoulder bag version of the Photo Hatchback.
The main camera compartment lifts right out, which allows you to us the bag as a regular shoulder bag. It also has the AW rain cover that tucks away under the flap. Living in Alaska where it's often wet much of the summer, I've made good use of the AW rain covers and believe me, they work.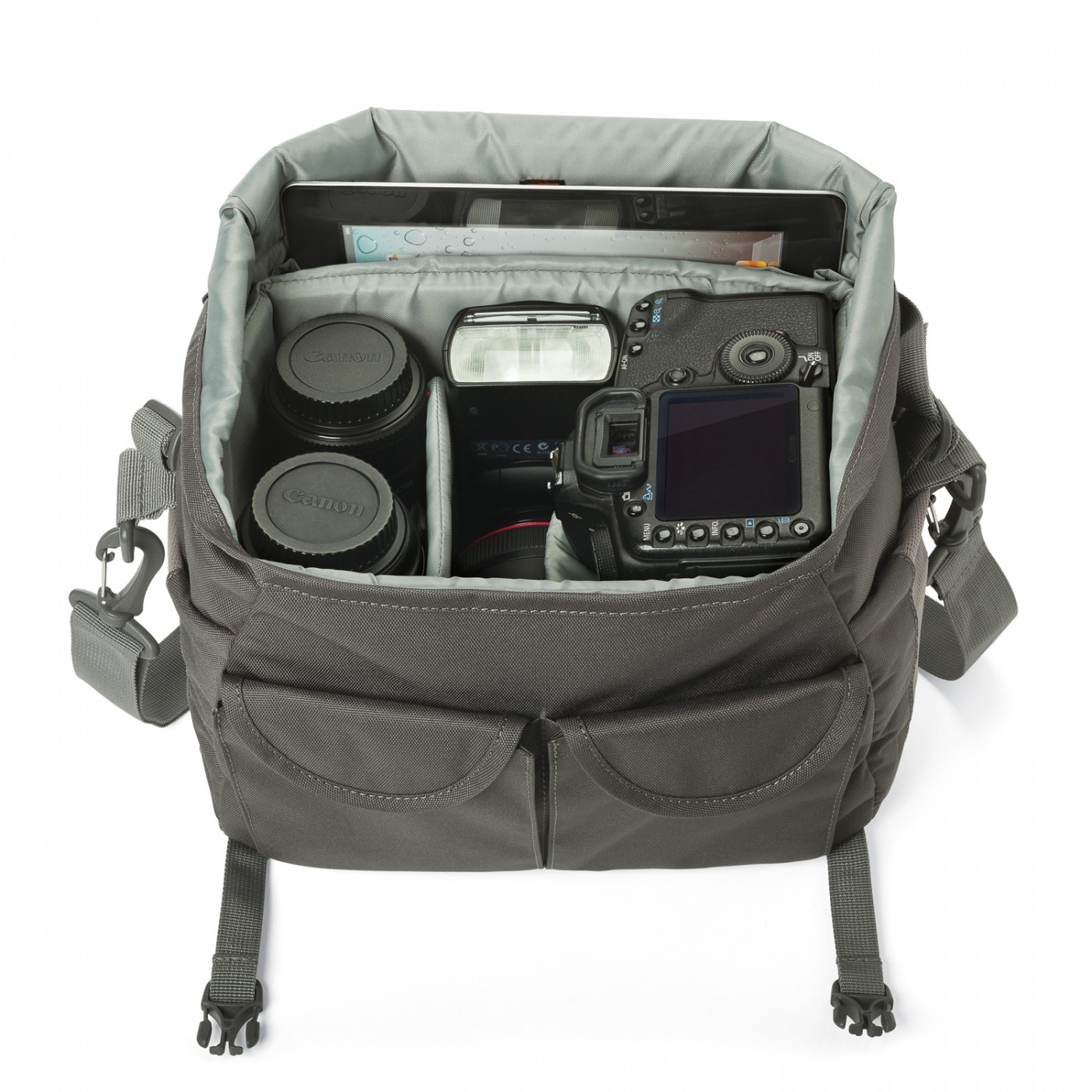 Like the Photo Hatchback, it has two streamlined stretch pockets on the side of the bag, which fit a slim water bottle, thermos, rolled up windbreaker or rain jacket. I've even stuck a flash in there for quick access. Inside, there's enough room for an iPad or a medium sized flash diffuser like the Lumiquest Softbox III, and the two front pockets are roomy enough for filters, phone, sync cords, batteries, notebooks, hard drive, memory card cases or all of the above. There's even a zipper pocket on the main flap.
On the back of the bag, Lowepro has put a zipper sleeve that lets you attach the bag to the top of a trolley-style rolling suitcase. I don't own a rolling suitcase, but I can imagine that being a pretty handy feature for traveling. it's the little things that make an item that much more useful.
The bag closes with two buckles, but it also folds and stays enough if you're shooting and don't need to clip the whole bag closed. In addition to the padded shoulders strap, there's also a strap handle that tucks out of the way behind the bag. This is a nice touch for loading and unloading the bag from the car, trunk, overhead compartment, etc… Again, the little things.
In action, the Nova Sport AW works as well as I would hope. Really, what can I say, it does the very simple job that it was designed to do: it holds my gear, organizes it and protects it, even when I'm running around shooting stuff like cyclocross. Last weekend, I took it on a mountain hike and it worked just fine! I got the 17L version, and it holds the following inside the main compartment:
Nikon DSLR with a short to medium sized lens attached. (24mm, 50mm or short wide angle zoom)
70-200mm f/4G ED VR zoom lens
50mm lens
Flash or compact camera like the Fujifilm X20
iPad and/or flash diffuser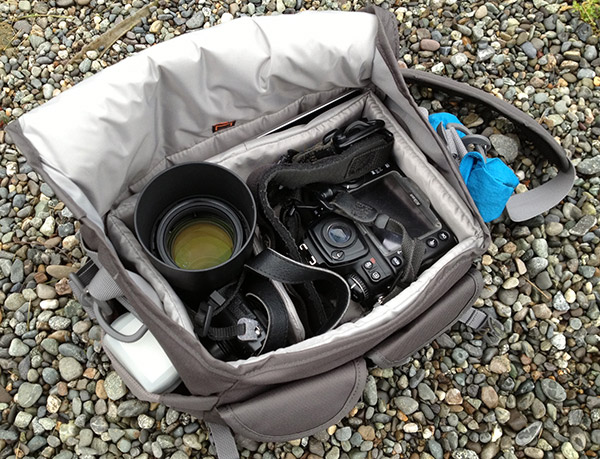 That's one are where my old shoulder bag fell short – it wasn't big enough to hold a pro zoom lens. This is big enough to carry the gear you need without being too cumbersome. Like all the other Lowepro pack and bags, the Nova Sport AW interior is totally customizable, you can arrange the padded dividers to fit your gear and style, or like I said, take the whole compartment out and use it to carry a six-pack. And if it carries my big lens, it's tall enough room for bottles.
For being a pretty simple shoulder bag, the Nova Sport AW is a really nice offering. It's certainly as well made as any of the other hardcore Lowepro packs that I regularly use and it offers great versatility that I would imagine would appeal to a wide scope of photographers and styles. And, it's pretty darn affordable. The small 7L one, which is great for mirrorless users, is only $59.
I continue to be impressed by the Lowepro design team. During the past few years, they've come up with some very useful ideas and have done and awesome job incorporating them into a number of bags and packs in their line. The Nova Sport is indeed a cool little bag, and even though I haven't owned a traditional shoulder bag for years, I can suddenly see this thing coming in handy for a variety of things. Definitely worth a look.
The Nova Sport AW comes in three sizes: Check it out here.
Nova Sport 7L: For going fast and light with DSLR or mirrorless gear, fits 7″ tablet
Nova Sport 17L: All around bag for DSLR gear- fits up to 70-300mm lens and 10″ tablet
Nova Sport 17L: Total Photo Enthusiast bag- fits 1-2 pro DLSRs, 2-4 lenses/flash and 13″ MacBook