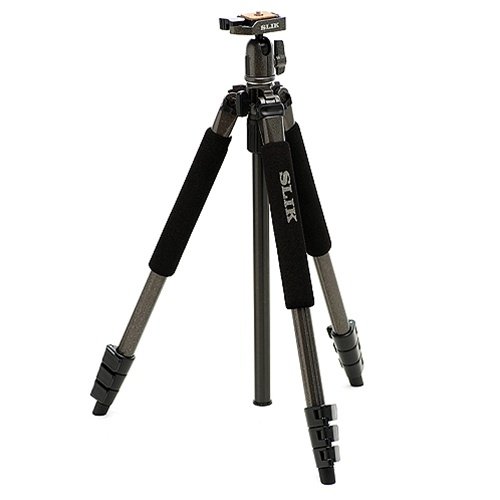 I've always liked Slik tripods, I think they offer very good value for a wide range of photographers. My very first tripod was a Slik 444 super sport that cost about $60, and I used it for years.
One summer I took it on a 40-day road trip around the American West and used it to photograph landscapes from the Badlands to Death Valley to Monument Valley, and even though it saw a lot of abuse, it did just fine.
Twenty five years later Slik is still making decent models that offer a good compromise in weight, stability and price.
In my mind, the Slik Sprint Pro II hits the sweet spot in that equation. It offers reasonable stability, it folds down to 18.5″ and only weighs 2 lbs, and that's with the included ball head. All for only $89, although right now, Slik is offering a $20 instant rebate, which brings it down to only $69. 
I've tried the Slik Sprint Pro II out in person, and while it's obviously not as stable as something like a Gitzo, it's certainly sturdy enough for casual use and for ultra lightweight backcountry excursions, especially if you use mirrorless gear. It will handle lightweight DSLR bodies and lenses as well, but with a max load of 4.5 lbs, it's not really built for heavy full frame cameras and big glass.
Even with light gear, extend it all the way up in the wind with a heavy payload and it's definitely a little wobbly. However, say you just want something that will let you get that waterfall shot, shoot under the night sky or grab low light travel shots and portraits, and that's easy to carry, this will get the job done in most situations.
With four leg flip-lock aluminum leg sections, retractable spikes in the feet, padded foam leg covers, a QR head head and a inverting center column that let you shoot down to 6″ above the ground, the Slik Sprint Pro II is actually a capable little tripod. And it's certainly light enough to strap onto the side of a backpack or throw in your luggage. At 2 lbs, it's not unreasonable to think you could take this on a bike trip.
As much as we'd all love to own a Gizto, not everyone has the budget for a $500+ tripod. Yes, the argument can be made that your tripod is a very essential piece of gear for serious landscape photography, but that's still a lot of money for a piece of gear you may not use all the time. Besides, use good technique and brace it with weight or a stuff sac filled with rocks or sand, and there's no reason you can't get good results from something like this.
Even without the current rebates, the Slik Sprint Pro II is definitely worth considering if you're in the market for an affordable lightweight tripod. At the current price, I can't think of anything that offers this kind of value, and I certainly don't know of any other 2 lb. tripod with these kinds of features that doesn't cost a whole lot more. And it makes a great gift.
(I realize it might say $79 in the Amazon widget below, but if you actually visit Amazon right now, you'll see that it's really only $69.)
[iframe]<iframe width="120″ scrolling="no" height="240″ frameborder="0″ style="border:none;" border="0″ src="http://mer54715.datafeedfile.com/widget/aff_widget_prdt_generate-2.0.php?aff_num=6746&aff_net=1&widget_num=6946&sid=" marginheight="0″ marginwidth="0″></iframe><iframe style="width:120px;height:240px;" marginwidth="0″ marginheight="0″ scrolling="no" frameborder="0″ src="//ws-na.amazon-adsystem.com/widgets/q?ServiceVersion=20070822&OneJS=1&Operation=GetAdHtml&MarketPlace=US&source=ss&ref=ss_til&ad_type=product_link&tracking_id=danhbaisadvph-20&marketplace=amazon&region=US&placement=B002821ESU&asins=B002821ESU&linkId=SCZFSVAEADS3HQUR&show_border=true&link_opens_in_new_window=true">
</iframe>[/iframe]